LINKS
Further information can be acquired through the Dungarvan Tourism website. The site is full of information about places to see and visit, both in Dungarvan and County Waterford. The tourist office itself, which is based in the town centre, has people on hand at all times to answer any queries.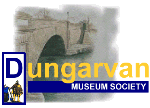 The Dungarvan Museum Society's Website gives an illustrated account of the towns history. Included along with many photographs is information on the historical walks and local contacts.





Infosite Ireland Provides useful links to Waterford related sites. These include historical, travel and leisure information for the complete holiday in Waterford.




Our Thanks must go to Addme.com for posting our site details on numerous different search engines. The site offers free as well as paid for services and is a valuable tool.




The 'Old Rectory' is also a member of the accommodation search engine. To search the listing simply click on the logo to the right.