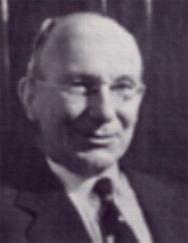 Mr John Leydon
Mr. John Leydon, who later became Dr. John Leydon, was a native of Roscommon and was educated at St. Mel's College, Longford and St. Patrick's College, Maynooth. He gained his Doctorate at Dublin University. Before he became the first Chairman of Irish Shipping Limited in 1941, he was Secretary of the Department of Supplies, a Department set up specifically to deal with the very critical matter of essential supplies during the Second World War. Dr. Leydon became Secretary of the Department of Industry and Commerce in 1932.
In 1937, he was appointed a Director of Aer Rianta and became Chairman of that State company in the following year. Subsequently he was appointed Chairman of Aer Lingus and in that capacity he worked in close co-operation with J. F. Dempsey, Secretary both of Aer Lingus and of Irish Shipping Limited during the war years. In addition to his work in the State companies, John Leydon was a Director of the National Bank of Ireland from 1956 and of the Insurance Corporation of Ireland from 1949 until his eventual retirement in 1964.
He was also a Director of Cement Ltd. and first President of the Institute of Public Administration as well as a member of the Council and Executive Committee of the Irish Management Institute from 1961 to 1964.
Dr. Leydon played a major role in establishing the wartime fleet despite the numerous and seemingly insurmountable obstacles which had to be overcome in doing so. He was also a major figure in guiding the company through the difficulties presented by the war situation from 1941 to 1945. He continued to take a keen interest in the progress and development of Irish Shipping Limited in his retirement and was always courteous in his contacts with the company up to the time of his death in August, 1979.

As with Dr. Leydon, Mr. J. F. Dempsey continued his interest in and maintained contact with the company in later years.