The Irish Cedar
The Italian owned Caterina Gerolimich was the fifteenth and last vessel to be acquired by Irish Shipping Limited during the course of the Second World War. As a ship in the ownership of one of the Axis powers, as Italy and Germany were called in that conflict, the vessel was forced to remain at Dublin since she arrived there in 1940. If she had attempted to leave the port, she would have been attacked outside neutral Irish waters. This meant that effective negotiations for her charter could only begin after Italy had surrendered in 1943. The ship was built in 1912 by Cantiere San Rocco at Trieste for Austrian owners and named Caterina Gerolimich.
The enforced long stay in Dublin of the Caterina Gerolimich and her crew meant that her Master, Capt. Antonio Sabini, and his crew established very friendly relationships with many local people in the city. Prior to their departure from Dublin in October, 1945, Capt. Sabini wrote a letter to the Irish Press to express his appreciation for the hospitality shown to them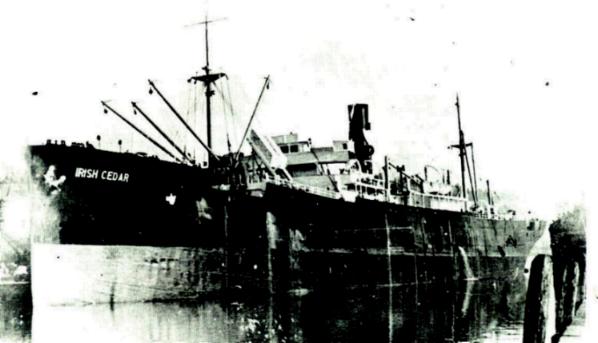 during their stay. In the course of his letter Capt. Sabini wrote "In leaving Ireland for Italy after five years, with my Officers and Crew, I wish to express my deepest gratitude to this land and its gentle people. Everywhere in this country we met with kindness and friendliness and this, many many times made us forget the sadness of being cut off from our home. We will never forget the Irish. They have a place in our hearts."
In fact some crewmembers of the Caterina Gerolimich did not leave Ireland with their ship and these included Bartolomeo Scalzo who joined Irish Shipping Limited in 1958 as Fourth Engineer on the Irish Fir. He subsequently served on a number of the company's vessels and eventually retired and settled in Dublin with his family.The charter of the Caterina Gerolimich by Irish Shipping was agreed in June, 1943, and the ship was renamed Irish Cedar (Pictured above). She was then put into Liffey Dockyard for repairs and degaussing. On completing repairs, the Irish Cedar sailed on her maiden voyage for the company on 26th October, 1943, under the command of Capt. W. G. Hickman and her Chief Officer was David Foley of Dungarvan who later became a very well-known Master with Irish Shipping. The vessel took on bunkers at Port Talbot for her Atlantic voyage to St. John, New Brunswick, where she arrived on 22nd November, 1943, and loaded wheat and general cargo for Dublin. On her second voyage for the company from St. John to Dublin, the ship's steam steering gear failed and the voyage was completed using hand steering gear and the necessary repairs were carried out at Liffey Dockyard on completion of discharge.
The Irish Cedar completed fifteen trans-Atlantic voyages for the company up to October, 1945. The vessel loaded 2,000 tons of foodstuffs at Cork and sailed for Naples on 31st October, 1945, with Capt. Sabini and his Italian crew and with Capt. W. G. Hickman also aboard representing Irish Shipping Limited. It was Capt. Hickman who formally handed the ship back to her Italian owners at Naples and also presented Capt. Sabini with an Irish national flag to be flown whenever the vessel entered an Irish port. The ship resumed trading under her former name Caterina Gerolimich until she was removed from Lloyd's Register in 1951 and she was presumed scrapped.