ABBEYDORNEY MALE & FEMALE NATIONAL SCHOOL 1848-1963
On Tuesday , August 1, 1848, the Rev Thomas Fitzgerald P.P. Abbeydorney, received from the High Sheriff,  W.T. Crosbie, the sum of £10 in addition to a grant of land  for the site of the new national schoolhouse then in the course of erection in the village.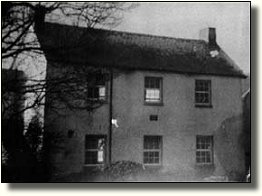 The schoolhouse was a two-storey building consisting of two rooms each measuring thirty four by eighteen feet  There was no unusual architecture in the school building.  It was simply built like a house.  The boys were in the bottom storey and the girls were on the top storey.  Both storeys had a separate entrance.  Access was gained to the top storey by ascending stone steps which had a protective iron railing on one side, the school wall being on the other side.  The windows were built high up from the ground so that the children could not look out through the windows thereby reducing external distractions.  The school desks measured twenty one feet, each desk seating sixteen pupils.  Older students were utilised by the teacher in assisting him to teach the younger pupils.
In the school playground, boys and girls were separated by means of a six foot high wall so that they could have no contact until outside of school grounds.  Between May and October the pupils walked barefooted to school.  During the Winter time, each pupil brought a sod of turf to school for use in the school fires.  The building was completed in December, 1848 having cost £134 plus £15 for fittings. Local contributions amounted to £91 with Mr Crosbie making up the balance.  When the school was completed in December 1848, the Board of Works put the date of erection on a stone on the school wall.  
Denis O'Sullivan is recorded as being the school's first teacher in the boys school, while the lady teacher in the girls school was Anne Curley.  Denis O'SuIIivan received a salary of £20 per annum.  Anne Curley received a salary of £9 per annum.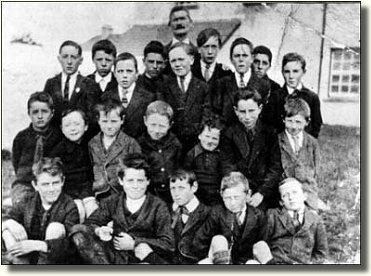 The above school photograph was taken in Abbeydorney in 1926. Pictured are;
 Jerry Kavanagh, Pat Stack, Batt Lawlor, Ned Fitzgerald, Jer Fitzgerald, Jimmy Kavanagh, Tom Hurley, Timmy Lawlor, Michael Breen, John Lovett,  Mikie Lovett, Maurice Fuller. Back; Denis Lyons, Maurice Roche, Moss Mahony, J.P. Lovett, Bob Mahony, Moss Hayes, Patrick Mahony, Brian Lynch, Jacob Lovett, Master Horgan.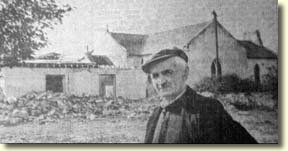 Jim Stack pictured in front of his old school
as it is being demolished




Our Own Place