Bonfires blazed in the village of Abbeydorney on Sunday night as part of the round of celebrations to mark the historic victory of their hurlers earlier that day in the County Senior Final at Austin Stacks Park, Tralee. They went into the final against Austin Stacks as favourites and they more than justified the rating as they hit their rivals for three lightening first-half goals. And it was this burst of shooting power that virtually sealed Stacks fate there and then, and brought the title back to O'Dorney for the first time in sixty-one years and for the first time on the field of play since 1896.
As the old adage has it, it is scores that win matches. And this was the salient and fundamental difference between two very evenly matched sides on Sunday. O'Dorney gelignited the exchange within half-a-minute of the start. After full-forward Tom Kearney had had a shot blocked down by goal-keeper Tommy Regan, O'Dorney's dapper corner-forward, Jackie Condon, whipped the ball to the net from a melee. That goal probably did more than any other single factor to swing the pendulum in O'Dorneys favour. It galvanished them into action and at the same time it appeared to take the wind out of Stack's sails. The Tralee men had hardly had time to look around them before they were dealt a crippling body-blow. But Stacks did manage to shake off the effects and they came back in most spirited and determined fashion at their opponents. In the ensuing minutes they launched several blistering attacks, but they were foiled of scores through a combination of sheer bad luck and some stern defensive work by the O'Dorney backs in the face of intense pressure.
After Stacks had had an attack beaten off for a 'seventy' the losers were back on the offensive again and this time they came terribly close to scoring but corner-forward John Barry's finishing effort was just off target. They came again in the fourth minute and good work by Joe Sullivan and Niall Sheehy was foiled by a good save by goalman Paddy Walsh a man who was to play a most significant part in determining the outcome of this eagerly-awaited final. Stacks had a chance to register their first score again after five minutes, but wing-forward Liam Heffernan was wide with a free from about forty-yards' range. This was intense and non-stop pressure from the Tralee side and it looked as if the O'Dorney defence must wilt under the barrage. But they managed to hold firm in the face of successive onslaught. Stacks came again and after Sullivan and found Barry in the right corner, the former Kerry player's parting shot was wide of the mark. Shortly after this both sides had wides from frees. O'Dorney began to come back into the game after that opening ten minutes spell of pressure from their opponents.
Shattering
Then in the fourteenth minute came the second of the three fell-blows which, demolished Stack's buoyant hopes of annexing the Championship for the first time since 1933. The North Kerry men worked the ball upfield and when it dropped out on the right corner-forward Jackie Condon doubled on it and, quicker than it takes to relate, the sliothar went hurtling into the Stacks net for goal No 2. That goal must have been even more shattering to the losers morale than the opening one. They seemed to have well and truly shaken off the after-effects of the first goal and with any luck must have had a couple of scores totted up with disaster befell them again. And once again it was the elusive Condon who was the executioner. And he wasn't finished with the job yet. After Noel Power was wide with Stack's 'seventy', the O'Dorney ace burst on the scene once more in the eighteenth minute; it was a replica of his two previous efforts as he pulled on a dropping ball and his powerful shot again found the back of the net. If anything it was an even more brilliant goal than either of the any two. The big O'Dorney contingent of supporters went wild with glee and their black-and-amber favours were very much in evidence as they shouted their heroes onto victory.
First Score
Still the battle raged but it was the twenty-fourth minute before we had the next score. This time it was Stack's turn to get among the scorers, they were awarded a free about thirty-five yards out and Heffernan compensated for earlier lapses from placed balls when he sent it over the bar for Stack's first score of the game. Immediately afterwards, Noel Power put Heffernan in possession, but the Tipperary born winger failed to capitalise on the opening. O'Dorney stretched their lead when Brendan Keane pointed a free in the twenty-sixth minute. Two minutes later Stacks had another opportunity of coming back into the game, but Joe Sullivan was wide of the posts with his attempt. When referee Brendan Cross blew somewhat 'prematurley' for half-time, O'Dorney held a sizeable lead of three goals (3-1 to 0-1) and it would have been a brave man just then who would have plumped for anything other than O'Dorney victory. Psychologically, Stacks must have been badly shaken. They had been hit a totally unexpected opening salvo in the form of a first minute goal and though they had at least a fifty/fifty share of subsequent exchanges they were still three goals behind their rivals and they had a super-human task facing them after the change of ends. In a bid to halt the dominance the centre half-back Tom Lyons Stacks switched John Barry to the 'forty' after the interval, with David Lucid been replaced by Pat Mulchay who came in in place of Barry in the right corner. But O'Dorney never faltered throughout the second half. They never lost their coolness or their composure and even though Stacks did make them fight every inch of the way they were always in command of the situation. The best Stacks could manage was two points from frees by Heffernan, one from Niall Sheehy and a last minute goal from a free by Power, whilst the winners tacked on seven points (four from frees) to leave no doubt about their right to the title.
No Scope
Much was expected from veteran Niall Sheehy for Stacks in this game, but O'Dorney's full back line saw to it that the burly John Mitchel's man got little or no scope to show the kind of shooting power that had demolished Lixnaw in the semi-final a few weeks earlier. Sheehy did manage to pick off one lovely point when he doubled on a dropping ball in the forty-seventh minute and he made several other tremendous efforts to make contact with the ball. But the breaks didn't just come either Niall's or his colleagues way in the game. The losers task was made all the more difficult by the brilliant display of goal-keeping from Paddy Walsh. He thwarted Stacks of certain scores on several occasions and his raking clearances must have been like a tonic to his backs when they were under pressure. Stacks were also unfortunate in coming up against a bang-in-form Tom Lyons at centre half back. He never put a foot wrong and he more than anyone else broke the back of the Stacks challenge to come back into the reckoning. Lucid could never cope with his exuberant hurling and even John Barry could do little to unsettle the cornerstone of the winner's defense. John Harrington and Frank O'Donovan were in sparkling form on the left flank of the winners defense and neither did Ned McElligott nor Timmy A. Keane give anything soft away on the opposite flank. The winners were very capably served at midfield where James Behan hurled with great fire and enthusiasm with steady assistance from Dan Brassil. Once again the winners half-forward line of Tony Behan, Tony Lyons and Pat Treacy rose splendidly to the occasion and their lightning forays had the Stacks defense working overtime. Undoubtly the hero of the hour for O'Dorney was quick silver Jackie Condon whose hat-trick of goals will forever be associated with his team's memorable triumpth. How the rock must have rued his presence and his ability to turn half a chance into all important scores, Truly the game of his life as far as Jackie was concerned. Brendan Keane in the opposite corner also contributed his share to victory and his accuracy from frees accounted for no fewer than four points of his side's total.
Bad Luck
For Stacks it was a continuation of the bad luck that has dogged them in hurling finals in recent years. In this case they undoubtly failed to a better team on the day; but one must surmise on what might have happened had Stacks got an early break in the game. For they hurled with such heart and elan in that opening quarter of an hour that they must have been wondering just what they had to do to get scores.
Scorers: O'Dorney: J. Condon, 3-0; B. Keane, 0-4; (frees), J Behan, 0-2 (frees), T. Behan and P. Treacy, 0-1 each. Austin Stacks: N. Power, 1-0 (free), L. Heffernan, 0-3, (frees), N. Sheehy, 0-1.
O'Dorney: P. Walsh; N. McElligott, D. Shanahan, J. Harrington, T.A. Keane, T. Lyons, F. Donovan, D. Brasil, J. Behan, T. Behan (capt), Tony Lyons, P. Treacy, J. Condon, T. Kearny, B. Keane.
Austin Stacks: T. Regan, M. McCarthy, J. Gannon, S. McCarthy, W. Walsh, N. Power, S. Fitzgerald, P. McCarthy, G. Scollard (capt), L. Heffernan, D. Licid, J. Sullivan, J. Barry, S. Geary, N. Sheehy, Subs: P. Mulcahy for Lucid, C. Flaherty for Heffernan.
Referee: B.Cross (Limerick)
Eamon Horan Kerryman Newspaper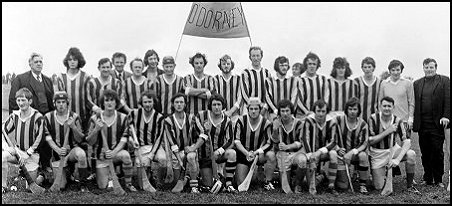 Abbeydorney
Kerry Senior County Hurling Champions 1974
Front row (l/r); T.A. Keane, Timmy Weir, Brendan Ashe, Dan Brassil, Jack Condon, Tony Behan, Capt.; Tony Lyons, Brendan O'Halloran, James Behan, Johnny Glavin, Ned McElligott. Back row; John Harrington, Moss Mahony, trainer; Jimmy Moloney, John Lynn, selector; Denis Shanahan, Mike Brien, supporter; Brendan Keane, Tom Lyons, Donal Deady, Tom Kearney, Frank Donovan, Tom Long, supporter; Tom Mahony, Kevin Glavin, Pat Treacy, Paddy Walsh, John Callaghan, selector.


Copyright(C) 2004 All rights reserved.