THE POET JAMES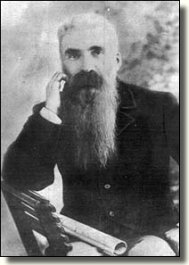 BARTON O'CONNOR
The poet James B. O'Connor was a member of a family of twelve children, six girls and six boys born to Thomas and Margaret O'Connor. His father having been dispossessed of his farm in Dromcunnig Abbeydorney, by the landlord Crosbie, moved to the lands at Lissereen, where the large family were reared.
In the 1860's James emigrated to Australia with two other brothers, Patrick B. and Batt. In 1904 while returning to Ireland on board ship, a fever broke out and he died at the home of his sister Mrs Bridget Prendergast, Farranfore.
He is interred in the family tomb in Ardfert Cathedral. The other members of the family settled as follows: John in Lissereen; Tom in Ardrahan; Denis in Ballyroe; Johanna became Mrs McCarthy, Goratoo, Kilflynn; Margaret became Mrs Stack, Banna; Mary became Mrs Lawlor, Doon, Tralee; Kate became Mrs Horgan, Moybella, Lisselton. Julia never married and remained in Lissereen.
The following poem is one of the many that he wrote while in Australia.

Sweet Lissereen
Through the scenes of my childhood no more I may see.
Nor visit again the sweet Vale of Tralee,
Where in youth I have strayed with friends who were true,
To their own Island mother sweet Erin to you.
                          ....
Though now far away in a far distant land,
Far away from those green fields and mountains so grand.
How oft doth my heart in its loneliness stray,
To those fond friends and fair scenes so far far away.
                             ....
Now fancy brings back those loved scenes this day
Those mountains so grand and those friends ever fair
And the sweet rippling stream that winded its way
By the home of my childhood now far far away.
                          ....
Now I long to behold you sweet Erin again,
And ramble the wild plains both mountain and glen
To the green hills of Kerry my thoughts often stray
And the home of my childhood so far far away.
            ....
How oft in my dreams to Killarney I go
And visit sweet Muckross and famed Aghadoe
And list to the thrushes and linnets sweet lay
In green Innishfallen, so far far away.
                       ....
And sound the loud horn in the Gap of Dunloe
And chase through the clear lake the wild stag and doe.
And glide o'er the waters of Tralee's lovely bay
Near the loved home of childhood so far far away.
                        ....
To Banna's wild strand my vision takes flight
And view in the distance St. Brendan's steep height
And behold his Cathedral in ruin and decay
The last home of my father so far far away.
                        ....
Ardfert's sacred mount to this fond heart so dear
For there oft in my youth I have shed a sad tear
O'er the tomb that envelopes my forefather's clay
In the time honoured ruin so far far away.
                        ....
Sweet home of the virtue the true and the brave
I murmur as slowly I move to the grave
Where St. Brendan reposes I kneel down and pray
For the freedom of Erin so far far away.
                        ....
To the plains of O'Dorney I turn with a sigh
And lament o'er the days that are now long gone by
The pure days of childhood so mirthful and gay
In sweet Lissereen now far far away.
                       ....
I awake from my sleep and vision is o'er
Alas I'm exile in Australia's wild shore
The pangs of this fond heart no words can portray
As tears flow for Erin now far far away.
                       ....
When at eve sad and lonely in this foreign strand
Fond memories return to Erins fair land
And recalls the bright joys of youth's happy days
In the loved home of my childhood so far far away.
                       ....
Adieu dearest Erin a loving adieu
To the mountains and valleys and friends fond and true
May God who has made thee so verdant and gay
Drive misrule and oppression from thee far away.
Our Own Place