Fortwilliam is the only townland in the parish of Abbeydorney, where a forge and its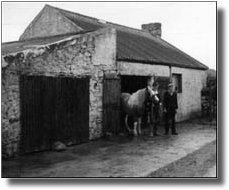 contents can still be seen. It gives us great satisfaction to know that our blacksmith, Patrick C Canty, or Christy as he is known to all his friends at home and abroad, is there to give an exhibition of craftmanship whenever he is needed.This trade goes back for generations in the Canty family.
The Canty family originated from Lyreacrompane and have family connections in Banemore, Listowel and Crotta. Christy can trace back to his Grandfather, Tade Canty, who died in 1915 at Fortwilliam. Thade was married to Mary Horgan from Kilmoyley and to them a large family was born 9 girls and 1 boy-Tim, Christy's father. Five of the girls emigrated to the United States, one died young, the others married and settled locally.Tim being the only son inherited his fathers forge and property, Tim married Mary Mulvihill from the Ferrybridge, Ballyduff and had a family of three boys-Timmy, Christy, and James, Christy attended Killahan National School until he was 14 years of age and then began his apprenticeship to the trade He had to learn the art of laying axils, cutting and welding a band and the ironing of wheels all of this prior to the electric welder, many the hard hour was giving sledging on the anvil and some of the older generation will tell you that forge welding or 'hob-welding' was the best of the lot.
One of the most tricky jobs that any young smith had to learn was how to shoe a horse.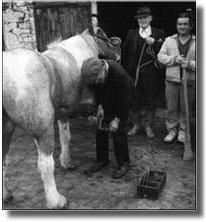 The correct size of the shoe, the shape of it, the fitting of the studs and of course, the driving of the nails which was the most important part of it. It was considered a disgrace for any farrier if a horse was slipping after him, never mind being lame.
Christy is most witty and has the 'gift of the gab'. After school we would often gather at the forge. We would admire a plough or a harrow that he was after repairing and would be foolish enough to ask him who owned it and the answer was usually the same-Fr. McCarthy.
There are many stories that one could write of the enjoyment we had in that forge, it was one place I liked to visit in my childhood. The horse and plough and forge are all but gone from our rural community but still they leave me great memories and hold a special place near to my heart.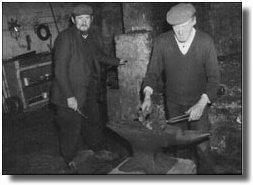 Jim Lawlor and Christy Canty -1989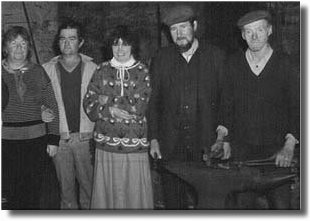 Cissy Shanahan, John Ashe, Breda Behan, Jim Lawlor  Christy Canty - 1989



Our Own Place