CAPPA NATIONAL SCHOOL
1884-1963
Cappagh was one of the first schools to be built in the parish. It was built in 1884.  It consisted of a two classroom building and served the community for a radius of up to 5 miles.  In the early years all pupils walked to school.  They had to go through, fields, bogs and rough roads from places as far away as Glenalema, Stacks-Mountain, Glenballyma, Kilfeighney, Leith, Laccamore, Tooreen, Rae, Upper and Lower Tullig, Gortaclohy and Clounafineela.  The land in which the school was built was purchased from the Walsh Family and in 1963 when the school was closed, it was returned to the Walsh family.  A new school was then opened in Cappa.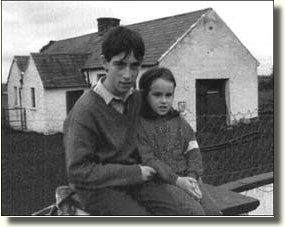 John and Claire Walsh pictured outside
the old Cappa School in 1989.

Cappa National Schhol 1956.
Back row (l/r) Master Sugrue, Nora Mai Carmody, Sheila McKenna, Joan McKenna, Tim Somers, Tim Moloney, Mary McKenna, Mai Cashel, Tom Walsh, Paddy Mulvihill, Vincent Finnerty, Tom Finucane, John Buckley, John Cashel, Margaret Breen, Kathy Leen, Margaret Cashel, Miss Nolan, teacher.
Middle Row; Helen Leen, Bridie Walsh, Mary Leen, Bridie Mulvhill, Kathy Walsh, Margaret Carmody, Margaret Sullivan, Mary Harrington.
From Row; Tom McKenna, James Carmody, Michael Somers, Pat Hannafin, Michael Leen, Joe Hannafin, Brendan Hannafin, Frank Mulvhill, Brian Mulvihill, Joe Leen, John Breen, Michael Relihan.
Our Own Place