Time passes and the detail fades, but the feeling of my second home always springs to mind when I reflect on my childhood days spent with my relations, the Laides in Garrynagore.  Even though Garrynagore is only 7 miles away it was not a journey lightly undertaken back in the early 50's and 60's.  Most Sundays, unless we were attending a football or hurling match, to support Kerins O'Rahillys or Crotta respectively, we would go on a family venture out to my grandparents farm.  My father, whom I suspect would liked to have been a farmer and to take off for a long walk all over the farm.  The boys would always be on the lookout for a game of hurling.  There was never any difficulty in rounding up a gathering for a game, as the Leens, Nolans, Lawlors, McCarthys, Flahertys, Kennys were always on hand.  My grandfather, Dicko Laide, who had a curious sense of humour and liking for the bottle of stout, was always an avid spectator to see how "the townies" were getting on at the game of hurling.  He was hoping perhaps that we could contribute to the revival of the glory days of Crotta Hurling to which Pat & Dick Laide had  made great contributions.  He was never slow to shout out instructions as he leant over the wall behind the  house - "Tanam an Dial men throw it up high and hit it on the way down" was one of his catch cries.  We tried our best and many a good Sunday afternoon was spent hitting a sub-standard, if not homemade sliothair.  Dicko Laide was always good for two shillings or half a crown for Nash's lemonade in McElligotts of Crotta Cross.
Many weekends and summer holidays were spent out in Garrynagore.  Mike Kenny who then worked in Traly Footwear was always a willing driver when called upon which was frequent.  There were the rough jobs and the easy ones - thinning the mangles and turnips was the one to be avoided whilst a day in the meadow was the highlight of the summer.  There were many days spent cutting turf in Keel which was then a lively place with a greeting at every door  - how the bog road has changed now - with many homes locked up and emigration having taken its toll.
An early test of manhood was being allowed to go to the creamery in Kilflynn on one's own.  At the initial stages, I was not strong enough to empty the tanks by myself and it was very important to have a solid citizen near one in the line.  Paddy Lawlor, the affable creamery manager, was not overly impressed by youngsters who were unable to pour the milk in by themselves.  I recall that I was usually in the company of Christy Maloney and Mikie Duggan and we were seldom first to deliver milk to Kilflynn Creamery.
It was in those days that Carnivals became fashionable in Lixnaw and Abbeydorney and long before my parents knew it I ventured into the dance hall in both villages.  A very pleasant part of those early days would be the ride in the pony and trap on Sundays to mass in Abbeydorney. There seemed to be plenty of time in those days and no great need for rushing.
All in all it was a happy childhood - I am glad to have been able to enjoy the richness of life in a rural community whilst living in a town.  I nearly realised one of my abiding ambitions winning a County Hurling Championship medal in 1979 but we were unfortunately pipped by Causeway who commenced their four-in-a-row.  Many an outsider has questioned me as to why I played my hurling with Crotta O'Neills - my response - "twas safer to play with them than against them!"  To all those people of my childhood in Garrynagore, thanks for the memories.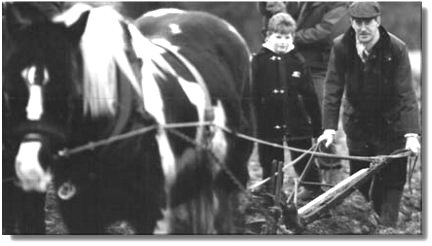 Tanaiste( deputy Prime Minister) and Minister for Foreign Affairs, Dick Spring doing a bit of horse ploughing at Abbeydorney ploughing Match, an hour later he was on his way to Brussels for a meeting of the EU, likely he was the only Minister present who had ploughed a furrow that day.
Our Own Place