! Created with Key Internet Publisher>
CURTAIN CALL
*
by Dan Dillane
| | |
| --- | --- |
| "Women are the ruination and disfiguration of the country" My first mouthful as I walked on stage in the parish hall in Abbeydorney. It was during lent in the very early '60s and like the other members of that cast, I was asked by the late Maurice Fuller to take part in a play, the proceeds of which would go to the Hurling Club. "They badly need a few pounds to keep going", Maurice told us. So you see the present very successful drama group owe a deep debt to the Hurling Club for its existence today. I felt privileged to be asked by the greatest Abbeydorney man that I ever knew and so I made my debut with the Abbeydorney Dramatic Society. That night will always be very special to me. It was the first of so many great nights, so many powerful productions and the doorway to making so many friends.The cast of the play was Eileen Flaherty(Sheehan), Winnie Edwards(Moloney), Aine Healy(Swan), Margaret Shanahan(Lynn), P.J. Keane, D. Shanahan and Dan Dillane. | Dan Dillane |
The early years of the Society are covered elsewhere in this publication by Tom Shanahan. There is a big gap between those two areas but drama was always very much alive in O'Dorney. The days of the Walkers, the Sheehans, Pat Long, Nicholas Scollard, the O'Briens and Paddy Joe Keane and a host of others are still fondly talked about, as are the times of Val Rice's pantomimes and Fr. Hurley's passion plays.
This brings us right up to Sive John B. Keane's first play which was to be the start of many associations for the Listowel man with Abbeydorney. I was in John B.'s pub recently with members of the Listowel Players and it was great to hear the man himself singing the praises of the cast of that play. The present producer with the Listowel Players, Gertie O'Keeffe, told me that she can never think of Sive without remembering Nuala Treacy's(Slattery) performance and that for her she will always be the real Mena Glavin. A nice tribute indeed from a very genuine lady. The middle and late '60s were lean times for drama in O'Dorney. We didn't have the use of the parish hall as it was being used as an Oratory while the new church was being built. Its an old saying that "tradition dies hard" and as the '70s came rolling in, Tony Behan took up the mantle of producer and under his guidance the Dramatic Society reached new heights. Higher standards in acting, set designing, lighting and sound were demanded and given. This era gave us the plays - Big Maggie; Many Young Men of Twenty; The Honey Spike; Tarry Flynn; The Plough and The Stars; The Year of the Hiker; and later, Da.
That time too saw us blaze the festival trail with tremendous success. It was great to be part of the Honey Spike cast when we were awarded the Cup for the best production in the All-Ireland final and also to hear the name of Mary Ann McGrath proclaimed Actress Supreme, having already swept the boards in Doonbeg, Scariff and Limerick. The full cast of that play was; Mary Ann McGrath, P.J. Keane, Dan Dillane, Mary Reidy, Mary McGrath, Finbarr Roche, Kevin Glavin, James Behan, Michael O'Donovan, Tom McGuire, Brendan O'Halloran, Tony Behan, Paddy Walsh, David Rice, Tom Mahony, Bernadette McGrath, Tony Lyons, Ger Shanahan, Marion Moloney, Kathleen O'Connor, Patrick Slattery, Eileen Flaherty, Michael Leahy and Majella Moloney. Producer - Tony Behan.
Our two most recent productions saw us go back to old faithfuls - Big Maggie which was produced by P.J. Keane, one of the pillar stones of drama in O'Dorney. He has filled every role from actor to set designer with distinction. Last year's production of Many Young Men of Twenty was also a big success for the group. Whenever I am asked what my own favourite part was I answer in one word "Da". Maybe I might get a chance to play him again - maybe.
We are now being asked "What play are ye doing next?" The answer - "We don't know yet but thanks for asking" and please keep on asking. A sincere thank you to all our patrons for their support and encouragement over the years. We extend a "Cead Mile Failte" to anyone interested in joining our Dramatic Society. So why not come along and with the other members we will together ensure that for Abbeydorney "The stage shall never die".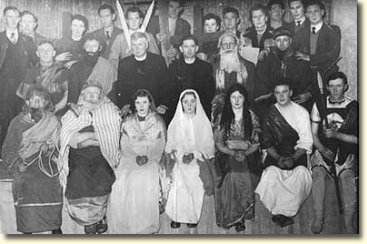 PASSION PLAY 1956 - "The Upper Room"


Top Row: (l to r) John Lenihan, Bob Mahony, Eileen Sheehan, Ger Shanahan, Shaun Donovan, John Brennan, Noreen Walsh, David Roche, K Fitzgerald, B O'Connor, Michael Rice, Kevin Roche.
Middle Row: (l to r) Pa Deady,N.T., Nick Scollard, Fr Hurley, Fr O'Brian, Pat Long, Tadhg Dunne, N.T.
Front Row: (l to r) Johnny Costelloe, Maurice Fuller, Willie Maloney, Maureen Shanahan, Nuala Slattery, Desmond Shanahan, James Sheehan,



Our Own Place