! Created with Key Internet Publisher>
MAURICE FULLER
A MAN FOR ALL SEASONS
By Michael Hayes
***
As the remains of Maurice Fuller were been laid to rest on a bright Kiltomey day in 1979 we sadly realised that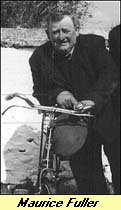 Abbeydorney had lost its favourite son, a kind and gentle man whose massive contribution to the community will always be remembered and acknowledged.  The son of the local schoolmaster, he developed an early social awareness which led him to do trojan work in several areas of local community life.  He believed that "the quiet way was the best" and this philosophy proved both endearing and enduring.
In his youth his main sporting activity was Tug-O-War and he pulled with local teams, winning many prizes at Sports Meetings around the county.  His love of Drama too was strong and he was part of the local group from the early '30s till his death.  In the early '60s his portrayal of the wife-pecked Mike Glavin in John B. Keane's SIVE received a marvellous reception.  He made his final stage appearance in Sean O'Casey's "The Plough and the Stars" in 1973, however, he continued in other capacities thereafter.
In a rural community of the 1930s ploughing was one of the few ways that young men could show their prowess and Abbeydorney had a strong organisation.  Maurice Fuller was secretary of this association for several years including a glorious period when we had the two greatest ploughers in Ireland, O'Mahony and Egan of Aulane bring All-Ireland titles to the parish.
His greatest love, however, was for the game of hurling and his contribution in this area reflects that love.  Stories still abound of Maurice carrying whole teams in his pony and trap in the 1940s, as an Austrian born painter named Adolf had deprived us of petrol.  Despite his best effort in those days, however, success was as elusive as a trout in Shannow today.  The early '50s showed promise but defeat in the 1954 County Final was the high point of that particular team. Maurice was undaunted and turning to the youth of the parish, the minor championship was captured with monotonous regularity in that decade.  This, Maurice deducted,  would automatically lead to Senior success - but after a promising opening to the '60s - emigration reared its ugly head.  Lemass had not instigated his industrial revolution and so Maurice was thwarted again.  Intermediate honours were won in 1965 and this was followed by North Kerry League victory in 1968.  This team could do it given the proper facilities and Maurice, having organised his troops, acquired a field and set about developing it.  This policy paid immediate dividends and O'Dorney reached 4 Co. Championship finals  in 1971 winning the minor and U14 but, alas, losing the senior one.
The players were crestfallen but Maurice, never a man for caustic remarks in defeat, knew that the big one was not far off.  Three years later in 1974 our Holy Grail was captured.  After brilliant struggles against Ballyduff and Causeway and in the final against Austin Stacks the everescent Jack Condon hit an early hat-trick and we all went mad.  Maurice was ecstatic and as he turned Dillons Cross that evening, tears spilled unashamedly down his cheeks - and why not - 'tisn't everyday a man sees his life's dream come true.  He had nutured those hurlers from an early age and indeed this writer can remember  being part of a whole juvenile team thronging in to Maurice's old Ford Poplar and then thrundling warily to Ardfert or elsewhere as Maurice made Herculean and often vain efforts to change the gears.  His honesty and integrity were often too much for us and on one occasion, having received a walkover from the referee because of the other team's late arrival, Maurice, however, insisted that we play the game - we revolted but he suggested the walk home might do us good, we played.  In retrospect he, of course, was right as he always was , that is why he will be remembered while the rest of us are consigned to anonyminity.
He loved Abbeydorney and its people, he spoke always of the hurling genius of John Paul Reidy and the deft artistry of Walker and Scollard, the ploughing prowess of O'Mahony and Egan but he also respected and praised the mediocre player and never wronged anyone.  
| | |
| --- | --- |
| | Sadly, the final curtain came down - this time there was no encore but no one would deny him a standing ovation.  The jovial man who touched our lives, earned our respect and undying gratitude was gone.  His remark after the final in 1974 that "I will die happy now" re-echoed in our ears.  The world was a better place with him but reflecting on his attitude and deeds might inspire all of us to do a little better.   Of him it can be truly said "Ni bheidh a leithead ann aris" |
Our Own Place