! Created with Key Internet Publisher>
MILLTOWN'S
PRIDE AND JOY
*
| | |
| --- | --- |
| Sonny Walsh | The late and great Sonny Walsh was surely the quiet man of Abbeydorney hurling, few forwards in the '20s and '30s created such an impact in the sport as he did. In Abbeydorney's great run of victories from 1925 to 1936 in the North Kerry Leagues, he put his name to several memorable goals. At that time he was the bane of all full-backs in the county and goalies dreaded his powerful shot, indeed it was for the great power he had in his shots that he achieved fame. |
One incident that happened in Kilflynn in 1937 was recalled for us by Jerry Riordan. Abbeydorney were awarded a twenty-one yards free and Sonny Walsh stepped up to take it. His rocket-like shot came back off the cross-bar to where he was well positioned for the rebound. So powerful was his second shot, that neither backs or goalie saw the sliotar until they were alerted by the sound of it hitting a corrigated iron shed some thirty yards behind the goals (some goal!).
The famed Tom Grady of Bushmount, who won many honours with Lixnaw, firmly believes that he could compare no other hurler with such a powerful stroke as Sonny Walsh only the great Christy Ring of Cork.
Sonny himself was a very modest person and was very reluctant to talk about his feats on the hurling field. He would much prefer to hear a song or sing one himself.
It must have been a great thrill for Sonny and a life-long ambition fulfilled when his beloeved Abbeydorney won the County Hurling Championship in 1974. Indeed his own son Paddy played a storming game in goals that day for the wearers of the Black and Amber. Sonny and many of his hurling colleagues have now gone to their eternal reward but the memory of them will still live on as long as hurling is spoken about in Abbeydorney.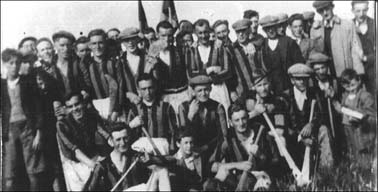 ABBEYDORNEY SENIOR HURLING TEAM IN THE 1930'S


Front: (l to r) John O'Brien, Child unknown, Johnny Costelloe. Second row (l to r): Tim O'Sullivan, Tommy Diggins, Jim Stack, Jimmy Walker, Jackie Glavin, Eddie Connor, P. Glavin. Back row: Far left: Jackie Walker, Next player: Jerry Riordan, Nicholas Scollard, Moss Mahony, Spectator: John Hurley, T. Lawlor, Spectator: Maurice Fuller, John Paul Reidy, Spectator: J. Shanahan, Sonny Walsh, Spectator: John Martin Healy, J. Diggins, B. Connor, Tommy Moore, Brian Lynch, Sonny Costelloe



Copyright (C) 1989 All rights reserved.








Our Own Place