! Created with Key Internet Publisher>
ABBEYDORNEY'S
TERRIBLE TWINS
by Jim Lawlor
****
"We'd assemble each eve at the sportsfield,
Where the clash of the ash we could hear,
Scollard and Walker our idols,
Faithful sons of the Black & Amber so dear"
Down the years Abbeydorney has produced many outstanding sportsmen in many fields, none greater than Nicolas(Nick) Scollard and Jimmy Walker, whose expliots on the hurling field throughout the country are still fondly remembered by those who were privileged to see them play.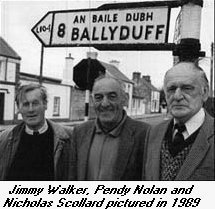 Nicholas Scollard first came to prominence with the Jeffers Institute Tralee, where he won a college medal. Jimmy Walker was born in Co. Sligo and came to Abbeydorney in 1929 where his father was Station Master. Jimmy's first achievements were winning Kerry and Munster College medals in football.
Both youths made their debut at senior level with O'Dorney, at Kilflynn against a Finuge and Listowel selection in 1937. The following year, 1938, both represented Kerry in the Munster minor hurling final. After defeating Clare and Waterford, Kerry went down to the hurlers of Cork in the final. In 1939 they had the honour of playing minor and senior with Kerry.
Walker joined the army in 1940 here he won an All-Army medal with the 15th battalion. In the mid 40s, he joined C.I.E. and was based in Clare where he played football with Faughs Ennis and played hurling with Dalcassains Ennis, winning three senior football championships in 1946, '47 and '48. He was selected on the Clare junior hurling and football teams. The highlight of his career in the Clare colours was to play in a thrilling senior hurling league game against Galway in Gort in 1947 which ended in a draw. This was the same Galway team which represnted their province Connaught and won the Railway Cup that same year. The Galway Tribune paid this tribute to Walker - "Clare introduced a newcomeer, Jimmy walker, who is a shinning star at midfield". Clare also had men in their ranks of the calibre of Haulie Daly, Willie McAllister, The Halpins and the youthful Donald O'Grady, who later came to prominence in the 50s. Galway were narrowly defeated by Kilkenny in the All-Ireland semi-final and Kilkenny later defeated Cork in the final on the score, Kilkenny 14 points, Cork 2 -7.
Scollard remained in O'Dorney and kept the flag flying in the lean years gaining little success on the hurling fields of Kerry. His one consolation was the winning of a North Kerry junior football championship in the early '40s. Across the border in Limerick, hurling was on a high, that county winning the All-Ireland of 1940. Noticed on his display for Kerry, Nick was enticed to play with Tournafulla(under a different name) and a West Limerick selection winning three County Championships in the mid '40s. He won his only Kerry County Championship with Crotta in 1947. Also in 1947, Walker won his only hurling medal with Abbeydorney - a junior North Kerry Championship. Both men agreed that the best Kerry team of their era was the Kerry team defeated by Cork in a Munster Junior Championship. This Cork team included a number of seniors among their ranks. Both men claim that Kerry could well have won the game had they not lost the powerful Frank Kissane with a knee injury.
At club level in Abbeydorney, things were beginning to brighten, a number of good young players had come on the scene and in 1952 they got to the semi-final of the Championship but lost to Ardfert. Abbeydorney were determined to go one better in 1953 beating Kilgarvin in the first round and meeting their old rivals Ardfert in the quarter-final. Scollard and Walker have no doubt but this was the best O'Dorney team they played on. Inspired by the display of Brendan Brosnan at right-half-back and ably supported by his young team mates, they had the champions on the run until in the 29th minute, a serious row broke out causing the game to be abandoned. In 1954, they reached the final and a much under-strength Abbeydorney team lost to Lixnaw. The best and unluckiest Abbeydorney panel in '52-'53-'54 were -
T Falvey, J McKenna, W Falvey, D O'Halloran, B Brosnan, T Lawlor, P.J. Brosnan, T O'Connell, M O'Connell, G McGrath, D Rice, E Duggan, J Walker, N Scollard, M Sheehan, J Brosnan, J Moloney, T O'Sullivan, P O'Halloran, J Leen, T Riordan D O'Dowd, J Costelloe, P Glavin, J Rice, T.J. O'Sullivan, M O'Connell. They were trained by Garda Dan O'Grady. After this, emigration took over, Scollard played on until about 1960, finally calling it a day. Walker played football with St. Brendan's in the early '50s and emigrated in 1956 to England where he continued to play hurling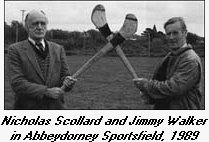 until 1962.
Nick's Memories;
Best men he played against were John Quirke, Jim Young, Matt Founy, the Fitzgeralds of Limerick. The best he played with - Michael Hennessy, Dan, Sean and Paudie Healy, Tom Nolan, Dick Laide, Frank Kissane, Richie Purcell, Jackie Power, Jimmy Walker and the Brosnans.
Jimmy's Memories;
Travelling by goods train to Newcastlewest from Abbeydorney, getting a lift to Limerick, walking to Ennis and winning a county football final the next day! Best he played against - Seanie Duggan, Inky Flaherty and Josie Gallagher. Best he played with - Michael Hennessy, Frank Kissane, The Healys, Richie Purcell, Tom Nolan, Dick Laide and Nicholas Scollard. Club teams he preferred to play against - Crotta, Ardfert, Kilgarvin. One of his great loves in life is a good game of hurling and he is also a life long supporter of Galway Hurling. He believes that what makes the G.A.A. great is dedication and loyalty to your club and pride in your parish.
Our Own Place