"Long ago when you were young" was a phrase used by my children when asking questions about the world we lived in when going to school in the thirties. At that time I resented the  "long ago" part but have since come to accept it , as, with the passing of time it is now indeed quite "long ago".  
All of us girls, from infants class to seventh standard, occupied the upper floor of the two story school reached by an outside stone stairway. The ground floor was occupied by the boys , and there were only a few schools of this design in the country.  Our floor was one room divided by a partition of large maps. Mrs O'Rahilly's section had a large open fireplace, long desks and stools while Mrs Fitzgerald's portion had a four tier gallery, desk and portable oil stove for heating.
We tidied our room each evening, dusted every morning and on Friday evenings did a big clean up.  We also made a "brew" of ink for the coming week having first washed the inkwells.  Ballpoint pens and biros had not yet been invented.  We took our P.E. walking to and from school.  In spring we looked for the little birds nests in the hedges but were careful not to disturb them.
With the approach of Summer it was traditional to go barefoot from May onwards and we delighted in seeing our footprints in the dust and the little "puffs" of dust dislodged as we walked - tarmac had not yet come to the country.  The good summer just gone was a reminder of the summers of our school days.  In Autumn we picked blackberries, haws and sloes on our way home and amused ourselves bursting the "thimbles" on the foxgloves.
Pocket money was the occasional penny or twopence and was by no means a regular income.  It never occurred to us to bargain for payment for the "jobs" - it wouldn't have succeeded anyway.  A shilling (5p nowadays) was riches while a half a crown was sheer wealth and given only on great occasions.
The arrival of McCowen's or Latchford's horse drawn vans in the village meant that a supply of fresh bakers white bread and buns was available.  Geary's motor van, all the way from Limerick, brought supplies of square shaped plain cakes, round currant tops and Geary's toffees.  Our penny bought an iced bun or ten caramels or a toisin of boiled sweets and lucky people with twopence could buy a chester square.  We were very cautious spenders and inspected the stock in Jerry Whelan's, Mrs Staunton's and Miss Scollard's.  The understanding was that the purchaser kept half the "goodie"  and the other half was divided among friends and followers.
A form of ecumenism existed before we ever heard the word or knew its meaning.  Each year at the approach of the Forty Hours Adoration Sunday, we were sent around the village collecting vases, poted plants and flowers to decorate the altar.  We always arrived back with Bruddy and Cissy Champ's best vases, geraniums and cut flowers.  Bruddy was the Postmaster and Cissy was his sister - they were a Protestant family, loved and respected by everyone.  We called to all the houses in the village - finishing with Mrs Lawlor's at Montanagay - she had the best roses.  Fr. James McDonnell was P.P. in Abbeydorney during our schooldays.  He was a kindly and sociable priest and a great promoter of the Irish language.
Of those in the photograph below some passed away in their early teens, some in later years.  Others emigrated but periodically return to their roots, obviously reaping the rewards of work well done and time well spent.  Some of us settled at home.  All are separated by about two generations from today's children who take modern living for granted.  Only our generation can make the comparison between their world today and the world of "long ago when we were young".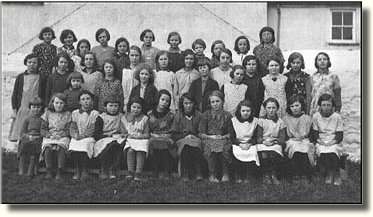 Abbeydorney Girls N.S. about 1933.  
Back Row (l to r) Bridie Lyons, Nellie McCarthy, Rita Costelloe, Maureen Fitzgerald, Nora O'Callaghan, Annie Rice, Mary Slattery, Maureen O'Connor, Mary Bridget Stack, Ursula O'Mahony, Nora Egan.  Middle Row; Jo O'Connell, Nellie Lawlor, Nancy Lawlor, Hanna Buckley, Sheila Sheehan, Mollie O'Callaghan, Maureen O'Connor, Margaret Buckley, Mary Stack, Aggie Walker, Mary Brosnan, Margaret Hanafin, Kathy May O'Rourke, Margaret Tuomey, Nora McCarthy, Nellie Kavanagh.  Front Row; Chrissie Walker, Mary Leahy, Mary Hureley, Bridie O'Connell, Nora Moriarty, Mai Lawlor, Mary Barry, Hanna O'Callaghan, Nora Mai Breen.  Centre Frow Row; Jo Hurley, Maria Fitzgerald, Nellie Hurley.
Our Own Place