Contents
How Celbridge got Its Name
The old Irish name for Celbridge was Kildrought or Kildroighid. This was an anglicised version of the original Gaelic name Cill Droichid, the church of the bridge, which was the ancient church of St. Mochua.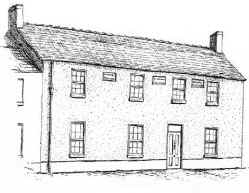 George Finey's residence
The name was changed to Celbridge following the Williamite conquests. George Finey - a staunch supporter of King William, on his arrival in Kildrought built a house on the Main Street between 1724 and 1728. He had three stone tablets, which can still be seen , inserted in the street front. The centre tablet is inscribed "Celbridge, Anno 1724" and is of particular interest at it confirms that it was in this period that the old Irish name was changed to Celbridge.
Landmarks and People
William Conolly
William Conolly, who was Speaker of the Irish House of Commons, was born in Donegal in 1662. He had a yearly income of £25,000 and owned huge estates in about ten counties of Ireland.

He would have required 240 horses to bring his half year's rent from his house in Dublin to Castletown and three cellars for storage.

He became so popular and famous that many parents named their children after him.

William qualified as a solicitor in 1685 and later as a barrister.

He became rich by acting as solicitor for landlords who sold and bought lands after the Williamite wars. As he was an Irishman and a Protestant, many families chose to sell to him in preference to English landlords.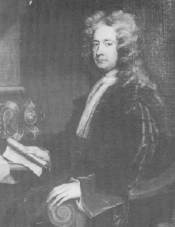 Speaker Conolly
He came to Celbridge in 1709 where he purchased 1,730 acres of land. His tenants lived in thatched cabins and he complained that they were all beggars. He insisted that in future they would build houses of stone with chimneys and windows.
Castletown House
In 1722 Speaker Conolly started building Castletown House which is Ireland's largest eighteenth century country mansion. It contains one hundred magnificent rooms with 229 windows.

As the estate was self supporting it required brewers, bakers, weavers, carpenters, dairy maids, stable boys, gardeners, coachmen and masons.

The butlers were paid £13 per year, cooks £12, coachmen £11, gardeners £10, kitchen maids £3 and cowkeepers £3.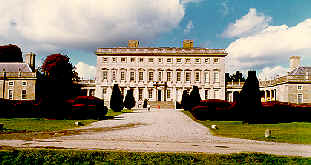 Castletown House
Castletown Gates
Castletown gates stand at one end of the Main Street of Celbridge. They were built in 1783 by Lady Louisa Conolly at a cost of £17. On top of each magnificent pier rests the statue of a sphinx - a figure with the body of a lion and the face of a human. Inside the gates is a splendid avenue of lime trees which leads to Castletown House.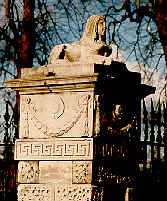 The Sphinx on Castletown Gates, 1783
Did you know?

When Speaker Connolly came to Celbridge in 1709 he said the people were all beggars.

Speaker Connolly had a salary of £25,000 and was the richest man in Ireland at the time.

On top of each pier of Castletown Gates rests the statue of a sphinx - a figure with the body of a lion and the face of a human.

The Obelisk
The Obelisk or "Conolly's Folly" was erected by the widow of Speaker Conolly to adorn her estate and to honour her husband.

It was built in 1739, after a severe winter of famine and frost, to provide employment for the poor of Celbridge. The workers were paid 1/2d per day and it cost £400 to complete.

This unusual structure stands at a height of 140 feet and has been described as "the one piece of architecture in all of Ireland".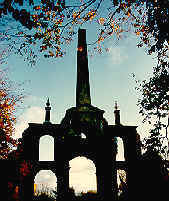 The Obelisk or "Conolly's Folly"
Celbridge Workhouse
The period after 1814 was one of great poverty among large sections of the Irish people. Many were reduced to a bare existence and depended on what could be produced from a small patch of land which was often used solely for the growing of potatoes. If they couldn't pay the rent to the Landlord they were evicted, which resulted in many families travelling the roads depending on the charity of others.
In 1838 the Government decided to provide some help for the most destitute. They divided the country into "Unions" and built a workhouse in each union.
The Celbridge Workhouse (now Colortrend paint factory) opened in 1841 at a cost of £6800 to house 519 inmates. It was the policy of the governors of the Workhouse that a standard of living higher than that enjoyed by the poorest people outside should not be provided.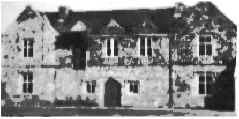 Celbridge Workhouse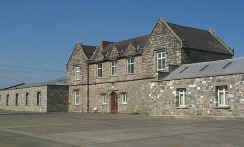 Celbridge Paint Factory
Workhouses were places of despair and hopelessness and people entered only as a last resort. The able bodied earned their daily bread by breaking stones and the women through spinning, sewing and knitting.

On entering the workhouse families were broken up, with men, women and children being referred to their different sections.

The workhouse was often overcrowded and disease and fever were rampant. Half of the children who were admitted died within a short period of time.

Close by the workhouse was the fever hospital and the graveyard where the inmates were all buried together in unmarked graves. In Celbridge hundreds of people were buried in the famine graveyard adjoining the workhouse. A single cross was subsequently erected in memory of those who died during those tragic years. The inscription reads: "Pray for the souls of the poor and afflicted whose bodies have been laid in this cemetery since 1846, R.I.P.".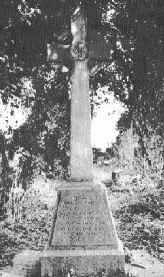 Famine Cross in Paupers Graveyard on Maynooth Road.
The "Mill"
The earliest reference to a mill in Celbridge was in 1217, which was to be the Manor Mill of Kildrought. It was a corn and tuck mill which continued as such in different buildings until 1805.

In that year a firm from Yorkshire came to Celbridge to open the largest woollen fabrics factory in Ireland. About 600 people were employed there which included many children, who were paid 16p per week.

The factory closed in 1837 but was reopened again in 1939 by Irish Gowns. Navan Carpets acquired the premises in 1858 and its now owned by the Celbridge Community Council.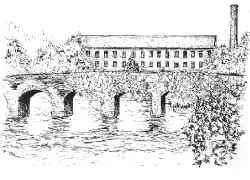 Bridge and Mill , Celbridge, about 1900
Did You Know?
The first mill in Celbridge was built by the Normans. It was used by farmers to ground their corn which was then used to make bread and porridge.

Brown wrapping paper and post cards were made from peat in Celbridge Mill in 1903.

Hydro electricity was first used in Celbridge Mill in 1903.

Army clothing which was worn by Napoleon's army was made in Celbridge Mill at the beginning of the nineteenth century.
Abbey School
The Abbey was the first National school to be erected in Celbridge in 1849. It consisted of two classrooms, one for males and the other for females. Each school was completely independent and each had its own playground, dry toilets and fuel shed.

The school was opened in the aftermath of the Great famine and at that time the struggle for existence took priority over education. Many children attended school irregularly and tended to drift into employment at an early age.

During the period 1870 - 1880 some of the boys spent only half of each day in school and worked during the other half in the local mill. They were known officiallly as "half time pupils".

Most parents could not afford to buy school books and written work was done on slates using slate pencils.

The Abbey School is now known as Scoil na Mainistreach.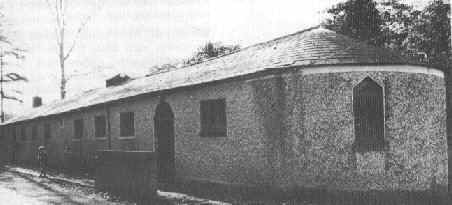 Abbey School 1849
Oakley Park
Celbridge House later known as Oakley Park house was built in 1724 by Dr. Arthur Price who became vicar of Celbridge and in 1744 was promoted to Archbishop of Cashel.

Richard Guinness, father of the famous Arthur Guinness, worked for the Archbishop as a land steward. One of his duties was to supervise the brewing of beer for the workers on the estate.

Another famous family to live in the house were the Napiers. Lady Sarah Napier was a sister of Lady Louisa Conolly of Castletown.

The Napiers had eight children and two of their sons, William and Charles became world famous. William joined the English army at the age of 16 years and fought in the wars against Napoleon. He was decorated for his bravery on seven occasions. Charles joined the army at the age of 13 years where he later became Commander in Chief of the army of India.

The house was purchased in 1952 by its present owners, the Brothers of St. John of God.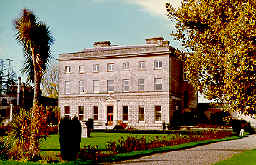 Oakley Park House
Arthur Guinness
Richard Guinness arrived in Celbridge in 1722 and was employed as a land steward by Archbishop Arthur Price of Oakley Park estate. One of his duties was to supervise the brewing of beer for the workers on the estate.

In that same year Dr. Price took over James Carberry's brewery (now Norris's Bar) having been inspired to do so by the ability of his servant Richard Guinness "to make a brew of a very palatable nature". It is assumed that this was the first house of the Guinness family in Celbridge.

His son, the famous Arthur Guinness, was born in Celbridge in 1725. He was named after the Archbishop who left both father and son £100 in his will. Four years later, at the age of 31, Arthur had a small brewery in Leixlip.

In 1759 he arrived at St. James' Gate, where he established the solid foundations of one of the world's most famous breweries.
Did you know?
Arthur Guinness was born in Oakley Park in 1725 where his father was employed and one of his duties was to supervise the brewing of beer.

It is said that Arthur Guinness brewed his guinness in James Carberry's brewery now Norris's Bar.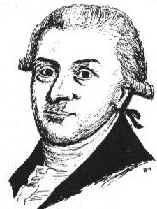 Arthur Guinness
Celbridge Abbey
Bartholomew Van Homrigh was a Dutch merchant amd compatriot of King William of Orange. He bought the manor of Kildrought in 1695 and later built Celbridge Abbey. Van Homrigh became Lord Mayor of Dublin in 1697 and secured from William of Orange the chain of Office still worn by the Lord Mayors of Dublin.

Vanessa, daughter of Van Homrigh, had a relationship with Dean Jonathan Swift, author of "Gullivers Travels". Swift visited Vanessa many times at her home in Celbridge. Their love affair was stormy and is the subject of much speculation to the present day.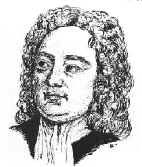 Jonathan Swift
Henry Grattan, the famous Parliamentarian, frequently visited his uncle in Celbridge Abbey. Grattan's mother, Mary was born in the Abbey and he says he was richly inspired by the beauty of the walks. It was in Vanessa'a bower that he composed his famous speech "Declaration of Rights" which led to the setting up of Grattan's Parliament in 1782.
Henry Grattan
Did you know?
The chain of office worn by the Lord Mayor of Dublin was presented by King William of Orange to Van Homrigh who built Celbridge Abbey and who was Lord Mayor of Dublin in 1697.

Jonathon Swift, author of Guilliver's Travels had a love affair with Vanessa Van Homrigh.

The mother of the famous Henry Grattan was born in Celbridge Abbey.
Lyons Estate
A famous Catholic family called the Aylmers lived at Lyons for about 400 years. In the 1641 Rising, the Earl of Ormonde burned Lyons and the old castle was destroyed and never rebuilt. Even though they were Catholics they were spared by Cromwell and later by King William of Orange. They sold the land to Sir Nicholas Lawless in 1796. The large existing Georgian mansion was built of stone in 1797.

Nicholas Lawless was the son of Robin Lawless who came from the Wicklow hills and sold turf from an ass and cart on the streets of Dublin. A wool merchant, out of charity, allowed him to pass the bitter winter in his house in Dublin. When the wool merchant died Robin married his widow and became a wool merchant himself. He later became involved in banking and was a very successful businessman.

Nicholas Lawless had a famous son called Lord Valentine who was a friend of Wolfe Tone, Lord Edward Fitzgerald, Henry Grattan and Daniel O'Connell.

Valentine was a very progressive farmer. He loved goods of Irish manufacture and this led him to wear green clothes made in Ireland.

Emily Lawless was the grand-daughter of Lord Valentine who wrote famous poems such as the "Wild Geese" and "Fontenoy". She died in 1913.

Mary Lawless was a friend of the Dublin strikers of 1913. She begged of her father to give her a cow to supply milk to those who were locked out. Lord Cloncurry promised her the cow if she would drive it to Dublin herself. Without hesitation the animal was driven to Liberty Hall.

The house and about half the lands is now the home of Tony Ryan of Ryanair. The other 600 acres is owned by University College, Dublin.

Lyons House
Daniel O'Connell
Daniel O'Connell, the "The Liberator", had a famous duel with John D'Esterre in Lyons Estate in 1815. The duel was organised to settle their differences which was the code governing the conduct of gentlemen at that time. D'Esterre was fatally wounded in the duel and died two days later. O'Connell was conscience stricken and is said to have regretted the incident for the rest of his life. When attending religious services afterwards he always wore a black glove on his right hand.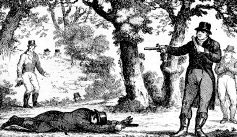 A Famous Duel
Tom Sands Remembers
Thomas Sands was a primary teacher who taught in the Abbey School and later in Scoil Phádraig, Celbridge from 1930 to 1977. The following are some of his memories from that period.
Employment
Apart from Celbridge Mills, which were sometimes closed for long periods, there were few industries to provide employment. Most of the big estates were self-supporting as each had its own dairy, bakery, laundry and brewery. Large numbers of workers were employed but working hours were long and wages low. Women and girls were required for domestic duties in the house. Men and boys worked on the farm land, in the stables and in the extensive walled gardens and orchards. Back-up services were provided by maintenance men, blacksmiths, stonemasons and handymen.
Housing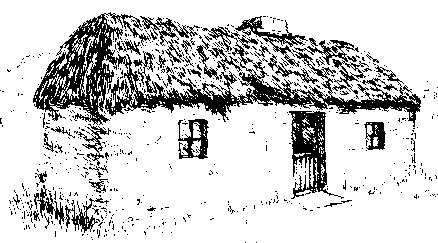 Although most of the old mud walled thatched cottages which had been a feature of roadsides around Celbridge in earlier times, had disappeared, some still remained and were occupied right up to the outbreak of World War 2. The walls and floors of these small one or two roomed cottages were made of yellow clay, which is to be found almost everywhere in the Celbridge area. Each cottage had a couple of small windows and a little chimney.
A public domestic water supply in Celbridge was provided by manually operated pumps situated at Maynooth Road, Main Street and Tea Lane. A piped water supply was not provided until 1940 and this was followed some years later by a mains sewerage system. Up until then dry toilets were in general use.
In 1941 Kildare County Council embarked on a major re-housing programme and the first new houses in Celbridge for many years were erected at Ballyoulster. Further council houses were built at Oldtown and Maynooth road and some years later came the development of St. Patrick's Park.
Entertainment
Entertainment was provided by dances and card playing which were held regularly in the Hall (old Courthouse, now Celbridge Carper Centre). Pictures were also shown there and concerts were frequently staged by local troupes.
The Fair Day
In the period to the outbreak of World War 2, a fair was held twice yearly in Celbridge. The Fair Day was always an exciting and colourful occasion when cattle, sheep, horses, donkeys and pigs were bought and sold.
The proximity to the Dublin Cattle Mart and the increasing use of lorries to transport animals to larger fairs led to the demise of Celbridge fair.
Cattle Night
For many years prior to 1941 Wednesday night was known to Celbridge people as "Cattle Night". On that night cattle were driven by road from the farms to the Dublin Cattle Market. Large droves of cattle from the area were to be encountered by late night travellers on the Celbridge - Dublin Road which resulted in long delays and many complaints.
Turf Carts
A feature of life in Celbridge for many years prior to the outbreak of World War 2 in 1939 was the sight of long rows of carts heavily laden with turf or hay passing through on their way to Dublin. They came from Prosperous, Robertstown, and Allenwood. As Celbridge was roughly the half way point on their journey it became a favourite resting place. Horses were unyoked, fed and rested for a couple of hours. The drivers adjourned to a local restaurant where they ate, drank and chatted before resuming their long night journey. Their aim was to arrive in the city early in the morning where they sold their turf going from door to door, usually for a few pence per dozen sods.
Jaunting Cars
Before the outbreak of World War 1 in 1914 road transport in Ireland was by horse drawn car. Motor cars and buses had not yet come into common use nor had suitable roads been built. Travel to and from Celbridge for those without some means of private transport was by railway train. As the railway station at Hazelhatch was more than a mile from Celbridge a service of horse drawn side cars or "Jaunting Cars" was provided.
Buses
The first Dublin - Celbridge bus service was provided about 1920. The buses were ex-British army lorries, which were no longer required after world War 1 and were converted by the addition of wooden bodies and seats.
Between 1929 and 1939 there was a two hourly bus service between Dublin and Celbridge. Return fare for the full journey was one shilling and four pence. There were no designated bus stops so passengers could board or alight at any point on route.
The same two drivers manned the Celbridge bus for many years and a friendly relationship developed between them and the travelling public.
During the war years, 1939 - 1945, bus services were restricted. In the absence of petrol supplies for private vehicles, most people depended on public transport.
Interesting Facts
Antlers of a Giant Irish Deer which roamed Ireland about 9500 B.C. were found in Kilwogan, Celbridge about seventy years ago.

Before the present bridges were built over the Liffey at Celbridge there were two fords.

There were three Norman castles at Castletown and walls of the castle are still standing.

King Henry VIII , closed down St. Wolstan's Monastery in 1536 where monks lived for 334 years.

The Obelisk was built in 1739 to provide employment for the poor. The were paid ½ p per day.

A piped water supply was provided in Celbridge 1940. Prior to this, water was provided by manually operated pumps.

In the 1930's Wednesday night was known to the people of Celbridge as "Cattle Night". On that night cattle were driven by road from the farms to the Dublin Cattle Mart.

Prior to World War II a feature of life in Celbridge was the sight of carts laden with turf and hay passing through on their way to Dublin.

The first Dublin - Celbridge bus service was provided about 1920. The buses were ex-British army lorries which were no longer required after World War I.

In 1659 the population of Celbridge was 102, the land was owned by nine families and the most common name was Kelly.

In 1674 there were three fair days a year in the town. The fair day was always colourful and exciting when cattle, sheep, horses, donkeys, goats and pigs were bought in gold.

The population of Celbridge in 1837 was 1,647 and their public transport consisted of a coach and four cars.
Links
A History of Celbridge by Tony Doohan
The Vikings - Viking Network Ireland
Newgrange - The Megalithic Monument
The Irish Famine
Irish History
Irish History Reference Site
Áras an Uachtaráin
Top of Page