Guitar Player Magazine Sept. '84

Lonnie Donegan started me playing guitar, I suppose. To be able to reproduce Skiffle all you needed was a flat-top guitar and three chords, and you were off. It seemed easier in those days than I imagine it would be for a kid who wants to start playing guitar today. Now he would be totally overwhelmed with what he'd hear.

Lonnie had a great guitar player called Denny Wright, who still plays. He's very much in the Django Reinhardt vein. But I think the first really good guitarist I heard who just floored me - I thought I'd give anything to play like him - was Cliff Gallup with Gene Vincent's Blue Caps. Their first couple of albums just blew me away; songs like "Blue Jean Bop", "Jumps, Giggles, And Shouts", "Pink Thunderbird" - real intelligent themes [laughs]. There was a single that wasn't on an album then, "Race With The Devil" [available on The Bop That Just Won't Stop], that had an absoloute killer solo where Cliff jumps from E to F. That is a real tough solo; it's so clean. I got as close to it as I could.

Gallup was my favourite guitar player in the late '50s, and I think it really helped me a lot, trying to work out his solos, becaus they were very jazzy. They used lots of scales all over the fingerboard. He was the one guy that really made me sit down and work on solos. And Buddy Holly as well, of course. His solos were a lot simpler, but I suppose everybody was knocked out with the sound of his guitar - that great bell-like tone. I particularly liked his solos on "That'll Be The Day" and "Looking For Someone To Love." They were obviously a lot easier to work out that the Cliff Gallup things, you know.

I didn't have an electric guitar at that time; I had an acoustic [arch-top] Hofner President. Then I got a Grazzioso, which was a copy of a Fender, and then a Les Paul Custom with a Bigsby on it. I was trying to get close to that Cliff Gallup sound, and there were quite a few echo units on the market in England in the early '60s. I got an Echolette tape echo made by Hohner in Germany, which had repeat and vibrato - so it was pretty close to that sound.

I found the James Burton sound very appealing, but it seemed totally alien to me, because I couldn't figure out how he was doing it. I'd started to learn how to play like Cliff Gallup, and it was with a wound thrid string. Burton was a different approach altogether - all that string bending with an unwound G. My favourite record with him was "My Babe" by Ricky Nelson - pretty magical guitar sounds throughout the whole of that record. All the early Ricky Nelson albums were great from Burton's point of view, although some of the songs were pretty schmaltzy. I put up with a lot of schmaltz just for the occasional solo that might creep through. "Just A Little Too Much" [by Nelson] is another classic example of the way Burton played then, and "It's Late." It's such a simple solo - he plays so few notes - but it has an incredible feel. It's really hard to get that feel that he had.

During the early '60s, I was playing alongside all the English guitar players, and we had the same influences. A guy I used to run into very often then was Jimmy Page. He'd come over to my place, and then we'd go over to his place, and we'd go through records and just be rolling on the floor listening to that stuff. He was a big James Burton fan. He used to carry a picture of James Burton in his wallet.

I was also heavily influenced by Scotty Moore on all of the early Presley records, like the stuff on The Sun Sessions [including "That's All Right", "Mystery train", "Just Because" and other classic Elvis sides]. I spent hours figuring out those solos; it was a good place to start. He was closely related to what Gallup was doing, in a way.

Another important phase of my listening career came in 1960 or '61, when somebody laid a record on me that totally blew me away - still does to this day: Johnny Burnette And The Rock 'N' Roll Trio. I could put that record on now and get so enthusiastic over it and play along with it. There's just so much energy and a realy rawness about the guitar. I've hear conflicting stories as to who played on it - some say it was Grady Martin. [Note: According to Rock 'N' Roll Trio lead guitarist Paul Burlison, Martin appeared only on a session or two done in Nashville (most of the material was recrorded in New York), and played only rhythm to Burlison's lead.] "Honey Hush" has a great solo, and "Lonesome Train" where he does pull-offs on the first and second strings. I've got about four copies of that album - re-issues from various countries - because I'm in danger of wearing my original one out.

You couldn't get Chet Atkins albums in England at all. The first one they released there was probably Teensville, a pop record, and then they followed that up with one that was all gut-string flamenco stuff. Which was...nice, you know. But we didn't have all that essential stuff when he was doing all those breakdowns - the stuff he was famous for. The album that really knocked me out was Mister Guitar. [Note: An excellent cross section of Atkin's early (and later) recordings is available on his album Now And Then.]

I tried to figure out Chet's style, and persevered with a thumbpick, but I didn't get very far. It didn't seem compatible with other styles I wanted to play. It seemed to get in the way and was very stiff and stilted. So I kind of evolved a way of playing with a flatpic and my fingers together. There were guys around London who were doing Chet's style better, but they seemed to get stuck in a rut. They couldn't play along with anybody. They could only play what they had gotten from his records - mistakes and all.

I had a few Duane Eddy records around the same time, which I still have. Especially For Your, with "Peter Gunn", was one of my favourites. I loved the sound of it. They just got such great sounds on records back then, and they don't seem to get them now - and they certainly weren't getting those sounds in England in the early '60s. I also liked the Everly Brothers because I liked their singing, but I was very much influenced by Don Everly's rhythm playing. He's very much neglected as a guitar player. I think he's very unique in the way he plays his rhythms. [Note: Several early Everly Brothers hits, such as "Wake Up, Little Suzie" and "Bye, Bye Love", featured Nashville session Ray Edenton on acoustic rhythm in tandem with Don Everly.]

Finally, in '61 or '62, I stumbled across Jimmy Bryant and [steel guitarist] Speedy West. I heard a cut on a BBC radio show called Saturday Club. They played "Arkansas Traveller", and I guess at that point the record was already seven or eight years old. I thought, "God, this guy is absolutely the best!" It wasn't until '68 or '69 that I eventually tracked down the album: a 10" version of Two Guitars, Country Style. I still remember: it was Capitol, T-520 - I'll never forget it. I find that Jimmy Bryant and Cliff Gallup were closely related. It was like a bop/swing style - I don't know what you'd call it. Gene Vincent called it bop; that was his expression for it. It's not what the jazzers would call bebop, but it was related. I suppose it was just swing guitar.

I was never really dedicated enough to sit down and figure everything out note-for-note, except for Cliff Gallup, where I did work everything out and could play it even now. It's still logged in the back of the brain. I remember each break. But I never figured out the Jimmy Bryant solos. I just kind of took it all in by osmosis or whatever - just the general feel of it, his approach. I recently found another great album by him called Contry Cabin Jazz, which has a lot of swing tunes.
Around 1963 or '64, I got Jazz Winds From A New Direction by Hank Garland [a landmark, influential LP featuring the Nashville studio legend playing progressive jazz backed by vibraphonist Gary Burton, drummer Joe Morello, and bassist Joe Benjamin]. That was a big influence, too. I got a lot of enjoyment from it, but never really sat down and figured it all out exactly.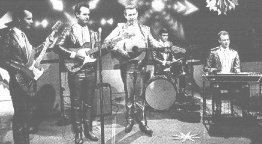 I used to buy a lot of country records throughout the '60s - not really for the guitar playing; I just bought anything that looked good. I really got turned on by Buck Owens, because it seemed like he was doing a new type of country music. It had that James Burton sound, with a lot of string bending by Don Rich. He was great. His solos, like on "Act Naturally" and "Tiger By The Tail", were real simple, but they had a real good sound. It was the overall sound of those records that appealed to me. It was very fresh-sounding at the time. I even joined the Buck Owens Fan Club; I'd get little newsletters from his mother.

I found over the years that a lot of the guitar players that I really liked also played fiddle - such as Jimmy Bryant, Don Rich and roy Clark. I think that really had a big influence on the way they played. I wish I had learned to play fiddle. My style tends to be an amalgam of all these guys I've been talking about. I can hear it. I know when I play with different bands - a rock group or a country band or whatever - I always play the same style. It sort of fits in the middle somewhere.

When I first met the Everly Brothers, when they came to England in '61 or '62, I met their guitar player, Don Peak. He was really good. He told me about B.B.King and Howard Roberts. I'd never heard all this vibrato stuff that B.B. was doing. There was on Howard Roberts album in particular called Color Him Funky. I suppose I was influenced by that from a jazz point of view. I've never really been a jazz player, but I did like to listen to those records. Les Paul, of course, was a big influence, but there was only one record that you could find in England then - Hits By Les And Mary. He and Mary Ford are both on the cover in evening clothes, and he's holding a black [Les Paul] Custom. I love him.

These were definite landmarks in my listening career. Another one was Jerry Reed's first two or three albums. He was playing acoustic, and it just floored me. It was like it was with Chet, and I could get an approximation of it, but I couldn't actually do it all. But I certainly learned a lot from that guy. I was headed along those lines anyway. He just reinforced what I was trying to do.

I should also mention Roy Buchanan. That was another milestone. There was a bootleg called Buck And The Snake Stretchers that came in a burlap bag. I've got a very bad copy of it. He just played great on there, did a blinding intro to "Johnny B. Goode" - real psychedelic. It wasn't totally different, but it kind of took you off on another tangent. He took the James Burton thing and really souped it up. Buchanan's first album [Roy Buchanan] was a big influence too.

One non-guitar player I really liked was Buck Trent, with his solidbody electric banjo. He did a lot of things that sounded like a cross between guitar, steel and banjo. He recorded on some obscure label; I've got one called Give Me Five. Just an incredible sound. I guess he influenced me quite a bit in my pull-string playing, as did Clarence White - the master. [Note: Albert uses a Parsons/White String Bender, or "pull-string", which raises the B string a whole-step to simulate pedal steel sounds.] I heard Clarence's albums with The Byrds [including Sweetheart Of The Rodeo, Untitled, Dr. Rider], and he did some really good solos on Linda Ronstadt's album Silk Purse. That's where I first heard the pull-string - didn't take me long to figure out that he had some kind of gizmo on there to get those notes.

The only guy I like to listen to at the moment, really, is Steve Morse. Only about two years ago did I become aware of him - after he won the Guitar Player poll [ as Best Overall Guitarist in 1982]. I bought two or three Dregs albums, and he just killed me. I particularly like the country cuts, like "Pride O' The Farm" [Dregs Of The Earth]. That just took country playing in another direction yet again.