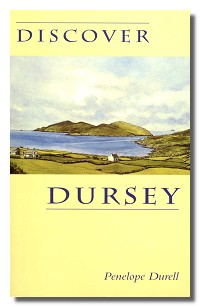 Vikings, monks, mariners, pirates, bishops, soldiers, press gangs, smugglers all feature in the story of Dursey, Co. Cork's cable car island.

This book examines myths and legends of Dursey and the adjacent Bull, Cow, Calf and Heifer rocks and, in tracing their history, presents momentous events from the past, such as shipwrecks, a notorious massacre in the Elizabethan wars and the 1881 Calf Rock rescue.

Among other topics are lighthouses, fishing and farming. Also included are. folklore, old customs and tales of the supernatural; birds, wildlife and flowers; and a detailed guide to the sites of antiquity on the Beara Way. See contents page....


The Discover Dursey map (available separately) contains over two hundred Irish place names from Dursey and their meanings and includes names for almost all the fields on the Island!.