NEWS PAGE
LARGE ATTENDANCE AT A.G.M
Over 100 people attended the A.G.M in the Clubhouse on Monday night a full report will be will be on the site next week
HAPPY NEW YEAR FROM ANNAGHDOWNGAA.COM
SOCIAL NIGHT IN PHOTO GALLERY
Senior win overTuam. And Kilkererin in play-off.
Two Point Defeat in Junior 'C' Final to Fr Griffins (see adult football page)
JUNIOR FOOTBALL RE-PLAY ON SATURDAY
OUR JUNIOR 'C' REPLAY IS ON THIS SATURDAY IN COROFIN AGAINST FR. GRIFFINS AT 2 PM
Seniors must win-This Week-End
We play Tuam in our final League game of the year and its a win or a drop to group 'b' next year, Only three points seperate the top eight teams in the group and even a win will may not insure us a place in the top flight in 2004.
Another Draw in Junior 'C' Championship(report in football page) Below the team and management and a point scored team photo inside
JUNIOR 'C' BEATEN IN RE-PLAY
Tuam beat us 3-9 to 2-7 in the under-21 Football championship last Saturday.
A WIN, A DRAW, AND A DEFEAT IN FOOTBALL (SEE ADULT FOOTBALL SECTION)
JUNIOR 'C' WIN NORTH FINAL IN TUAM
We won our first adult silverware of the year in Tuam on Sunday evening when beating Kilconly (full report in football page) Below Paul Curran with the cup and cheers in the dressing room and the winning team almost in the darkness
One lotto winner-details lotto page.
We beat Dunmore in Sweeny Oil football semi-final and under-21 beat Skehana in hurling
Senior team beaten-Junior 'c' draw and under-16 beaten in final
Mullagh win quarter-final in Hurling as Junior'C' reach Final in Football.
Our hopes of reaching the the County semi-finals ended with a defeat to Mullagh on Saturday by 0-23 to 0-10 in the Intermediate Quarter Final.
Hurlers in Quarter-Final after beating Tynagh by 2-10 to 0-06 and we play Mullagh on Saturday
Con Butler was our joint top scorer with 2-1 against Tynagh with good prfomances also from Martin O'Neill, Adrian Pierce,Carl Leonard,Niall Coleman,Ronan Leonard and Brian Qualter,our scorers were Con Butler 2-1,Frankie Enright 0-7 and a point each from Johnny Murphy and Ronan Leonard
The Quarter-Final is at 2 pm on Saturday in Ardrahan.
Our junior 'A' footballers beat Tuam on Sunday in the League and next Sunday our 'C' team play Caltra in the Championship.
Senior league win, as our Minors are beaten by Corofin
Minor Hurlers beaten in Minor quarter-final by Portumna-Juniors loose in Championship 'A' semi-final in football
Niall on Minor Team
Niall Coleman was selected at no 12 on the Galway Minor team to play Kilkenny in the All-Ireland Final on sunday.
We drew with Dunmore on Tuesday evening in the semi-final of the Sweeney Oil league (senior)
Under-14 Win League-Seniors Beaten in Cregg
Full Reports in Under-Age and Adult Pages
BELOW OUR FIRST GOAL AGAINST SALTHILL/ see match action page
Well Done Rachel on medal win
Rachel King was on the Galway Ladies football team (under-16) that won the All-Irelannd Final last Saturday
DOUBLE JUNIOR WINS IN CHAMPIONSHIP (SEE ADULT FOOTBALL)
WEEKEND WINS IN MINOR HURLING AND U-10 FOOTBALL
OUR MINOR HURLERS BEAT KILNADEEMA-LEITRIM IN THE MINOR 'B' CHAMPIONSHIP BY 2-6 TO 1-7 IN LOUGHREA ON SUNDAY EVENING
We beat Corofin in the under-10 Kevin Killeen Memorial football tournament Final on Saturday by 3-5 to 2-3 in Belclare, there were eight teams in the tournament divided into two groups of four
NO LOTTO WINNER THIS WEEK
GOALS WIN FINALS AS COROFIN SCORE THREE IN U-14 CHAMPIONSHIP(SEE JUVENILE PAGE)
Junior 'A' championship draw
On Saturday we played Caltra in the Championship and it finished all square ten points each
CRACKING GAME IN UNDER-14
FULL REPORT IN JUVENILE PAGE
CHAMPONSHIP UNDER-14 ACTION AGAINST COROFIN



Summer Camp in photo gallery

Feile 2003
We were beaten in the group by one point by Kilmacud who won the feile outright, we beat St Patricks and Claregalway in the other group games
NIALL CONNACHT MEDAL WINNER
Niall Coleman won a Connacht Minor medal on Sunday as Galway beat Mayo in the final
JUNIORS MIXED LUCK IN FOOTBALL.
UNDER-14 BEAT SALTHILL IN TUAM
FOOTBALLERS OUT OF CHAMPIONSHIP
(FULL REPORT IN FOOTBALL PAGE)

BENNY NEWELL V NUIG
HURLERS BEAT BALLINASLOE
SENIOR CHAMPIONSHIP DEFEAT

OUR TOP SCORER NO 13 MICHAEL MELIA ON SATURDAY EVENING
UNDER-14 IN LEAGUE FINAL
WELL DONE TO NIALL COLEMAN AS GALWAY MINORS REACH CONNACHT FINAL
HURLING LOSS TO ST THOMAS
CALTRA BEATEN ON THE DOUBLE
AS SENIOR AND JUNIOR WIN

Junior 'A' beaten by Loughrea

A GOAL SHOT FROM CREGG ON FRIDAY AS WE BEAT COROFIN IN U-14 FOOTBALL
SENIORS BEATEN IN LEAGUE
FULL FEILE REPORT INSIDE
HULERS DRAW IN ROUND TWO
SENIOR LEAGUE WIN IN CREGG
ACTION FROM LAST SUNDAYS GAME

JUNIOR 'A' WIN-MINORS BEATEN IN FOOTBALL
MINOR'S BEATEN IN ROUND TWO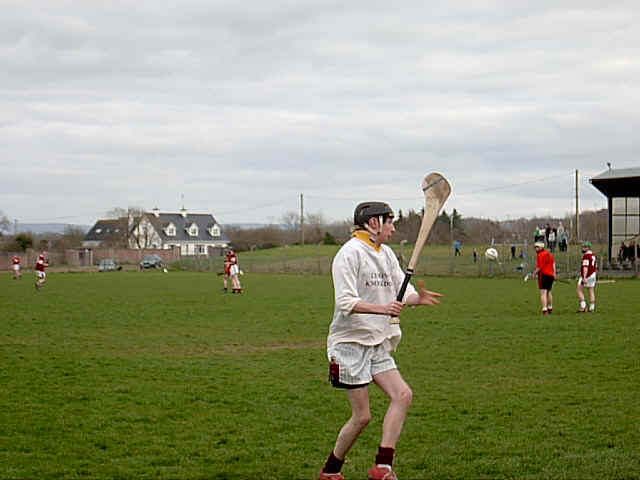 .