The first country to organise ploughing matches at a National Level, Ireland played a key role in founding the World Ploughing Organisation to which 28 countries are affiliated.

This year the National Ploughing Championships are being held over three days, in , Mallow, Co. Cork, from September 28th to September 30th.
The following are some facts and figures and just a taste of what will be on show during the Championships.
FACTS
200 ACRES OF ALL IRELAND PLOUGHING COMPETITIONS

AN AGRICULTURAL TRADE EXHIBITION COVERING 60 ACRES

OVER 30 ACRES OF MACHINERY DEMONSTRATIONS

300 ACRES SET ASIDE FOR CAR PARKING

SHOPPING PAVILIONS

BUSINESS ARCADE

VINTAGE DISPLAYS AND DEMONSTRATIONS

FESTIVAL OF LIVE ENTERTAINMENT

SPORTING CHALLENGES

LEISURE ACTIVITIES

DISPLAYS - SEMINARS - FORUMS

Spend a day at the Ploughing
Accessing all the faculties of the farming sector side by side in a spacious rural setting where you can....

Source the product or service to meet your need
Gather the information
Look at alternatives
Compare prices
See the demonstrations
Work out the finance
Make the decision
Meeting Your Needs

Business & Education

Financial Institutions
Advertising
Marketing
Educational Faculties
Legal
Insurance
Consumer Affairs

Communications
Electronics
Computers
Auctioneering
Accounting
Consultancy
Advisory

Catering for all interests

Home, Health & Leisure

Travel & Tourism
Heritage
Arts/Crafts
Books
Health & Safety
Nutrition
Fashion

Household
Furniture
Food
Confectionery
Beauty Products
Leisure & Fitness
Environment
A number of these companies can be found under the one roof in the
Business & Education Arcade
There will be

Daily Seminars
Forums
Demonstrations
Exhibitions

---
Where is the Ploughing this year?
Situated off the N73 between Mitchelstown and Mallow the event will take place on the farm of Mr. Eddie Farrell in Castletownroche.
300 acres will be utilised on the host farm for Exhibitions/Competitions and neighbouring farmers will provide land for car parking facilities.
National Approach routes are the N72 and the N73.



Click for links to tranport companies.
Organising Your Accomodation
Many visitors to the ploughing spend a few days so it is necessary to pre-book accommodation in order to find a place close to the centre of activity.
To facilitate patrons the NPA have organised the services of an accommodation officer:


Contact:
Thelma Wyngaard
Mags Brazzill

Ballyhoura Country Holidays
Kilfinane
Co. Limerick

Phone:
Fax:

063 91300
063-91404




Opening Hours:

9.00am - 6.00pm
Monday - Friday
---
| | |
| --- | --- |
| | Machinery & Livestock |
Every year acres of the site are given over to machinery demonstrations.
These include machinery for:
Cultivation
Plant
Engineering
Irrigation
Harvesting
Excavation
Quarry
Construction
Farming Technology, Mechanisation & Systems for the 21st Century
Dairy-Beef-Pigs-Poultry-Sheep-Tillsage-Mixed Farming-Forestry-Organic-Horticulture-Alternative Enterprise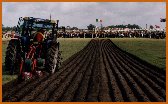 Clicking on this picture to enlarge it.

Livestock Exhibition
A colourful village of pedigree & commercial cattle and sheep will be on show.



Products & Services
Co-Ops

Transport

Handling Equipment

Housing

Feed

Veterinary

Animal Health

Growth



Breeding Sources
Genetics

Semen

AI

Embryos



Breeding Sources
Breeders

Breed Societies

Specialists


N.P.A. Ltd.
Athy
Co. Kildare
Tel: (00353) 0507 25125 Fax: (00353) 050751272
email: