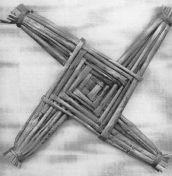 One of the earliest references to the cross recalls its power to protect the house and its occupants from fire,
This belief is still held by many, as it's the belief that the cross gives equal protection against lighting
On ST Bridget`s eve crosses of rushes are made and placed one on the threshold of the door and one on, each of the outhouses and one is hung in the kitchen. The most usual type of cross was the diamond or, lozenge of straw. In making the simplest form of this two pieces of twigs or slips of wood are fastened in, the shape of a cross, and straw is then carefully woven around them to form a neat lozenge.
These diamond or lozenge crosses are made in all four provinces of Ireland and were most common in Connaugtht and Munster. ST.Bridget`s Crosses consist of rushes woven into a swastica like ornament.
Reminiscent of a number of designs found in Celtic art both ancient and Modern. A typical cross consists of a central square with four spokes, .One protruding from each corner of the square in an opposite direction.
On the eve of ST Bridget`s feast,traditionally young boys called brideoga carry a churndash dressed as a woman.. An effigy of ST.Bridget, they would go door to door begging for alms, and they would leave bundles of straw and rushes outside the doors at homes. .At nightfall young girls would pick them up and after asking to be admitted in the name of the saint, weave into a crosses the crosses would sometimes be blessed with holy water .
Left over materials from the making of the crosses were also used in a ritualized manner. They would often be woven into a girdle called a Crios.