The Spencer Tunick Experience Barcelona
This is my personal account of participating at the Photographic "Installation" dreamt up by the Artist - Spencer Tunick at the Avenida de la Reina María Cristina Placa d'Espayna, Barcelona on Sunday 08 June 2003.
It was the culmination of having waited and (literally) planned for weeks for this moment, to find myself in Barcelona one very hot Saturday afternoon in June 2003. So, what was I doing there? Well, I've been a admirer of Spencer Tunick and his work for about seven years. The images that he comes up with are, to me, astounding - and I promised myself that if he ever came to a place near me, I'd be there. It seemed I wasn't the only one - he was expecting 15000 or so people – about 7000 turned up in the end. I debated about it though - it's not really a normal thing for me to take all my clothes off in the middle of a foreign city street, but I knew that, if I didn't do it, I'd regret it later. I had contemplated not participating even up to the last minute ­ but also knew that when I read about it in the following day's newspapers, I would have regretted not being there ­ so I decided to be go. I hadn't told a soul at home or work that I was doing this.
On the Aerobus from the Airport I was gazing out the window at the Barcelona vista when what should hone into view only the two Torres de Venecianes on the Placa d'Espayna. We had received via email about a week beforehand our instructions for participation in Spencer Tunick's latest artistic masterpiece. Prominent in our instructions were graphical representations of the site for this installation and detailing our pose and position relative to these magnificent red stone edifices. The Torres would become a reoccurring landmark in my memory of the event. It was a wonderful sight – welcoming the multitudes that were now descending on this wonderful, artistic city.
 My first point of pilgrimage after arriving in this famous city was the Nude Adrift exposition that the Ajuntament de Barcelona had the patronage to show in the Palau de la Virreina on La Rambla. Enormous prints of Spencer's previous work from his travels hung on the historic stone walls in three rooms. The clarity and sharpness of the huge prints was brilliant. This was no simple photographic exhibition. The people in the know who gathered to visit the exposition appreciated the art that was Spencer's work. Other passers-by, who may have seen the giant poster contraption outside the Palau and wandered in out of curiosity, must have been converted by the spectacle displayed by both the audacity and poignancy of the subject matter. I heard two Australian accents, from what seemed a mother and teenage daughter, astonish at the huge photograph taken of the installation in Melbourne in November 2001. Here were 4500 naked bodies lying on the Princes Bridge over the Yarra River – they pointed out the various landmarks as if to verify what they were looking at, "there's Flinders and Swanston Streets, there's Alexandra Gardens" they said with incredulity. Thousands of naked people in their city and they never knew it. I wondered if they were aware that the same spectacle was going to happen in this very city they were visiting.
 I looked at people looking at the hanging artwork. There were pictures from far flung places from St Petersburg to Jerusalem, from Alaska to Doolin (where?). People were asking each other "would you do that" – there were a few "oh yeah" in various languages along with some demurring "no way" – I sensed a good number would dare themselves later to pose the following morning. There was a continuous film running of the installation Spencer had organised in Buenos Aires. There was a steady stream of viewers at this film. They watched the usual procedure for one of Spencer's installations – gather at the ungodly hour, listen to the bloke on the ladder, strip off, run naked down the street, lay down, curl up, have a huge cheer, get dressed and be disappointed it was over yet thrilled to have partaken. The film really embedded the basis of what Tunick's art is and what it means to people who know of him and his work. It was a brilliant idea showing it. There was a great expectant atmosphere even then at the exposition.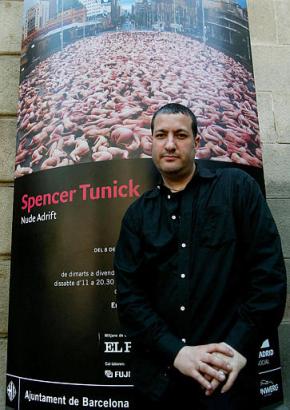 I would say that a lot of viewers were converted from observers to participants after watching the film – judging by the large percentage of those leaving and signing up at the computer strategically placed outside the cinema. Maybe there was a subliminal inclusion on the soundtrack – a subtle whisper encouraging the viewers to "get your kit off, get your kit off".
I set off from my hotel, situated just off La Rambla, in the early hours of the Sunday morning of 08 June 2003, for the installation. I had set off early because I did not want to miss this, for me an opportunity of a lifetime – my thoughts went back to being turned away from the Selfridges "Beconsumed" installation on 27 April 2003 in London. I think I must have been number 501 outside Selfridges in the queue (they took the first 500). I took the Metro from La Rambla to Placa D'Espanya arriving there shortly before 01:00. On the Metro I looked around at my fellow travellers at this ungodly hour and wondered if any were going my way. I spy with my little eye something beginning with LG – loose garments!
The Placa d'Espanya was a bit busy with late night revellers still being collected before returning home, oblivious to the events that would unfold in this area and liable to shock any conservative minded folk. The Torres de Venecianes soared majestically into the cobalt blue night sky, greeting and calling the willing participants to this chosen location – this would be the most memorable recollection for many people for many years to come.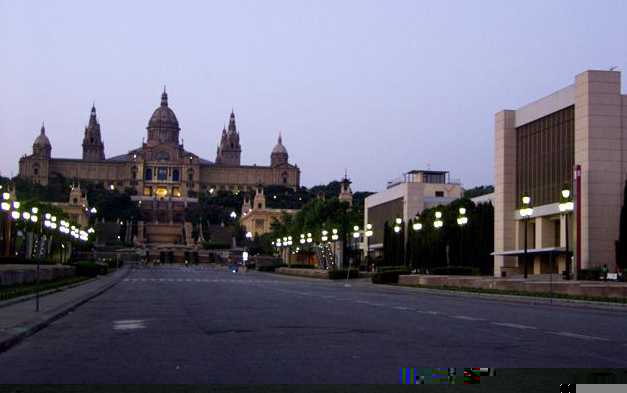 As part of my homage to Spencer's vision, I walked contemplatively up the Avenida de la Reina María Cristina in the dark blue light of the early morning just to view the site, which was to stage the big event. I wondered if Spencer walked this way to view the site that would stage his next installation. It must have seemed the ideal spot to him the first time he came here during his planning and was introduced to this magic place – a huge blank canvass for his art.
 The Avenida was calm and serene. The wide carriageway still buzzed regularly with the sounds of the cars out on a late night boulevard show off from the local guys and dolls. The gentle Mediterranean aroma from the shrubs and herbaceous plentiflorus that lined the Avenida blended beautifully with the warm night air. It was indeed a special place! I walked up the steps of the Palau Nacional, which houses the Museu Nacional d'Art de Cataluyna. It was fitting that Spencer's art should be created beside this magnificent home to some of Catalunya's finest art treasures.
I walked back down the other side of the Avendia and took refuge under the Torres soaring into the heavens. I sat down on the steps just beside the left hand Torres de Venecianes and waited …and waited. The next three hours ticked away slowly. I observed the multitudes growing as they waited outside the newly erected temporary fencing. The assembling people were just ordinary folk – maybe not what I had expected, but I didn't know what to expect. Boys and girls in groups, groups of girls – best of pals out for an adventure, boys and girls in groups of 4 or 5 for courage, single men, single women, couples …and me. There would be some great stories back in college and work the next morning. Exactly what kind of person takes part in an event like this? Looking around in the dark light, I would say it takes all kinds – and that's the beauty of Tunick's art and the people that willingly take part in it.
 I watched the organisers erect the fencing around the entrance to the Avenida. The Guardía Urbana blocked off the traffic at what seemed the pre-appointed hour of 03:00 - on the dot. I mused at the stories they would have for back at the nick – guarding all these naked folk – it would keep them in sangria for years. As they moved on each boulevard cruiser from the Avenida, another motor took the spot whilst the cop's back was turned – it was like Canute trying to hold back the tide. The blue lorry with the extra high fencing arrived, presumably to block the view of the voyeurs. The event was extremely well organised, with a thoughtful precision and professional exactness. A white van arrived in the Placa and began to set up loudspeakers on it roof. I remember from Spencer's "Naked States" video his frustration at having to shout into this tiny megaphone (miniphone?) at the nudist beach installation – do you remember that? This mobile speaker van was another excellent idea. Right on cue (and it always happens) the "1…2…1…2 …testing…testing" speech emanated from the grand master funk DJ. Then Shakira blared from the hi-fi – I waited for the "my breasts are small and humble, so you don't confuse them with mountains" bit – but it didn't come – I have to say I was disappointed! The security men assembling the perimeter had, funnily enough, the unusual title of their company emblazoned on the back of their hi-viz vests – guess what they were entitled…"Willy's Boys" – how Freudian!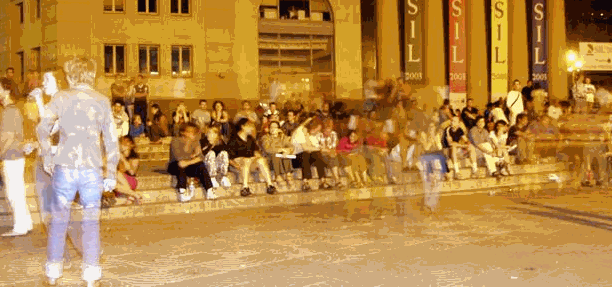 The girl, I recognised as one of Spencer's assistants, walked to and fro along the now gated and fenced entrance. She checked and double-checked with the schedule and helpers. I was going to strike up a conversation with her, but she seemed busy with the priority and attending stress of organising this event, so decided not to – but hello anyway! We were to see more (all in fact) of her later – even at that time she really embodied the spirit of the event – her joy and festivity infected everyone.
I had been given the contact number of a group travelling to the event and had hoped to meet up with them beforehand, especially as our hotels were closely located on La Rambla. However, I had left my notebook at home, along with all my telephone numbers and addresses for postcards etc (Sorry Mer, but I can never remember your postcode!). I rued this mishap all weekend. I had been looking forward to meeting some of my fellow travellers in the Tunick Experience. I heard a number of people speaking English whilst waiting, but I could not summon the courage to approach them, feeling that I may be intruding.
My Spanish improved though over this time by the amount of people asking me what time was it – I guess they took Spencer's advice and travelled light without any valuables including watches. One girl asked me if she even could chain her bicycle to the temporary guard-rail – I must have looked important, this always happens to me. I suggested she chain it to the more permanent railings at the Metro entrance and she did just that – she wouldn't be needing it were she was going (you could tell by the loose garments, you see)! Another civilised looking man, about 50 years old and well dressed, asked me what was going on. I explained in my best Spanish about the Tunick concept and that there would probably be about 10,000 naked people on the Avenida cometh the time. I invited him to participate – he declined – not cometh the man! He wandered off incredulously, mumbling "madre mio".
The bloke with the megaphone walked up and down a couple of times asking people to sign the model release form beforehand, if they have not done so, and thanking people for coming – much to the amusement of the waiting crowd! Getting here early was worth it, just to all the people and events unfolding.
Nearing the scheduled hour of 04:00 I was first in line at the fence entrance marked "Presspa". I was assured of getting in. At 04:00, nearly on the dot, the bloke with the megaphone then announced for everyone to start making their way through the fence-gateway and begin the event – game on! Nobody moved at my position – "Presspa" I found out means Press in Catalan. I hastily walked (okay, rushed very fast) over to the other side of the road to the proper entrance. From first to last – the story of my life. I wouldn't mind but I helped the bloke with the knotty twine when he was putting up the "Presspa" sign onto the guard-rail.
Still, I think I really had no chance of missing this event. We had been split up into groups and given different times for assembly and entrance. I was assigned to Group A and was given the assembly time of 04:00 hours. I don't this anybody paid a blind bit of notice to this and just headed through the gate as soon as they arrived. I had my invitation email with me with my model release form filled out beforehand (actually a week beforehand, just in case the market in biros had been cornered by some temperance movement hell bent on sabotaging the event). I queued quietly with the amazing gathering of people - this was the first indication that the shoot was going to be much bigger than I had imagined. Everyone was polite and friendly. I sensed an atmosphere of daring and adventure yet with a bit of apprehension, their faces said it all. Still, even at that time there was a sense of the camaraderie that was to always epitomise the happening.
Once I handed over my consent form to the girl at the temporary entrance gate I walked up the Avenida and followed the throng into the exhibition hall of the Palau de Metalurgia de la Fira de Barcelona via the first door on the right. This was the indoor area that we were promised where we could undress in privacy away from the prying voyeur lenses that to me marred the Melbourne and Santiago installations. More excellent planning.
The hall was huge and expansive – grey and dusty but welcoming all the same. Internally it was the same length as the Avenida, which gave an indication of the scale of things. We walked right down to the end of it. I stopped then and looked around. All I saw was thousands and thousands and thousands of people following me – and they were still entering the hall. A coffee station had been set up for the participants and a queue for a welcome caffeine shot soon formed. A huge queue also formed at the toilets – all the apprehensive waiting not to mention the pre-event hooleys started to test peoples' bladder propensities. The local bars and cafes must have done a roaring trade judging by the length of the queue. All in good fun though and the parties were still continuing inside the hall.
We waited and waited. The humour was still in good spirits though. There was some handclapping and singing amongst the gathering crowd I found a bit of a rickety railings near the coffee station in the dead centre of the hall where I could sit down and rest against. The people were still coming. I looked around at all my fellow life models and wondered what their stories were. Wouldn't it be a great idea if everyone told their tale? Boyfriend & Girlfriend huddled together, groups of friends, male and female laughed and giggled, two girls, best mates, sidled into a comfy position behind a pillar, looking very sheepish. I wondered how many people were comfortable with their own body and how their upcoming public nudity would bring about a difference in their views of themselves and others. The majority of people in the hall were about 20 – 22 years old. Young Spanish types – male / female in a 60:40 ratio, I would hazard a guess. My opinions of the Spanish had been that they were very straight-laced, almost prudish, with their perspectives, especially in the realms of public decorum and modesty –nakedness is a classic taboo against social conditioning. This was to be overturned. I forgot about the almost anarchistic character of the Catalan people.
The clothes the people wore ranged from loose fitting hippy dresses and sandals (ideal for a quick strip), tee shirts and jeans, trendy night time attire, disco wear, designer dresses, formal shirt and trousers (me!) and people's favourite comfy jumper and skirt. This was our everyday uniform – that which made us individuals and has set us apart. I was to sense later the freedom from this uniform by our collective nudity.
Still the people came into the hall, which was now filling up. I struck up a conversation, in my best Castilliano, with another solitary chap. He seemed timid and shy. He too had developed an admiration with what Tunick had imagined, he told me. I think being in company reinforced the understanding and acceptability of why we were here – a sort of shared relatedness – NA (nudies anonymous) maybe - but without the hangover.
We waited and waited. Unbeknownst to me, I actually must have fallen asleep whilst sitting on the floor – awaking with a violent jolt as my head nearly rolled of my shoulders down onto my lap. I looked around to see did anybody notice my shudder – I didn't want to be embarrassed, being naked with this assemblage later wouldn't seem to be embarrassing though.
Then the show began. I don't know what time it was, but Spencer entered the hall to a tumultuous applause and cheering. He was greeted like a gladiator – Maximus Nudicus – the visionary chieftain who would lead the amassed clothed slaves into a joyous naked freedom. There was a cacophony of excited chatter and laughter yet in an air of anticipation. He shushed us.
His instructions and his assistant/interpreter's directions were sometimes incomprehensible, yet intuitively we knew the routine from our knowledge and understanding of his previous works. Spread out at arms length we were told. Come the time, take off everything – socks, shoes, hats, watches and "stick your glasses under your arms" (brought back memories of my student days on pinching glasses from the pub – but that's another story). He was genuinely welcoming and thanked us for our participation – without us, it would not have happened, he confirmed. Spencer said that there would be two set-ups to be photographed outside, as per our pre-event notification. He then told us that that when we came back into the hall afterwards, that we were to remain naked so that he could photograph a third set-up. This third set-up though unplanned to us was welcomed immeasurably – it was if the assembled jumped at the opportunity to remain naked for just a little more time and feast further on the experience.
A good number of people came up to him and spoke to him for a while – I guessed they were thanking him for arranging this and welcoming him to their hearts. He then left the hall and his assistant took over. He was like the starter at the Grand National – up on his high ladder. He was on the walkie-talkie waiting instructions for the off (literally) - presumably whilst Spencer went outside and set himself up on the cherry picker and give the go-ahead when God's given light reached the requisite luminous intensity (f8 @ 125?).
This is when it struck me - that the point of all this travelling and personal pilgrimage was about to become an actuality. At the drop of a hat we would all be dropping our hats - literally.
An anxious silence suddenly descended on the gathering – hearts were beating in anticipation in the grey gloominess of the hall, waiting for the glow of the release from our apparel. The walkie-talkie traffic was getting more intense. We couldn't hear what was being said, but could sense the deliberations. We waited and waited. The bloke on the ladder was speaking to us, updating us of Spencer's ongoing deliberations. It was mostly incomprehensible and people couldn't really make out what was being said – but we knew what was going on!
We waited and waited – it was probably only a short time, but it seemed like ages. Suddenly, as I was looking around, everyone just started to strip. I heard no command but there must have been one! In a leap of faith, everyone just peeled off their clothing simultaneously. Clothes and limbs were flying everywhere – thongs and tee-shirts waved like some cryptic semaphore message. The boys and girls in front of me were hastily stripping and in 7.473 seconds they were naked (but whose counting?). Was I dreaming? Watching thousands of people take their clothes off in public, without any concern over aesthetics or any obvious shame is a strange scene. The clothes were neatly packed into individual piles to await their owners' return and then they just stood up naked.
I woke up from my musing and without really thinking of the process of exhibiting my nudity, also began to strip. I struggled with untying my shoelaces (knots always come at the most inopportune moment) – thought the better of it and just flung them off along with my socks, trousers and shirt (my watch was already in my pocket to save time!). Out of the blue - I was naked – naked and standing naked amongst thousands and thousands of people – also naked, nude, en el buffó.
I expected to be uncomfortable or ill at ease – yet somehow I wasn't. As I was taking off my clothes, I was trying not to look around - busying myself with piling my shirt on top of my trouser on top of my shoes and putting them next to a landmark pillar so I could retrieve them later. When I stood up, I looked around and very quickly realised that everyone there looked exactly the same. When we were standing around in our clothes getting instructions, it was very easy to tell people's differences. Social status, economic background, political ideologies and fashion preference were easy to determine - just like they are in day to day life. When everyone was nude, all of our differences also disappeared with our everyday social insignia. Not only was it suddenly difficult to tell where people were from and whether they bought their clothes from this label or that –we were now all comrades, no more no less. I noticed a lot of tattoos seemed to adorn peoples bodies – Chinese characters abounded, symbols of joy and happiness graphically demonstrating peoples' feelings at this exact time. Astonishing, really, the way a sense of community developed almost instantly, even though nobody knew anyone beforehand.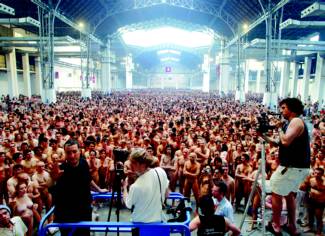 Is this for real? - I asked myself repeatedly. In about 10 seconds, the crowd of 7000 people went from looking like any large audience at say a music festival to a stirring ocean of flesh and skin. People were looking around them, coyly observing the nudity that abounded. Eyes wandering in their heads, briefly glancing where they shouldn't have. Arms were folded in some sort defensive body language. All body shapes, all colours, all hair styles were on view – but nobody criticised or opined. Today's volunteers displayed all variety of bodies - young and older, muscled and thin, curvy and square, extroverted and the more modest. We were all as one – joined together in a brotherhood and sisterhood – we would have done anything together and for each other. I stood still to take stock of this unusual situation – yet still wondered at it all.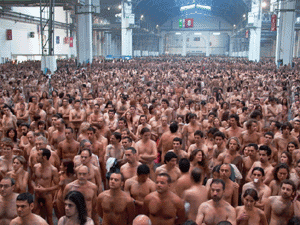 The mood in the crowd changed immediately we were naked. While we were still clothed, we were cliquish - you didn't talk to people you didn't know. As soon as the clothes dropped and we stood up nude, it became very easy to talk to the person standing next to you. There was an immediate sense of community with everyone there. As Goethe said "The only real human is the nude human."
A girl, one of Spencer's little helpers, walked around and through the naked mass videoing the scene as we waited for further instructions. People posed for her, others turned away shyly. I never got the chance either way. I would have liked to have spoken to her. She glided around, still clothed, but yet felt part of the event. It was essential that this mood and vision were captured -–hopefully one day we will see this film. The atmosphere in the hall was fantastic.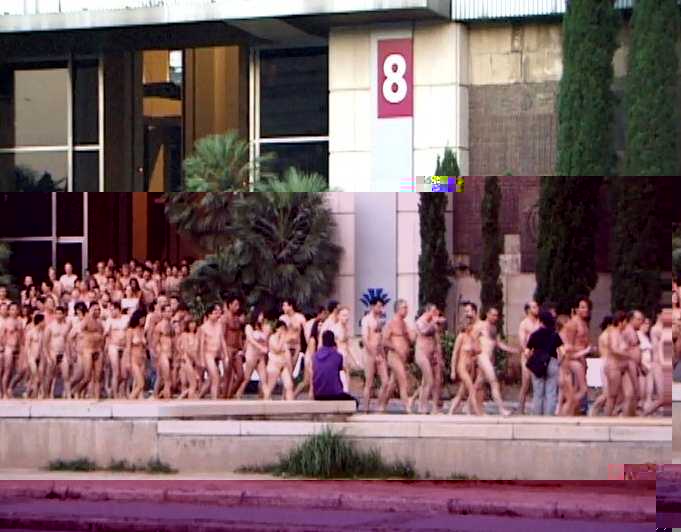 The security guard and Spencer's assistants now had opened the huge glass doors to the outside – this was our chance to escape. We shuffled and bunched together towards to exit. Careful not to touch the person in front. Although we shared our nakedness we were not sharing our bodies. I was prudent not to poke (if you know what I mean) the person in front. However, I did feel the brush of pubic hair on mon derriere in a sudden stop of progress. I dared not look around. We continued until we reached outside – and greeted the public gaze with aplomb, dignity and self-assurance. The crowd was as one, bound together with the naked emotion of the experience. The sight of 7000 naked people exiting through the doors the great hall and strolling in good order onto the Avenida is memorable to say the least. It was like an unstoppable buff magma flowing inexorably out of an erupting volcano – a giant flow of free spirit. The video of this scene, that was on the TV news coverage later that evening, is a glorious record of this moment and must have been a spectacular sight for anybody viewing the event out on the Avenida – if you ever see it you'll know what I mean. 
The security guard on the door seemed embarrassed at the mass nudity, his eyes gazing at the very interesting contemporary neon strip light in the ceiling – it seemed to me he was embarrassed to be clothed - the nudity to us seemed to be so natural. The atmosphere was incredible, to see so many naked people, all walking in the same direction, into the middle of a street in Barcelona. There was cheering and whooping then howls as the wall of flesh moved across the Avenida. The most incredible part of the whole experience happened when we were simply walking in a crowd of naked people out on a public thoroughfare.
What struck me first on reaching the (naked?) pavement was the whoosh of the warmish breeze on my body and the warm, almost satin, inviting concrete of the pavement on the soles of my feet – it felt good to be nude. These tactile memories along with the visual feast that was Spencer's tableau later on are the two abiding memories that I have of this fantastic event. The sky was ocean blue and greeted everyone outside. The light of the morning was like the welcoming beacon of a rescuer. Spencer was the rescuer – he was up in his lighthouse beckoning us forward and out on to the sojourn of the Avenida. This was that same Avenida that I had strolled in the late night darkness in perfect solitude. Now I was walking the same path naked with thousands of naked friends – we were free and content at being here. The emotion of the day is beyond my ability to describe. Words like gentleness, respectfulness, generosity, humanity, festivity and fun come to mind, but are still so inadequate. The essence and nature of Spencer's art is encapsulated in his participants' sentiments that you have to get carried away with yourself in order to understand the romanticism of the human body – you should try it!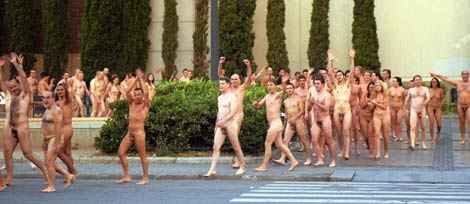 Naked, we strolled nonchalantly, you could say courtly, down the steps, across the path, pass the bushes and onto the carriageway. The same carriageway that previously rumbled with the mechanical symbol of new man's social incarceration – talk about reclaiming the streets! So, here we are, so many human beings, beautiful in our nudity, submitting ourselves to such public exposure and finding a total acceptance of who we are. This was a very comforting and halcyon feeling
As we stood naked and waited patiently on the Avenida for all to exit the grand hall, people shuffled past me to meet up with their friends and fellow travellers. People fidgeted with the hands and arms – not knowing just what to do with them (no pockets you see). The Australian woman and her daughter that I had listened to at the exposition in the Palau de la Virreina appeared through the naked mist and walked right past me. The noble look on their faces said it all. As they strutted and paraded up the Avenida in their glorious naked plumage, I wondered at the magnitude the work of Tunick must have impressed upon them at the Palau. They had such natural grace and beauty. They were as proud as punch to be nude together – mother and daughter bonding in a resplendent and spectacular way. I wondered at the conversation that must have gone on between them to arrive at this place at this time. I guessed they were probably on the grand tour and took this marvellous opportunity as an unplanned yet welcome addition to their itinerary – they would have the best holiday snaps ever! To me it was another glorious moment that is engraved implacably in my memory.
After a few shuffling up and down the Avenida – 'spread out, spread out' was the instructions we were given. Arms were outstretched again. We walked naked into the middle of the road up towards the Palau and then back down towards the Torres. We did this a couple of times. We stopped. I looked around there were still thousands and thousands of naked people walking, strolling, out of the hall, down the steps and onto the roadway – not a care in the world. It was all very surreal – very Quixotic.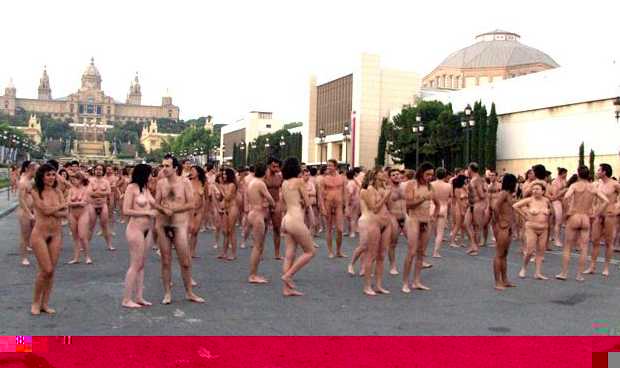 I watched people adopt different stances. Some were happy to seek solace and refuge amongst other naked folk and just stand there and wait. Groups of boys became more boisterous as they became more comfortable with their own nudity Groups of girls stood openly together and chatted. I observed four girl students in front of me chinwagging merrily, unconcerned about their nudity, even calling over to what seemed groups of male college chums – one red haired girl mischievously daring them to come over to them and share their nudity with the girls – the boys weren't that sure of themselves and stayed put. Other folk walked around on the footpath whilst others stood brazenly, arms folded perusing the vista, in their naked unabashed glory on the raised sidewalls of the fountain ponds. It was a wonderful and beautiful sight also. I wondered if Spencer would just capture that picture – maybe he has, it surely must be on the video of the event. It certainly is etched on my memory of the day. (I also wondered if some wag turned on the mighty fountains as in Helsinki in, would the glory wane?) Others hooped and whooped as they pranced in their naked finery in full view of all the gathered naked folk for this natural expressive outpouring.
When it seemed that every naked soul had now joined us, we turned around and stood waiting for our instructions. The humour and banter was great. People were simply enjoying the experience. Boys and girls looked at each other naked and wondered how they got into this - was it for real? What would mom or dad say?

A Mexican Wave flowed back and forth a number of times – I was expecting to be doing the dance to the Ketchup Song next (it was Espana after all!). People chatted; others stood, content in their own solace and contemplation. I felt this common calmness and release. It was the best experience I have ever had. People settled down – they had reached their Shangri La and they rejoiced in themselves. There was some chanting – untranslatable to my limited Spanish (I believe they were anti-war chants – eat your heart out Greenham Common).
Then down to business, as it were. We stood to attention and listened diligently. The reason why we were here was to be photographed by the great artist of our time, Spencer Tunick and we partook gladly. Instructions as per invitation – lie down on our backs perpendicular to the artist. The black asphalt greeted us warmly, almost like velvet – not like the icy arrest that grabbed us on that bloody Melbourne bridge.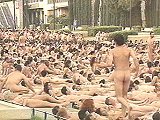 From our upwardly supine position, we lay on our backs and gazed up at the marvellous blue, marble sky, not a cloud in sight. The asphalt carpet clung to our skin and adhered us to a receiving mother earth. We looked around to see what others were doing – or rather what we should be doing. A glimpse down the Avenida towards the Torres revealed a wonderful spectacle of thousands of naked souls – again etched in my mind forever. It was reminded me of a Yellow Brick Road - a vast tiled path using the topography of peoples diverse naked bodies as the mosaic. It was an impressive landscape framed by the Torres.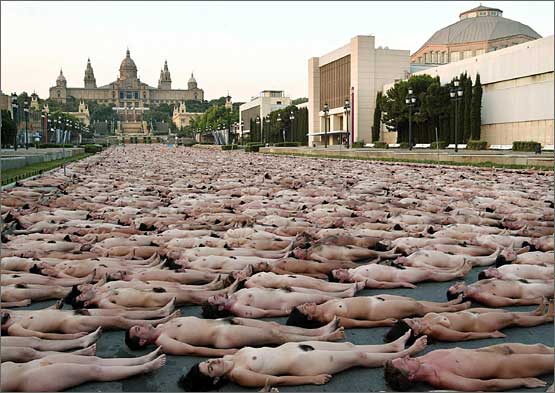 We lay there and waited and waited. I'm sure the business end was in full motion, shutters clicking, lenses whirring – but we waited patiently. As I stared up into the big blue yonder that was the limitless sky, I observed some large birds directly overhead floating in the Barcelona sky. What were they doing – sizing up their targets? My nakedness suddenly became an issue – please don't dump on me – shoo…shoo. Weapons of Mass Defecation primed and locked on! Merciful they didn't – whew! Relief all round.
All serenity and peacefulness still abounded. Calm, quiet, tranquil and naked – the ultimate tantric meditative escape. Then, after a time, the silence was broken. A big cheer and we all stood up, still realising we were naked. Applauding, that Spencer's visionary capture of the moment had been recorded for 'posteriority'. The bonding continued. We had successfully completed pose number one. People burst into spontaneous conversation, joking and laughing, and looking around for reassurance it was still okay to be nude.
I looked over at the middle entrance doors at the steps to the great hall. There was about eight or nine people standing, almost hiding in the corner under the veranda. They weren't furtive or anything like that. Huddled there were the security men, some were Red Cross girls in their green surgicals, some of Spencer's little helpers, oh! and two naked girls - all chatting away merrily in animated conversation. It seemed the most natural thing in the world to see two nude people mingling with clothed folk and not out of place at all – such was the day. The reason became apparent when the all clear was given from Spencer and the two naked girls leapt from this small group and bounded down the steps into the main body of the rest of the nudes gathering on the Avenida – late comers. The group had been patiently trying to stay out of Spencer's way whilst he took the first shot yet were obviously enjoying the spectacle. A girl left us nudes assembled on the Avenida and walked naked back up the steps, almost nonchalantly, into the main hall past this small group – for what reason she did this, I don't know. But still everybody was comfortable with what each of us was doing here – and nobody cared either way! I read later the Red Cross people were there to look after the health and welfare of the participants – more excellent planning and thoughtfulness on the organisers' part. I believed the only injuries attended to were from small cuts to feet and toes.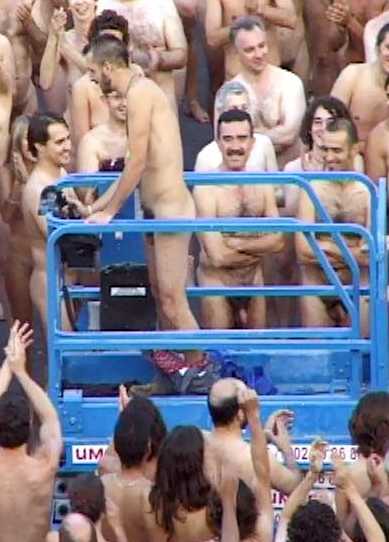 Meanwhile back on the Avenida…we waited. Then the throngs of the nude sea parted in a Moses like scene as the great one (Spencer) along with his entourage proceeded from the Torres end to the Palau Nacional end of the Avenida. It was also like a scene from the 'Emperor's New Clothes' only in reverse with thousands of nude little boys and girls screaming at the Emperor to shed his magic robes – he declined. The guy piloting the Cherrypicker deftly through the pink sea (Red Sea!) joined in the fun – he too was naked driving the mechanical monster – the funny part about this being the trousers down around his ankles – how wonderful, I suppose it was the thought that counts!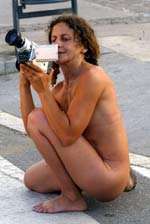 Then the assistant followed on lastly still videoing the event – but this time she too was naked, and radiantly so. Like I said before, she embodied the reason why we were here. She was always one of us – a fellow muse. Now her nudity and ours cemented our bond with the artist. Another beautiful sight forever captured. Superb!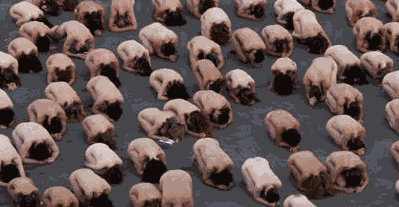 Whilst we were still waiting for instructions for the next pose, I noticed a girl reporter, naturally dressed like the rest of us, but with only a pen and notepad going around asking people for an interview, probably on their thoughts and chronicles of today. Later, I read an article in the New York Times from a girl reporter writing about her experiences at the Tunick installation. I also noticed in one of the excellent coverage photographs on the brilliant Informativo.net website a very clear picture taken during the second crouched pose, of a naked girl bent over in the required position with notepad on the ground, pen jotting down the dialogue. She was interviewing a young chap also crouched over, careful not to disturb his pose. I don't know if this is the same NYT reporter but if it is, she must be admired for her valiant application in getting her story first hand. It too personified the good nature and spirit of the day. We all know of Tunick's regard in the more liberal climates of Europe, Australia, Asia and South America than he does at home in the United States and it's nice to see that there maybe is a more enlightened acceptance of his art being recorded for his own people. To this girl, Sarah I believe her name is, I say thank you for sharing your participatory journalism with us.
 As Spencer set himself up at the bottom of the steps at the Palau Nacional end of the Avenida we stood naked and awaited further direction. We gazed around, conversed with our new friends - it's amazing how nudity breaks down the social barriers – I spoke to people I would never have conversed with before, young and old, male and female, different languages, different social order. We joined in the joking and fun. People were enjoying their nakedness.
 The Presspa had by this time had been released from their pen at the Torres end of the Avenida and were being herded down the side pavement of the naked masses. They sheepishly snapped a few, what seemed furtive, almost voyeuristic, photographs. A couple of the female professional press seemed very disconcerted at all this nudity. They should have undressed to relieve their tension – but that's only my opinion. The throng of naked folk certainly hurled encouragement's at them – to put it mildly. "Todo en encona" (Literally I believe - "All in Balls"). I would have some reservations at having the public press capture images of people that they never acceded to. Okay – out comes the hoary old chestnut of photographs "taken in public places in full view of the participants who draw attention to themselves by reason of exhibiting their nudity". But still, we participated in Spencer's work for art's sake – it was his call to publicise it how he felt appropriate. I only hoped that some of the photographs would not end up on the front of some tabloid with an inappropriate caption – remember the Evening Standard's "Is this Art?" from the Saatchi Gallery installation. (For the record – It is)
I think, to some people the sight of the press gave an unnerving sense of their vulnerable position. Here they were standing nude in the middle of a Barcelona street, with national press photographers, recording for public perusal the sight of their naked form, like some Garden of Eden shock reality. Some people turned their backs to the photographers, others hid behind their friends, yet others brazenly preened themselves and prominently showed off their nudity allowing it to be captured forever. Some sensibly just put their hand up to their face – that is all, anyway, that one can be recognised by! I just stood in the middle of the crowd. At the time, I wasn't prepared in my mind to be seen or recognised by any published photograph. Later on and when at home storing all I had collected for my scrapbook recollection of the event, I regretted I had not let myself be more prominently positioned so that a record of my participation could be captured – but there's always the next time! The pictures we saw later of the people on the very front row of the amassed nudes at the Torres must be the bravest folk there that day and I applaud them – they have a memorable record of their participation.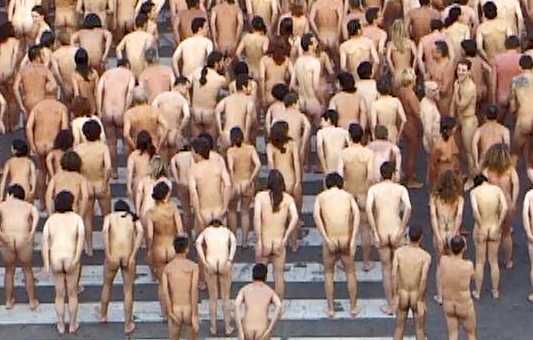 Some of the press photographers got very brazen and stared snapping merrily at all the "nude dolly birds" I envisioned. Rushing up to some girls, salivating through their lenses – windscreen wipers going full speed. This simply was not fair. The security men recognising the inappropriateness of this ushered them back on course – three cheers for Willy's Boys. I joined in the amusing practice of slapping our bare bottoms at the gawking press – it too seemed the appropriate response and expressed our views precisely! The press now back under control, appeared on the roof terrace of the Palau de Congresso de Barcelona on the Avenida and in full if somewhat distant view of us all. Telescopic lens were at the ready though. These were the photographs, which we would all see later and would welcome as our record as it turned out. I can be seen in one of these photographs taken from there near the fountains as we re-entered the hall – I'm the one with the palest skin if you're looking.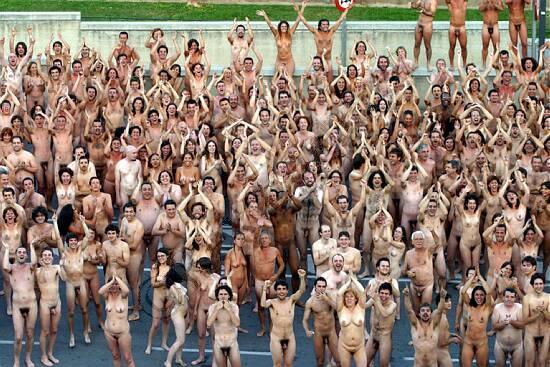 The naked participants again shouted suggestions that he assembled press undress. To be fair about three or four of the male photographers did strip off. It was a good gesture and was well appreciated by us nudies. Spencer's assistant at this time was standing, still gloriously naked – the only one, up on the farthest wall of the Palau steps behind Spencer in the Cherrypicker, videoing the ongoing set-up. This again was a beautiful scene and well appreciated. She walked down the long flight of stone steps and up the escalator on the Avenida to a new viewing position. The press studiously followed her – they didn't know what was going on – we did.
Spencer was ready at this time. Still our nudity was the most important thing to him. We took up our second arranged posed, some say the foetal or suppliant position, I call it the attack on the L4/5 position –those with back ache should know what I mean. We knelt down on the asphalt that was Spencer's canvas, our knees and toes taking the brunt of its tactile caress on our bodies. Bend over, heads down and palms on Mother Earth. It was like we were bowing in an Aztec like reverence to our visionary artist deity. Our nudity was now complete. I don't know how long we were in this position but it gave us more time to contemplate our being here. We waited in this position as Spencer did the necessary – shutters clicked. It was still wonderful to be part of this installation, we felt the warm breeze on our backs and listened, as it were, to the serenity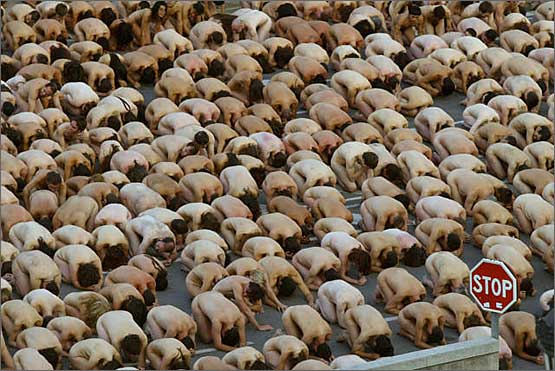 And then it was over.
 We jumped up and cheered and screamed and clapped. We were happy, disappointed it was over, yet happy all the same. We rejoiced now in our nudity. As we looked around at each other, we thanked each other in our minds and openly for participating with you and me in my experience. Sadly for most, me included, it was nearly over. A lot of people took lasting opportunities to garner more chances of being naked. The pranced on the sidewalls, we clapped and cheered. I noticed a young couple race up the entire length of the Avenida, fabulously naked, to reach their golden pond at the other end. Boys and girls jumped into the fountain ponds and splashed and splashed. I ducked behind one very kind gentleman, on the way past, who took the full icy blast of a crashing wave on my behalf – well that's my interpretation! People were amazed at their exuberance yet sympathetic due to the freezing water. It was just great fun though – plain and simple – honest youth encapsulated. I stood and looked all around me, taking in this entire wonderful panorama.
I observed a large number of people walk naked up to the escalator at the Palau end of the Avenida – Spencer's assistant was now videoing them. It reminded me of the Selfridges pictures I had seen taken on that escalator. I joined in with them. It was a good choice. It was enthralling to be with a crowd walking naked up the Avenida, up the escalator and back down the Avenida. My Beconsumed misfortune had been Bepurged!. Although the scariest thing of the whole event, was standing on the splines of the escalator's moving steps which was difficult underfoot. It was like walking on a bed of nails and the thought of feet or toes getting mashed as the steps blended menacing into each like a bacon slicer was the stuff of nightmares.
The thousands of naked souls said goodbye to the Avenida and headed back for the assembly hall. We grouped together at the steps of the hall, closer together now than we have ever been. We shuffled up the steps, people spoke warmly to each other, shared their experience. A chap in front of me pointed out a sharp edge to me to avoid cutting my bare foot – I passed on the consideration to a girl following me. A small but important part of our bond – each of us was protecting our naked vulnerability – one less cut soul.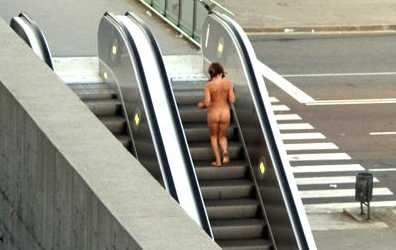 Once we were back in the hall, a stark realisation descended on us. Soon we would have to be (forced to be) clothed. We clung on to our last moments of nudity. On my way back in, I wandered around the thousands still naked, back to my position. We found our clothes still waiting and secure in neat colourful pyramids and stood naked beside them as per our instructions. A girl walked passed me, soaked from head to toe, shivering from the arctic water of the fountain ponds and headed over to where her friends and clothes were – but she regretted nothing. Some people dressed and left. We looked around us, taking in the last moments of this joyous experience. Friends huddled together. Couples kissed and embraced. I saw two girls hug and kiss each other in jubilation and gleefulness – their naked experience has cemented their friendship – best pals forever now.
 A television camera appeared along with a reporter wearing only his groovy red underwear – who was he kidding? He was cajoled into removing them and we all rejoiced in his and our nudity. The cameraman kept his eye shut and immersed himself, like an ostrich, in his camera – he was remaining decent. The reporter spotted a beautiful girl and homed in on her like a lizard striking his prey. Her best pal, also beautiful, scarpered swiftly away out of range. The reporter forced himself on the girl and she gave a full frontal interview destined for world-wide airing. Satisfied with his mission in the can, he departed. "Oh my God" she said "what have I done" – realising that maybe having told nobody what she was doing today – the world would now see her naked. We clapped and cheered her – I say fair play to you, she did it for the right reasons. By the way, her brave friend returned once the reporter had departed.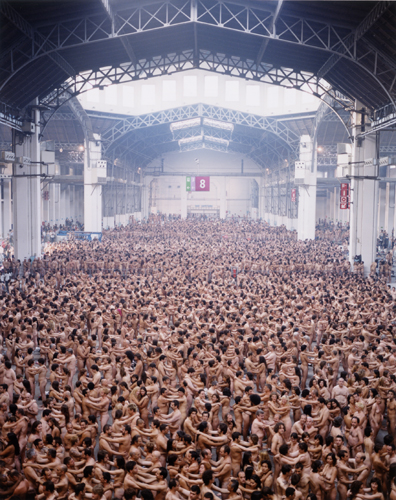 Spencer took to the Cherrypicker again and beckoned us again to his wishes. He wanted us to embrace each other in a symbolic pose of us joining together in friendship and expressionism of our togetherness, for one last photograph. We did just that, because that is what we were - joined together in our adventure.
 Photograph taken and then it was really over – he thanked us and said goodbye. He was genuinely appreciative of our participation – without us he could not have created his art today. That made the whole event worthwhile to a lot of people. But now our nudity was no longer required. We gathered up our apparel and began to dress. The dressing was done much slower than the undressing – clinging on I suppose to the last possible moment of nudity. I watched people dress and they changed in themselves.
 No longer were we as one, as when we were naked. When dressed we were all anonymous individuals again – given back out societal badges of class, status and discrimination that is our designer clothes. Earrings, watches, necklaces and even nipple- rings were replaced to restore our individuality and that was that. How melancholic! Still and all, when dressed I reflected on what just what had transpired.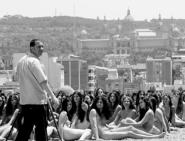 I wandered down to the "pulpit" that Spencer now occupied at the end of the hall. He was giving out orange invitations to black longhaired people that he wished to model for him in a special installation he had arranged for tomorrow, Monday, at the Hotel Barceló Sants (Picture Left). I have short hair, and a sort of light black - so knew I wouldn't be picked to participate – but how I wanted to though, as did the hundreds of others who gathered around him – he would have had another 7000 volunteers.
A naked girl ran out from behind the clothed gathering around him and thumped straight into me, clutching gleefully one of the prized orange invitations - but somehow I wasn't surprised at this. It just didn't seem out of place. Other people were still wandered around nude, maybe clinging on to the last moments of this experience. Others too wandered around naked chatting to clothed people as if it was the most natural thing in the world. Others searched frantically for the location of their apparel – temporarily misplaced. I saw no naked bodies or fig leaves on the way home, so I assume everybody recovered their societal coverings.
For me I decided it was now over so I walked out into the Avenida again. I stood at the same point beside the fountain ponds where before I had been naked. People now streamed fully clothed from the great hall and onto the Avenida. They headed off in all directions and we went their separate ways. Life now has different view – I see things different in this clothed world and somehow it's not great in a number of respects yet brilliant in others. The amount of good people I met that day, their memory will stay with me for a long time.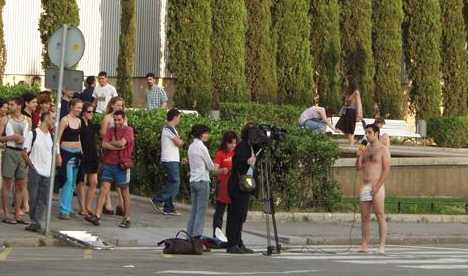 There were participants outside the great hall on the steps and pavement, some still naked and some now dressed, male and female, giving interviews to television news people as well as the written media journalists. We would see these interviews later on television. I watched two 18 year old girls give their piece to camera for TVE. I saw this interview later on the Telediario programme the following Monday evening. The two girls were joyous at what they had just done and participated in – it was like a rites of passage for them, doing something bold and daring, yet growing up with themselves through the great event. This was the essence of the youthful exuberance that infected everyone there. They said they hadn't told their parents what they were doing but along with a number of college mates had gladly participated. To them it was like the end of an age and the start of a new one. It reminded me of the girl on the "Naked States" video – posing at the giant Friesian cow in some mid-west American town – stating this was her adventure, the start of the new summer of her life. It's funny how Tunick's adventures can touch different people all around the world in the same way. You read any participants account of their contribution to an installation and it will take the same existential belief of expressing their attitudes and aspects on their own human existence.

 

Out in the Placa D'Espanya I looked at all the people leaving the Avenida. 10 minutes ago we were all naked and we were friends. Now we are clothed, they pass by me unnoticing. Some though, who had stood beside me in the great hall and on the Avenida, said hello to me. See – you can be recognised with no clothes on!

 I walked back to my hotel and got there dead on 08:30 – until then time had stood still. The receptionist must have wondered what I was doing out all night – some form of debauchery he guessed. If he had asked I would have told him – I doubt he would have believed it anyway – when I got home nobody in work believed me either. After breakfast I went up to my room and went to bed. I had to be tired, but did not sleep a wink. My mind was racing with what had gone before me - and what I had just experienced. Around noon, I took the same Metro to Placa d'Espayna, sat on the same steps at the Torres and walked the same route up the Avenida where that morning I experienced one of the most wonderful events in my life. But I couldn't relive it – it was just so unique.

 

The next day, Monday, I went to one of the newsagents on La Rambla to look for some newspapers that had a decent visual spread and account of the installation. A girl in front me bought El Periodico, which had a full page colour photo, and took it over to show her friend. She pointed out some position amongst the naked mass lying majestically on the Avenida to her waiting friend as if to declare proudly that was where they were posing. I too bought some newspapers as a momento of my participation. Later on that morning, I returned to the Avenida again and walked the walk just one more time before my flight home that afternoon. The guard-rails had been stacked up ready for collection by the blue lorry presumably. All other physical traces of what had transpired that great day had disappeared also – but the memories remain. That bloody "Presspa" sign lay sombre, leaning forlornly and now redundant, against the base of one the Torres – I was going to take it home as a souvenir but left it there!

 

There was some sort of International Symposium on in the Palau de Congresso, with delegates from nearly every country in the world going by their name badges – just like Spencer's followers. They were out on a coffee break as I wandered up the Avenida. I wondered were any of them at the previous day's installation or even realised the amount of mass public nudity that abounded just 24 hours previously? An Israeli delegate asked me to take a photograph of himself with the Convention Centre as his backdrop. I asked him in return to take a photograph with my camera of me standing on the Avenida de la Reina María Cristina with the Torres de Venecianes in the background – I was only barefoot though this time, a modest gesture on my part. It is a photograph that I now treasure for the memories it elicits.

But it's over now – until, of course, the next time. So, been there, done that, didn't need a tee-shirt! Without a doubt one of the most amazing experiences of my life so far. I came to a number of realisations in that time on the Avenida and the time since. So, if you see any of the photos that Spencer Tunick took that day, please enjoy them as much as we enjoyed our very important part in their creation. We are all immortalised in a now famous piece of art that now hangs proudly on the wall of my study at home.

We have to laud the praises of Spencer Tunick, Segismundo de Vajay, Curator of Spencer Tunick's project in Barcelona, the people of Barcelona for supporting Spencer Tunick's latest installation and being enlightened enough to give him free rein to commandeer a key city street for his and our art. The people and city and cultural authorities were extremely supportive of the whole event. I think it will be difficult for Spencer to beat Barcelona - the joy and exuberance of the Spanish/Catalan people and those from further afar will be a hard act to follow – but he can try anyway, I'll be there, you should be too!

 

"Thank You Spencer" – if you ever read this: be proud of all what you have done.

 

And to my 7000 new friends in Barcelona, lots and lots of LOVE!

 

Hasta Luego,

Alan

.

 For Giovanna.

This essay was written in the spirit of good fun and not wishing to offend anyone. Anybody reading this and recognises themselves or any event, has any photographs of the event to share or just wants to say nanú, hi, hello, hóla, óla, bonjour, salut, hallo, nee-hao, ciao, konnichiwa, shalom, salem or just comment on it – please email me at
ator@eircom.net

FAVOURITE LINKS TO THE BARCELONA INSTALLATION

 

 http://www.informativos.net/notampliada.asp?idNoticia=40880

 http://www.informativos.net/notampliada.asp?idNoticia=40907

 http://www.informativos.net/notampliada.asp?idNoticia=40908

 Movies - http://www.informativos.net/notampliada.asp?idNoticia=40925
 Related Links - Please give my Friends a visit.

Tell them Alan sent you!
 
Want to find out more? - Use
Google
or
Yahoo
search engines.
Just type in Spencer Tunick and join in the experience!
Webpage Hits Since 15 July 2003.

Counter