The Spencer Tunick Experience
Newcastle /Gateshead
Sunday 17 July 2005
 Dedicated to Giovanna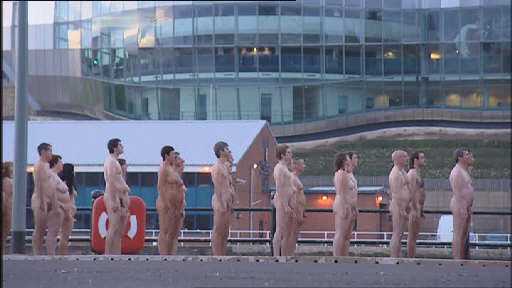 This web essay is the personal detailing of my experiences in participating the
Newcastle / Gateshead Installation as created by the artist Spencer Tunick.
Newcastle-upon-Tyne, Sunday 17 July 2005. Well - here I am again, ready to strip off at the shout from a megaphone. Not just any oul' shout - but those immortal words from Jonathan Porcelli - "Ladies & gentlemen - get your kit off". Jonathan is Spencer Tunick's project director. Newcastle, the home of Stan. I was pleased to learn back in May 2005 that Spencer Tunick was coming to "the Toon" so travel plans were launched immediately. Spencer is widely celebrated for his elaborately posed photographs of multiple nude figures in public settings. Onto the interweb thingy and flight and hotel booked as quick as a flash - two puns intended. The website from the Baltic Mill gave extremely detailed information on the installation, so this augured well for the professionalism of the organisation and running of the event. We all received our notification email (twice) about 10 days before the fateful date. Complete with event details and map of the city came distinct directions for getting to the rendezvous location.
The time to attend said "no later than 03:30" - so being rigorously punctual I figured 02:30 would be a good time to be there. I followed the Baltic's directions to the letter - "It is approximately a 15-minute walk from Newcastle Central Station to the Quayside. Turn right out of Central Station. Continue walking straight ahead (on Neville Street, which becomes Collingwood Street and then becomes Max Mosley Street - you will cross two sets of road conjunctions), past St Nicholas' Cathedral on your right until you reach a major crossroads (you will see Niche Hotel on the opposite corner of the crossroads). Turn right and walk down Dean Street, heading down the hill towards the River Tyne. At the bottom of the hill turn left onto the Quayside. Walk alongside the river (river will be on your right hand side) - towards the Gateshead Millennium Bridge, cross it and you will see the registration point - the Mill Road Car Park - in front of you." The directions around Dean Street, as it turned out, were practically the route in reverse we would take on the installation - the other difference is that we all would be in the nude next time.
People were leaving the pubs and clubs along the route as I was walking down the warm gentle evening. The weather had been great over the previous week and was due to be equally as good for the Sunday - which was to be welcomed, especially remembering the Dr Kevorkian inspired conditions we experienced in Brugge in May. The lads and lasses of Newcastle were in good form after their evening's entertainment, I wondered if any of them were heading my way. Walking down cobblelocked The Side and under the bridge, I met about 5 yellow-jacketed security folk with "Event Cover" emblazoned across their back, walking up towards me. There were also metal screens strategically placed at the junctions and I surmised, correctly as it turned out, that this was going to be a huge and extensive event - given the amount of public space that was been given over to the installation. I passed by the Premier Travel hotel on the way down, there were still people revelling inside - later on they would get a grandstand view of the goings on. The screens were sized to keep prying eyes and demur dispositions safely on the side of common decency. Down under the Tyne Bridge and out onto the Quayside proper, I met even more security folk milling around and taking up defensive positions. All this forward planning gave me confidence on what was to come.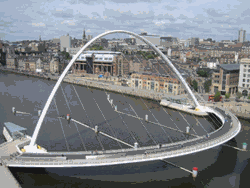 There was still some residual warmth from the day's sunshine radiating from the road and pathways, as I strolled over to the water's edge - the breeze was still warm also. Guided by the railings along the bank of the Tyne, I approached the Gateshead Millennium Bridge. It looked magnificent and seemed a well-chosen stage and frame for the vision of Spencer Tunick - a giant anvil on which he could forge his creation. As I walked over the river crossing, I checked the installation directions again - I wasn't sure of the exact location of the rendezvous point - the Mill Road Car Park. I was expecting, for some reason, a multi-storey purpose built edifice (don't ask me why - maybe visions of Barcelona's Fira predisposed me). But as I stepped off the bridge onto Gateshead, I could see people gathering on an earth bank just opposite me. There were a couple of groovy pergola's from B&Q set up at the top of the concrete stairs leading up to the middle tier of the open car park - this must be the registration point so forewarned of. There were about 50 people already gathered in the carpark at this time. They were mostly men in small groups and singularly. There was also no sign of any officials from the organisers at this time of the early morning. There probably were officials there, but I was half asleep anyway. I sleepwalked up the steps and onto the rough tarmac that formed the car park - I couldn't imagine walking barefoot across this, it was so rough! On the right hand side of the carpark a number of porta-loos had been set up to provide relief to any reveller coming here later on, presumably. A huge Cristof like black drape blanked off the back wall of the car park - presumably not to get the text of the hoarding in backdrop on to any of the resultant photographs. A number of security folk were also present, located strategically on good vantage points above and beyond us. I wandered around, sizing up my fellow models. I love watching people without being voyeuristic, viewing their demeanour and attitude as they waited pensively for their Spencer Tunick Experience to unfold. Everybody was calm and either silent or spoke in hushed tones - the trepidation in most was palpable. Back down the other stairs I strolled back across the road to the Bridge side. Satisfied, without actually asking anybody was this the correct place, I was able to take stock of the magnificence of the Millennium Bridge itself. The surrounding promenade and marbled footways of Baltic Square were invitingly constructed. The brown marble seating tiers around the crescent near the Riverside café reminded me of the Anfiteatro da Praça Gaspar Moreira, in Santa Maria da Feira in September 2003. What a wonderful place that was and Spencer took a fantastic set of photos of us there, that Sunday morning too. I wondered was this location part of the coming day's proceedings. Enough musings - back to people watching. I leaned on the wall along South Shore Road. People were now strolling from all directions towards this spot in Gateshead. From the left and right, down from the higher level car park and from across the River Tyne from Newcastle, the faithful came to this spot on earth. One's, two's and larger groups now started to fill up our location. Taxis arrived and deposited their cargo and sailed off into the black yonder. Couples hugged and groups of girls clustered together seeking reinforcement of the sanity of what they were about to let themselves in for. Four girls clung together, obviously long term friends and comrades given the fantastic colourful punk rocker hairstyles they each sported. The mix of the assemblage was still predominately male at this stage. Single girls arrived on their own and struck up common bond acquaintances with fellow females. Single males stayed single. Mothers and daughters, fathers and sons, lovers - old and young also congregated.
Gateshead Council workmen in their nifty little road sweeper deftly manoeuvred their contraption around the footways and promenades - cleaning this location made me think we would be lying naked here soon! Cigarette butts, paper and bits of glass were picked up and taken away. There seemed to be a coherence of activity between the organisers and stakeholders in the project.
At about 03:00, a number of floppy badged people, mostly young blokes and girls, started to appear on our side of the river. These were Spencer's little helpers - our guides and protectors for our morning's toil. Some of these helpers stood at the step off from the bridge confirming more strollers of the correctness of their navigation. Other helpers began to set themselves up at the pergolas - ready to take our model release forms and verify our ID's and age as directed in our pre event email notification. Other helpers, the ones with the walkie-talkies, surveyed the site, checking emplacements, completing radio checks, rounding up errant helpers and preparing to launch the day's occurrences. The folks on the hill were the first to experience the wrath of a walkie-talkie toting helper. This was all in good fun - don't get me wrong. A certain level of professionalism is mandated in order to ensure the success of this installation. The gathered multitude were as ushered to the lower South Shore roadway and requested to queue now at the base of the stairs - it was all starting to kick off for real now. It was still dark, dawn was about two hours away.
The majority of the crowd started to gather at the base of the right hand stairs. On the helpers then boomed across the PA that half of us should commence queuing at the left hand stairway. I joined this queue just behind a glass bus shelter. We stood there and waited, the queue didn't seem be moving much. More people were still arriving. The local constabulary now started to make their presence known - Battenberg Volvos cruised up and down, a transit van fully loaded arrived and sprinkled constables hither and dither. The line of people was still and silent, nobody was talking - people were deep in contemplation of a once in a life times experience yet to come. As I queued, a taxi pulled up alongside me and a girl on her own got out and joined the queue two behind me. How brave she seemed to me. Her actions, in appearing here this morning alone, seemed very brave and adventurous if with a little trepidation - I admired her for that - this is the spirit of the Spencer Tunick Experience. More anon.
Our queue started to move now. It was orderly and polite, people met up with acquaintances and sidled in with them. Other people finding themselves out of queue where allowed in. It was a slow move at first. Border control was rigorously examining the Model Release forms and photocopied forms of identification. They seemed to be overwhelmed by yet glad to greet the amount of people which had arrived here this morning. We moved but very slowly. There was a bottleneck at the bottom of the stairs as the queue approached from two directions. A security girl told us to get into single file. A BBC film crew trying to get to the top of the stairs couldn't wait for the queue so they legged it up the earth bank. It was a precarious move, I was waiting for the cameraman to stumble and drop his expensive gear such was his awkward gait - but he made it, phew!
Slowly, we moved up the stairs, there must have been added resources added at the frontier post or else a change in policy, as suddenly the queue of hundreds of would-be models started moving in a more quickened pace. Everybody on official duty there was very extremely helpful, professional and pleasant - we were made feel very welcome and a huge part of the event. At the top in the pergola, there were two tables - the girls at the right hand side took our release forms and ID photocopies and at the other table we were issued with a groovy plastic bag - some red, some blue, some purple. I received a bright yellow one for my use. A girl cheerfully scribbled a number on each - handy for individual retrieval. The bags were to be used at the appointed time to deposit our clothes along with our modesty, presumably. Both could be picked up safely after the event and once donned we could return to normal urbanity. We also received a pamphlet, which detailed the posing arrangements we would be required to undertake for the first set up on the Quayside. Service with a smile.
Now at the top of the hill, in the carpark area, we shuffled around omni-directionally trying to find a spot to rest before the upcoming events. What follows is the usual pre-event gathering. Friends meet up, mere acquaintances deftly evade each other in case they should see each other naked later on, groups gathered, couples huddle and singletons try to make contact. The carpark filled up quickly now - and there were still people streaming across the bridge and directed up the stairs. Yellow jackets pinpointed the scene. The mix of the crowd also changed. More girls joined us males to even up the gender mix and the age average also lowered. Some people were soberly dressed, others lightly dressed (and ready for a lightning strip) as per instructions - either way we were all getting cold. It was still dark and the residual heat of the day had long since departed.
As we waited, the PA boomed into life. A slow deep voice welcomed us to here this morning. In an unhurried purposeful tone, he told us to wait up until all the people coming had arrived and more instructions would follow anon. He went on, though, to apologise for the problems with the time lapse in the PA and explained that in real time he doesn't actually speak this slowly - that's a relief. Everyone laughed at this. This was Steve, who was to be our master of ceremonies for the day. This was going to be another long wait. I had a watch on but the last thing I did was look at it, so I can't give you the exact timings of the unfolding proceedings. Some of us used the plastic bags to sit down on the grass verge and wait, other sat or that should be perched on the car parks triangular fence, the majority stood around talking.
At about 03:30 Jonathan, Spencer's project director, then got atop his A-framed ladder/lectern and told us to gather down his end. Everybody in unison shuffled to his end to listen to him. He welcomed us again and gave us a heads-up on the programme for today. He told us Spencer would now also speak to us. Up now atop the ladder, Spencer welcomed us again here this morning. He apologised for seeming a bit sleepy but it was an ungodly hour after all - tell us about it! He went through the poses that he wanted, some as per the printed sheet. Spencer also told us of the route we would be taking, walking down the quayside and up a side street. When we were to cross the swing bridge across the Tyne, due to Health & Safety concerns, we were going to be issued with protective shoes and covering - oh, couldn't wait, should that not be Health & Efficiency concerns! He finally delivered those immortal words - we would only be naked for a short time - yeah right! Genuinely though, he said we were all part of a beautiful experience and without us, his art could simply not happen. We would have to wait for the light to get better, as he doesn't use flash - I suppose we would be supplying the flashing. He went then after a few more minutes and to prepare himself at his vantage point for the photographs. After the great man had spoken, we knew this was for real we were about to begin our own personal Spencer Tunick Experience.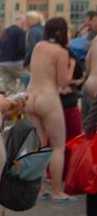 After this bit of excitement, people drifted back to their erstwhile location. People chatted, some quietly others more flamboyantly, one girl in shocking blue hair was heard all over the carpark, laughing and joking. All in good fun though. I sat down again on the grass verge and waited along with a few others. It was cold now but not too uncomfortable. Two girls sat down beside me. They were obviously very nervous at what they had signed up for. Moneypenny, we'll call her, kept saying "are we mad, what are we doing here" and just giggled away her fears. Although people had been told not to undress until told to do so, one girl and about four blokes in a group got naked and just stood around talking as nonchalantly as ever - nude but nonchalant. They seemed to be full of revelry and were enjoying themselves immensely. A stag party in fancy dress that were near them also in the carpark, With clothes on, read lurid superhero outfits, they were overexcited and strident and looking like they would be a bit of a poser for the organisers. But as soon as we were all naked later on they became invisible. I read later that a hen party joined them in the festivities. These and others around make for a memorable recollection of these morning events.
I was shivering at this stage with a silver breeze blowing up from the Tyne and somewhere between land-of nod and compos mentis. A couple of swarthy blokes paraded around topless, exhibiting to all their mighty structure. Others shuffled off coats and prepared. I just took off my watch - wasn't using it anyway - it was too cold and premature to do anything else. I knew there was going to be a mad scramble to get naked once we heard the call. I looked around trying to find a landmark for reference for when I needed to retrieve my apparel at the closing of the installation. A suitable telecom pole sufficed - thanks BT.
The sky had now turned a brighter blue from its midnight black, and you could begin to sense the ever-increasing level of excitement and anticipation. The atmosphere could only be described as buzzing. The car park was now full and spread out with people again. We waited. The naked group decided to put some clothes back on again - more in a climactic deference than a societal one. A long black evening dress and blue flip-flops for the goose pimpled girl and more complicated dressings for the boys completed their succumbment. The anticipation all around rose steadily. The time was fast approaching. A man just wearing a tee-shirt and nothing else, sauntered past Moneypenny. He sported a plethora of piercings and rings, dangling from his dangly bits. This freaked her out and just added to her anxiety.
Suddenly from nowhere, he must have beamed on to the top of the ladder, Jonathan boomed across the PA - "Get you kit off". No clarification required. Like a bang from a starter's pistol, people leapt to their feet and started to disrobe - read, rip their clothes off frantically. I just about got up to my feet and half of the assembled were already naked. I struggled with a shoe lace - isn't always the way, in a hurry you can't undo them yet at a formal gathering you can't keep the bloody things knotted! So I just followed everybody else and ripped off my clothes and stuffed them unceremoniously into my yellow plastic bag. Moneypenny at this stage was down to her bra and knickers and still giggling nervously, still wondering what she was thinking of agreeing to this. Her mate had no such trepidation and was really keen.
She was long since naked and ready to proudly take her place in the throng of all the other nude people - no going back now!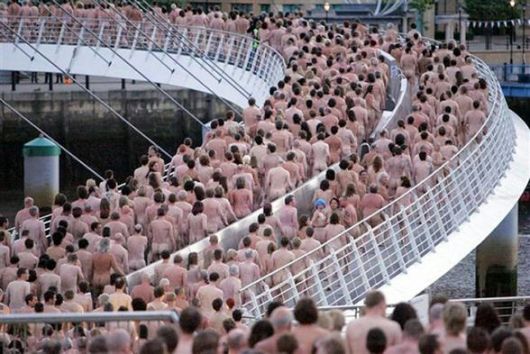 Naked myself now, I stood off the grass margin onto the carpark surface. It was tricky underfoot, to say the least. Nonetheless, let's enjoy ourselves. We all funnelled again towards the stairs - this time in reverse of the way we came upwards and clothed - downwards and naked. The crowd bunched up now. We could see that hundreds of naked people had already made their way onto the Millennium Bridge. Rather than be left behind the carpark overflowed in a Vesuvian like eruption of buff magma (sorry again Craig!) over the sides and down onto the lower level. I scrambled down the sandy clay bank myself, managing to stay on my feet, but destroying the newly seeded lawn. From the bottom of the hill, it was a wonderful sight to see all these naked people overflowing and descending towards me - I don't think Pompeii ever experienced such a hedonistic display (okay, enough simile). I didn't see anyone looking uncomfortable in his or her new found nudity.
Traversing South Shore Road and down the steps, across the marble promenade we strutted ourselves ten/eleven abreast across the Gateshead Millennium Bridge. Policemen, council workers and Spencer's little helpers lined the route - enjoying also this naked parade. But nobody was embarrassed. Steve was there too guiding us with his megaphone and cheering us on. It was a wonderful sight - looking forward and backward. I don't think this was exactly what the bridge's designers, Wilkinson & Eyre Architects had envisioned in their imagination. At least, with all these people trampling across in resonance there was no wobbling (from the bridge, I mean!). I was on the seaward, eastern side of the bridge, right at the waters edge. There was a sign up for "dual usage" on this side - presumably for clothed and unclothed people. This side was also decked so as to be comfortable underfoot unlike the other side, which was tarmaced, and rough to the sole. A couple of blokes started singing "Is this the way to Amarillo" and gestured to the moves of that particular song. We walked slowly as we bunched up - yet at a polite distance to our neighbours. I had time to look into the still waters below and saw the reflection of all the naked people above on the parapet.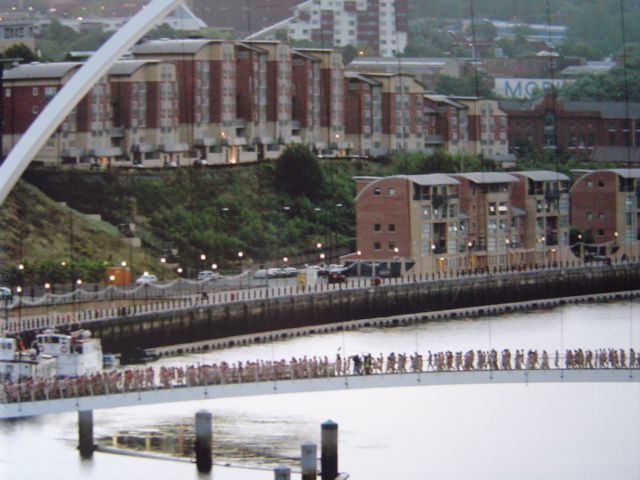 As we neared the far side of the bridge, most of the crowd had turned left towards the City/Tyne Bridge direction and up along the Quayside. We were directed though to turn right off the bridge up towards and past the "Pitcher & Piano" pub. We stood off the bridge onto the quayside proper. We strutted our stuff up past the hotel opposite the bridge - with Co-operative Society written large on it's top floor. There we people at the bedroom windows stared out, incredulous at the vista. People downstairs in the lounge were pressed up against the windows - amazed at the antics. Camera phones were out snapping merrily away. We continued walking until we were told to stop, just short of, what looked like a small bandstand with a great big gold ball on the roof. Although the council workmen had swept the pathways, broken glass littered a spot were people were heading for. Masterfully, even if I say so myself, I guided the exposed soles away from the danger - knew that training in Hendon would come in handy one day!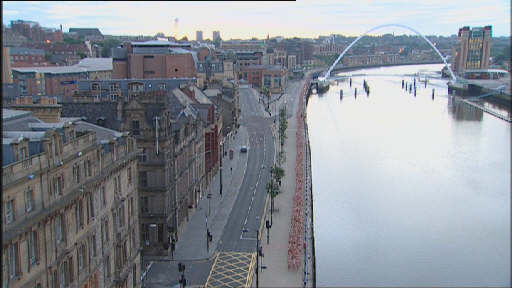 We turned around and faced the Tyne Bridge direction. We were ordered via a voice from the sky to move forward, then back. Then forward then backward. Three abreast we stood as per printed instructions. As we stood and waited, I noticed a naked girl walk back alone across the Millennium Bridge towards the South Shore side. Don't know what was going on here, but there was blood on the ground when later we passed the bridge end - it was if somebody had badly cut their foot. Either way it was a long walk back to the other side for her. In the opposite direction, from South Shore the last of Spencer's little helper walked (fully clothed) across the bridge and strolled through the naked throng on this side. One wag in front shouted "streaker". People laughed - such was an example of the humour that would permeate the morning.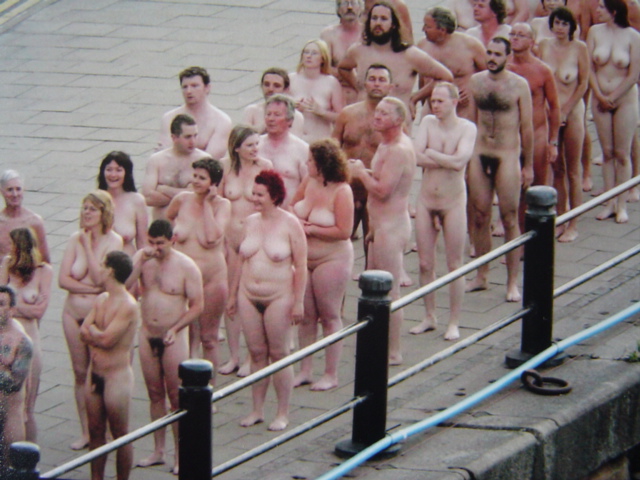 The PA boomed out to keep quiet, stand still, hands by our side and face the bridge. We all stood to attention. A feeble Mexican wave flowed backwards from the front as we were waiting. We were so far back from Spencer's position, that he would have needed a Hubble telescope lens to pick us out. And he kept telling us not to smile. We wouldn't be making the pages of any media reports on this one. Needless to say, we followed orders. Good humour and obedience to instructions was the order of the day. We stood still whilst Spencer did the clicking and the whirring. The morning was now bright and beautiful giving an orange glow on our skins. A faint breeze whispered on our backs. We waited silently and time passed by.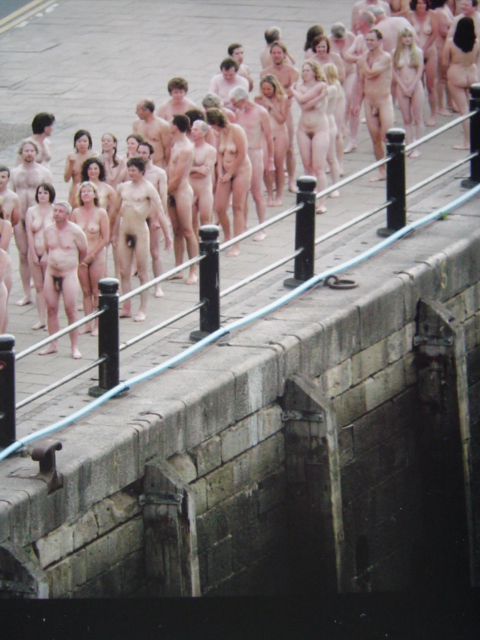 That pose over, we were directed once again via PA to take up the Second Pose of set-up Number 1 - the lying on your back with hand at your side one. So, down gingerly to the ground we went, careful not in touch or invade other people's space, we lay down on the cobble-lock pathway on the quayside. We lay motionless as the PA boomed. Spencer's little helpers ran up and down the line filling gaps, moving bodies and generally arranging the naked muses. Spencer could be heard barking at them - they moved very fast under his direction. The silence again abounded. We lay there still and quiet, staring into the now empty blue sky. A couple of birds flew past over us - to gasps from very exposed members of the audience. Too horrible an occurrence even to contemplate. We closed our eyes and hoped for the best until the Stukas passed by.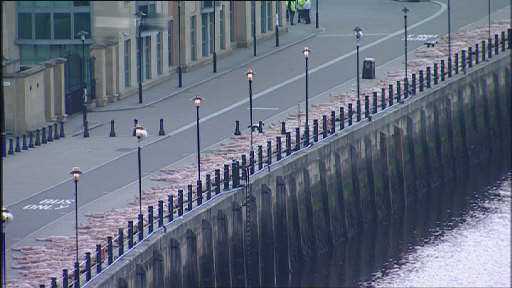 Spencer clicked away again, presumably. This gave us time to think. So what exactly were we doing lying naked on a public thoroughfare on a Sunday Morning. People have their own reasons and motives. Certainly, it is an individual thing. People as individuals take away more from a Spencer Tunick Installation than they bargained for. The fun at the start is stripping off publicly and walking naked around the place with hundreds of other kindred souls. The rewards come later though in reliving the experience and discovering oneself. I wish I knew what Moneypenny thought of the day's events, but never saw her again. People can express their experiences in many ways.
"Right Folks" and that were that. Already, we were well into this Experience. Up to our feet, some more deftly than others. We dusted our selves down, picked stones from our backs and faced the bridge. Off we shuffled still three abreast towards the bridge directions. Steve was there too looking after us. We walked past the hotel and lounge again. People were still gawking out at us. There was a naked guy at one of the bedroom windows - a sort of Spencer Tunick Experience by distance learning.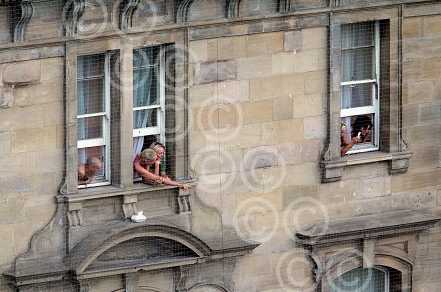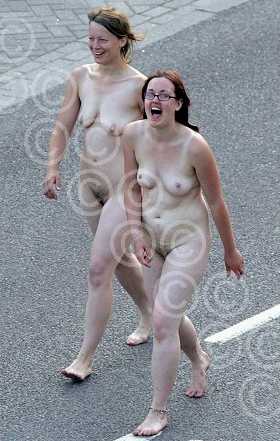 The BBC had set up near the base of the hotel and cameras abounded, recording our every move. Down then the quayside, past the Crown Court and opposite some offices we stopped temporarily. Two over indulged guys couldn't wait anymore - nature called. Bladders full, they headed down a small alley and concealed themselves behind two green wheelie bins in order to relieve themselves. Another poor bloke, despite the howls and cajoling from the naked mass observing them, decided this was a good idea too. Bad call. The BBC cameras had spotted them and were homing in like a heat seeking missile (don't need to elaborate where the heat was coming from). By the time the camera crew was ready, the first two blokes were finished and beat a path out of there. The last bloke then suffered the indignity of being filmed and walking full frontal back into the safety of the crowd. He just laughed along with us and enjoyed the relief. On bloke wanted to shake his hand but decided the better of it. The cheers of amusement from the crowd was light hearted and signified the general good nature of the whole day. And to cap it all, just 100 metres down the road, the organisers, with their professionalism and consideration that marked the day, had sited a bank of conveniences for our use.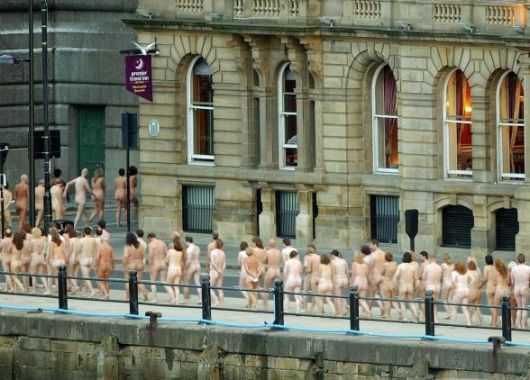 On the move again, naked we continued our morning stroll around the streets of Newcastle and Gateshead. We were ushered across the road, past the Premier Travel Inn. More patrons rudely awakened. People from the bedrooms and lounge windows watched unbelievingly as we sauntered by. I don't think they could quite believe their eyes when they saw us - all different ages, sizes and shapes, completely naked - en el buffo! Camera phones were out, more text messages were flying over the airwaves - "100's nud plpe wlk pst my b/rom" The reply came back "U may stop drinkin now"! A young couple canoodling passionately in a doorway squirmed in embarrassment - they had clothes on! "oh get a room" someone advised them - "There's a time and place for everything", someone else tutted.
Up then this newly pedestrianised street towards The Side, past an old elevator shaft up to the road deck of the Tyne Bridge. I was about 3/4 of the way back down the human chain at this stage. We walked and stumbled up under the bridge itself now. Hundreds and hundreds of our people had located themselves up The Side (motion to council to rename Backside) and cascading up the hill around the corner to Blackgate and out of sight. It was fantastic viewing all these naked people completely taking over a street in this fashion (or absence of fashion). It contrasted the solidity of the buildings with the softness of our naked bodies. Nobody felt vulnerable as we joined in with the pack. We walked on the cobblelock roadway, still under construction in some places.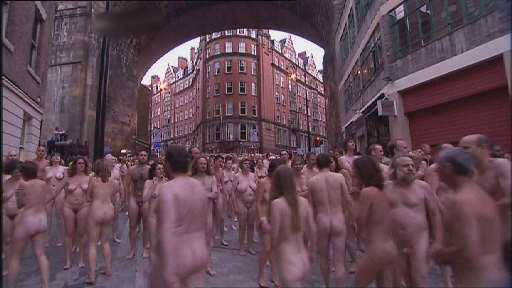 The flood of people stopped and ebbed backwards and forwards like the tide, until all the ripples had sorted themselves out and we found an equilibrium of personal space. I stopped outside the Kublai Khan restaurant and looked all around me. There were a couple of people in flats above the shops and cafés, looking out their windows incredulously. We waved at them. They were too embarrassed to way back at us - so in order to alleviate them of their mortification - we waved even more vociferously. That did the trick - we got a reply - that'll teach them. Spencer was now on high - very high - on the Tyne Bridge towering over us. He was on the megaphone booming instructions down from above to the little helpers below. Up The Side we were ushered - then down - then up. Bunch up, spread out, fill that gap - you get the idea now. You have to be very compliant at a Spencer Tunick Installation - you do exactly what you are told! But there was great humour at all times. Whilst shuffling up & down The Side some wag shouted out to ST " Have you never heard of Photoshop, you only needed a 100 of us"
A BBC film crew snuggled themselves into a restaurant doorway along The Side in order to film our shuffling antics - like pink penguins on an ice flow. Spencer shouted down at them to get in out of the shot - they made themselves invisible. We were nearly all set for the first photograph - ready when you are Mr Tunick! Spencer said later in an article "I needed 1,500 people to make this installation work and so I am happy. I had to fill up Dean Street and I needed enough to make a thin sliver of bodies. I got everything I needed and more."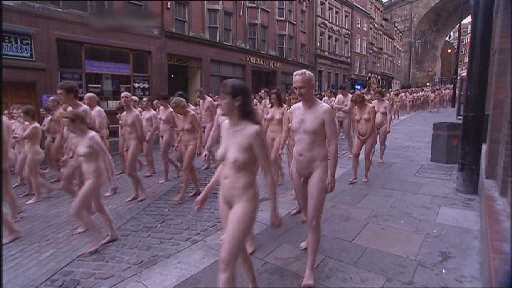 As Spencer readied himself up aloft, we stood, arms by our sides and faced up to him. We stood there waiting for a few moments. A couple of times I thought I heard what sounded like a flock of crickets coming down the hill from Blackgate - it turned out to be a sort of Mexican slap - people slapping their thighs in unison. Another time we heard "oohs" and "aahs" emanating from the periphery of the naked sea - then suddenly a cool breeze washed down the hill over our exposed flesh - "ooh" I gasped.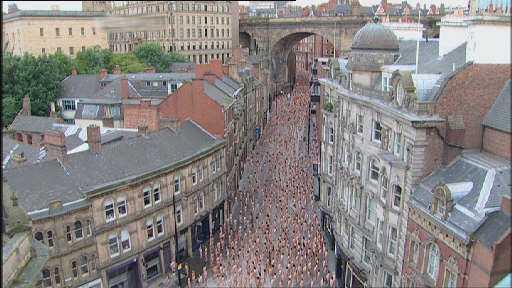 That masterpiece of a river of bodies now safely in the can we were invited to adopt the most famous and desirable of all of Spencer Tunick's poses - the foetal position. "Turn to your right - down on your knees" we were ordered. Some turned as directed to their right, the others followed step later on - after working out which right to opt for. I was down the street a bit now after more shuffling for position outside the "Treacle Moon" restaurant - very apt for this pose. Everyone groaned as at first we got down on our knees and bent forward. It is a difficult position to get into, especially when you are cold and not exactly limbered up for this contortion. I nearly got cramp in my feet, as did others I spoke to later - but held on in there. But we groaned and creaked, but just got on with it. When Spencer tells you to keep your head down, you keep your head down.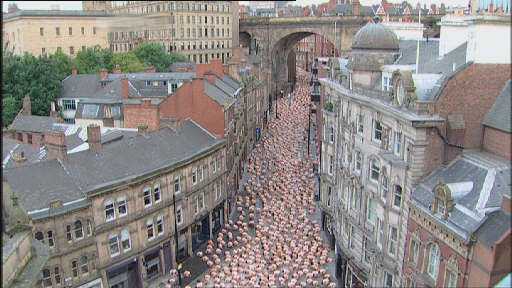 Head down now, knees curdled up into our chest, palms on the cobblelock - we held this pose. A few wags passed funny comments about the biggest cycle park in the world. "ooh" - another breeze. Time elapsed as our image passed into medium format. The invisible BBC camera crew filmed away. Spencer also said later in a BBC interview was that he wanted his work to show the contrast between man's huge modern constructions in the cities of the world with the vulnerability of the human body in its basic naked form. Asked whether the urban landscape in the city had influenced his work, he said: "I don't think the landscape brings information to the bodies. Bodies bring new information to the landscape." "There is a sensual element to it," Spencer said. "But it's not a sexual experience." This would be one of the best photographs taken today - each individual looks as though they are a dot of paint on a canvas by a great impressionist artist.
And then that was over. Up to our feet we jumped - eventually - rising on command to waves of applause. Glad that was over - but still enjoying every moment of this day. We were ordered by Steve on his megaphone to head back down Sandhill to the quayside via a different street. Still naked remember, we strolled past Rumpoli's Italian Kitchen - where's Cyril Fletcher from "That's Life" when you need him? At the end of this street a barrier had been erected to delineate the closed off area where we had been allowed to pose on this side of the Tyne. At a gap in the barrier plastic ponchos or "kagoules" I heard described, were being doled out to all and nudie - like the things you get on riverboat cruises near the sprays of waterfalls. This was the Health & Safety issue that was alluded to earlier on in the proceedings in the car park assembly point. Seemingly we were now leaving the cordoned off area and proceeding onto the public thoroughfare, certainly in full view of this perched high up on the Tyne Bridge.. It seem more a deference to decency than Health & Safety and certainly gave fashion a shun.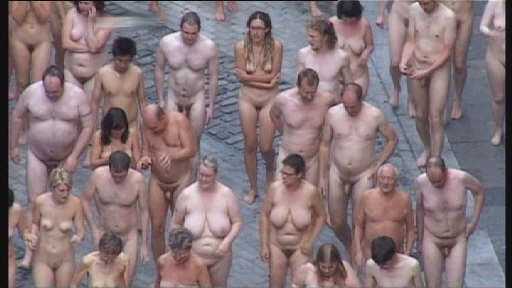 It was funny looking at people struggle to find the difference between the armhole and the head hole of these contraptions and twist themselves eventually over their clammy skin. I was handed one and like a true gentleman handed it to a naked woman that just happened to be standing beside me. Reaching a huge pile of kagoules, people were throwing them still in their chunky packets to the rest of the waiting naked crowd in order to speed up their ascension into decency. Not wanting to be the last naked person everyone seemed to cover themselves in a common haste. Finding the part where your head goes, I struggled into mine. As a fashion item it did absolutely nothing for anyone. A gentle breeze magnified the propensity of the semi-transparent kagoule to billow up and expose what little decency we had left.
A little further on outside the Guildhall there were numerous cardboard boxes with flip-flops in them. There were two types - Union Jack ones for the ladies and sultry black ones for the gents. Finding a box with 11 (bragger!) written large I used my well-honed seafaring skills to decipher the rather convoluted strap arrangements. Now fully attired we headed up a narrow set of stone steps at the public convenience and onto the roadway that led to the Swing Bridge over the Tyne. As we walked along the red bridge I looked back down on to the quayside at the Guildhall at the mass of white clad erstwhile nude folk streaming towards me - it was like a scene from a SOCO's convention, all clinically dressed. Either that or a scene from a mass escape from a surgical ward - gowns billowing, bums exposed.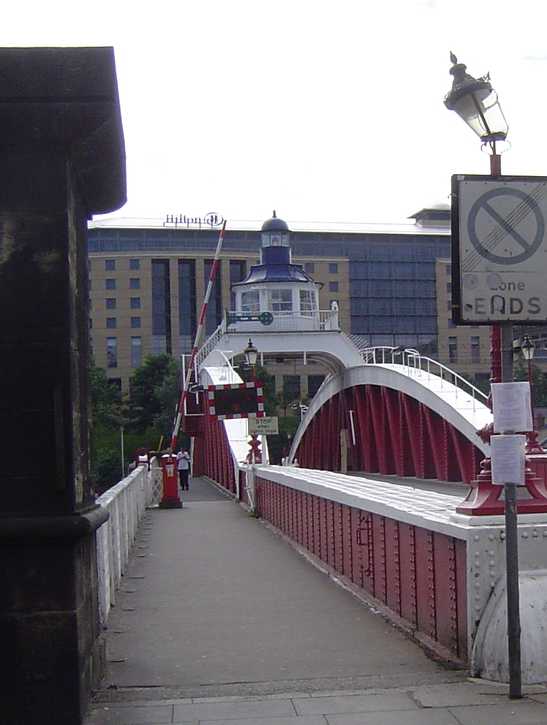 In the briskness of the morning the see-through kagoules and flip-flops were in reality very welcome as we crossed the river back to Gateshead. On the way we passed Buffalo's Joe's eatery - namesake of Spencer's August 2004 installation. Passing by the Hilton Hotel, I now understood why we needed to "cover up". In deference to the patrons of this fine establishment we passed very close to it. And although the kagoules covered our modesty, they left nothing to the imagination. We all walked silently and pensively - reflecting on what had gone before us and what was to still come. A good number of people were again up at the windows and balconies looking amazingly at panorama. Patrons and staff were out gawking, some taking photographs - we waved as usual in order to cover their embarrassment.

Over the river Tyne now, back proper into Gateshead we turned left down Bridge Street and under the Tyne Bridge once again. Under the bridge another barrier had been erected to fence of again the area that was closed to the public but open to the pubic. We hastily stripped off our kagoules and flip-flops and threw our figleaves in a pile on the left-hand side of the roadway. Spencer's little helpers were there to greet us and keep out unwanted guests. A bottleneck as usual appeared at the gateway to nudie land. Two of the helpers decided to remove two sections of the barrier to ease the flow. They struggled a bit with the heavier than expected sheets. Naked, I assisted them in carrying it to an out of the way location -no need for Health & Safety gear here. The crowd funnelled faster through the enlarged gap.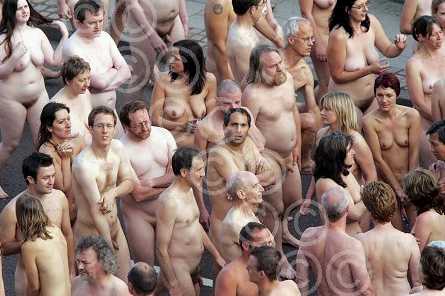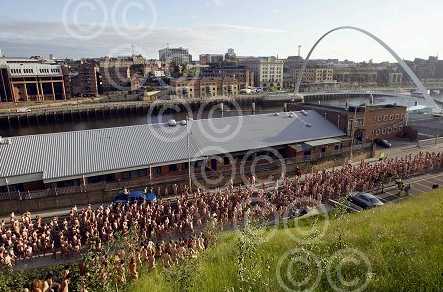 Once again we were naked and had a bit of work to do. We streamed down this roadway past HMS Calliope towards the tiered levels of the Sage's lower boundary. As we crossed over the road a woman beside me stubbed her toe on a speed ramp in the middle of the road - her language was colourful, would have make a docker blush, but she carried on like a trooper. From this side of the river Tyne we looked back over to the opposite side of the quayside - where we had just come from. The photographs of those poses must be brilliant. There were a good number of people in the open space in front of the Sage high above us. Here to cameras were out too - some professional some less so. BBC cameras were everywhere. People on the ground commented how this was being allowed to happen. This made some participants over-sensitive yet brought out the exhibitionist in others. Naked folk waved as usual to frighten the terminally embarrassed. I saw one bloke go out of his way to wave at the cameras, his girl friend in tow was more bashful and didn't thank him for the national exposure.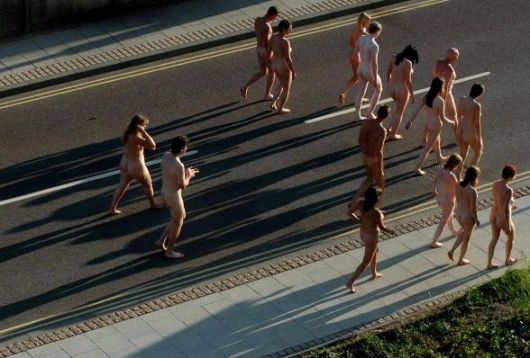 Spencer was in the middle of the roadway up his perch ready to greet and utilise us. Whilst we all were swarming naked pass ST on his steps just before the another wag enquired " Can I have your autograph?" (Vision of Spencer doing so on his bum sprung to mind - there wouldn't have been room any place else). A yellow jacketed girl at the base of the ladder, protecting him, seemed flustered at all the naked people, especially naked men passing by her. People picked up on this immediately and kept asking her silly questions - trying to elicit a confused reply - her replies were always with eyes averted skywards. Good fun though! (unless you were that girl). A girl was being reprimanded for still possessing her Union Jack flip-flops presumably as a souvenir - when it was taken off here someone suggested "Follow the shoe" - one of the many examples of pythonesque humour that abounded the day.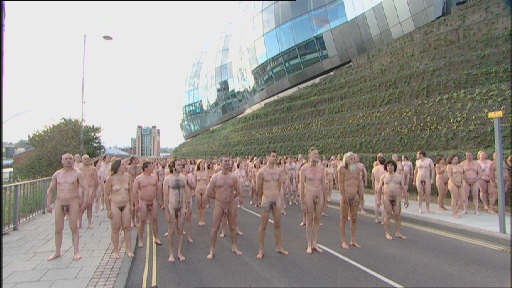 Just beneath the Sage we were ordered to stop. There were still hundred of white clad people crossing the Swing Bridge, as they got around the corner they stripped off and comfortable walked naked down the road towards us. To me they seemed very self-assured being naked at this stage of the events - it's as if they were wearing their bodies proudly. We waited for all and sundry to collect themselves at the rendezvous. A couple of blokes chose this moment to head up the bank, for a desperate wee. To howls of cajoling and jeering, they hid sheepishly behind a couple of bushes. "We can see you" howled some girls. Others recounted the scene from "Cool Hand Luke" - "still shaken here, boss" (the bush I mean). It never amazes me at the resilience of the naked body to overcome such misery in the pursuance of the relief garnered by these poor chaps.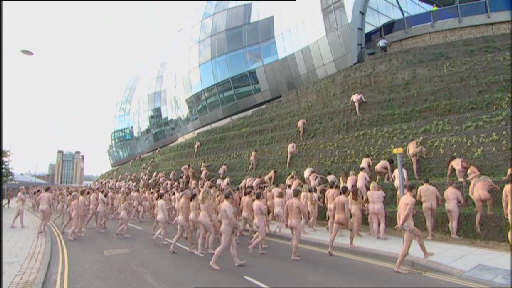 In the middle of the roadway we stood and faced back at Spencer. He took this opportunity, being as close as he had been all day, to speak to us. Again he thanked us for being here, helping create his art and being so amenable to his directions. The girl with the blue hair and another with bright red hair were dispatched unceremoniously to the rear of the assemblage. Spencer is generally quite strict, but has to be so. For every set-up, he is very end product aware of not having anybody with any tattoos, tan lines or distinguishing features, so that everyone is anonymous and not distinctive.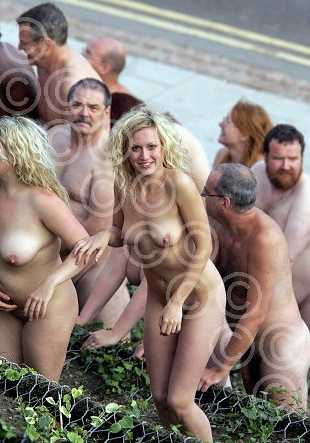 However, he now wanted a special favour from us all, one that would give him an amazing opportunity to capture an inspired photograph. He implored us to accede to his request - what's this we wondered - there wasn't much more we could do - we were naked after all. "Thank you all so much! Okay, you guys don't have to do this if you don't want to, but I'm going to ask you a big favour. I want you guys to climb up to the side of the Sage. You don't have to do it if you don't want to!" Oh, is that all. I don't think Spencer had permission to utilise the terraces in this manner - he seemed a bit sheepish in requesting it. But we had no such reticence - so went for it! Confucius say - easier to seek forgiveness than ask permission!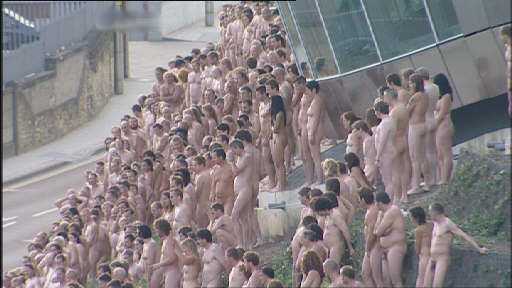 I have never seen such a mad stampede - everyone made a frenzied scurry for the tiers. It was like a race to see who could get to the highest tier. People of all ages, proficiency and gender put aside their modesty and abilities to reach for the stars. It was like the Tall Ships' sailors scrambling to the high masts to trim the sails - only more spectacular and without the cloth bit. "A vast behind!" some old sea dog exclaimed. Legs and arms flayed, people pulled themselves up the banks, others pulled lowly folk up to their level. People on the ground level pushed people up - no problems finding grab handles. The cheering and shouting was gleeful in its merriment. Like school kids at the sight of a puddle, everyone had nearly disappeared from the roadway up to the terraces. Being naked in public is audacious, but climbing up an earthen mound covered in shrubs, chicken wire and construction re-bar whilst naked requires slightly more than just audacity - visualise all the unbecoming contortions you have to put yourself through to reach the zenith! But art comes first and restraint second, so there was simply nothing to it but to shin up the hill as elegantly as possible. Being a member of the Flat Earth Society, I stayed on terra firma - a sort of compost mental. I looked up at an amazing sight of all these naked bodies lining the terraces at the Sage. It too must have looked fabulous from across the Tyne. A sort of Herbaceous Plentiflorus cross-pollinated with Genitalia Danglia - ask for that in your local garden centre?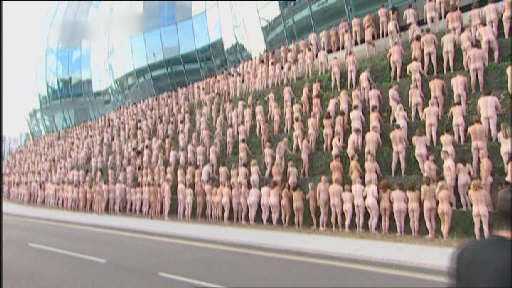 At first we were looking out towards the Tyne. Spencer was on the megaphone getting his helpers to fill gaps, pulling people, shifting people and slotting people in here and there until he was satisfied. "Don't smile" he barked. He then directed us to turn left and face him. As is normal with his photographs he tries to capture the anonymity of the nude in the public landscape. So for this aim, he directed that we turn only our heads to the right and look towards the Baltic Mill. This we did in our usual silence when we are working. Necks creaked as Spencer took the photos. We gazed again out onto the Quayside on the opposite side of the Tyne. People were milling about there, looking over at us.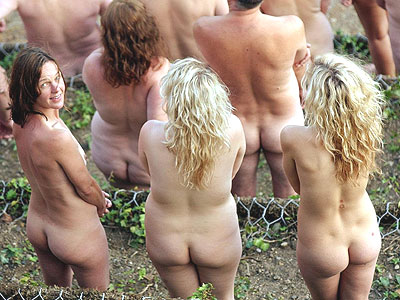 Spencer finished that one and on the megaphone directed us to turn around and face in towards the Sage - more anonymous nudes - only bare backsides showing this time. Except for the onlookers on the top in the Sage proper, who caught the full frontal view - more cameras snapped away. We held this pose silently - looking up at our colleagues - everyone all very beautiful. After a few minutes it was over - we got the megaphone chant to depart from this scene and assemble further on down. Some people climbed down from the terraces on to the roadway -which seemed even harder than climbing up it, others walked along their chosen terrace to reach the end and some climbed even higher to walk along the top to our destination. I stood on the far side of the road and watched in awe at the wonderful sight of all these beautiful people move effortlessly and gracefully about. Naked people streamed down the bank towards me - self-confidant and assured, feeling more empowered about what they were capable of bodily and spiritually. They had now profited from the Spencer Tunick Experience and you could see the metamorphosis.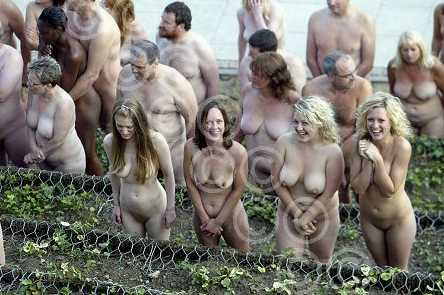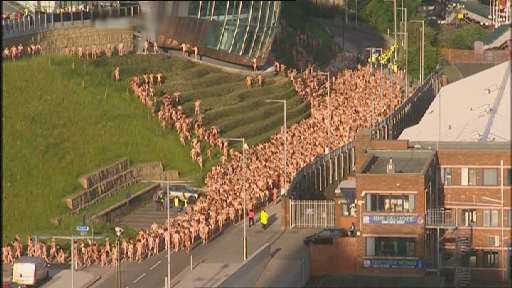 As we now approached our original rendezvous car park all those hours ago this morning - the sun shone a magnificent beam of warm orange light down on us -belatedly as if to illuminate our stage - we all gave a cheer. Everyone breathed this glorious moment in to our memories of our wonderful day. We approached the car park again and stepped off the even roadway on to the rough car park surface. We were instructed to go up to the very top level of the car park. As usual there was a choke point at the stair well. People were streaming down from the Sage terraces towards the top car park. I took my place in the orderly queue waiting to rise to the top dais. A number of people had decided to call it a day at this stage and were heading towards the last resting-place of their apparel. It certainly had been a long day, but there was a lot to come and a lot still to get out of this experience for many.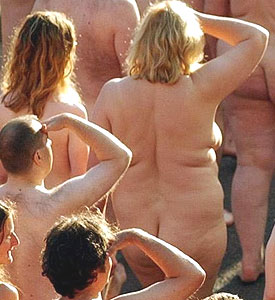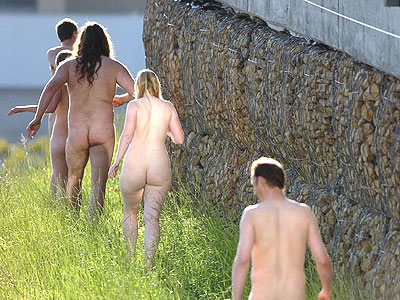 As we reached and ascended the stairs there was some relief to step off the rough car park surface and onto the relatively smooth metal steps of the stairs itself. People climbed slowly and as we turned back around to take the next flight, it gave us an opportunity to take in the multitude of naked folk still heading our way. Down below I could see my comrades in arms (bare arms that is) filing up towards me. Smiley happy faces crowded together as they slowly bunched. I recognised a few faces from today's events - old and young, yet all still energised.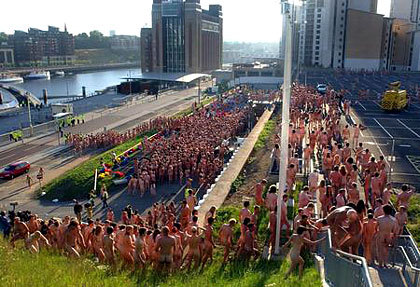 High above us on the reverse side of the Sage parapet there was about twenty/thirty people gathered to view this naked migration. (note to Ed: left out reference to herd of wildebeest rushing down to the river's edge). Some had cameras, others were dressed in the yellow jackets of the security people - so I guess they were legitimate in the gathering. As we approached the top of the ladder, more dressed people, about twenty or so, were collected at the car park proper. Of these, there were three members of the local constabulary having a great time. Some said "Allo, Allo. Allo" and they passed by - but the coppers didn't get the funny side - too busy looking at backsides. Again we were greeted by Steve on his megaphone and urged to proceed into the middle of the carpark. Spencer had a ladder set up and surrounded at his feet, his little helpers and a BBC film crew had also grouped. They were filming our every move - but we were used to it at this stage. I sidled in from the front row so as not to be full frontal on national TV - I'm not that brave! I squirmed my way into the crowd, finding a safe spot, I got "tutted" from behind by some smaller guy - yes, I'm the big bloke that always seems to stand in front of you at a gathering - sorry, can't help it!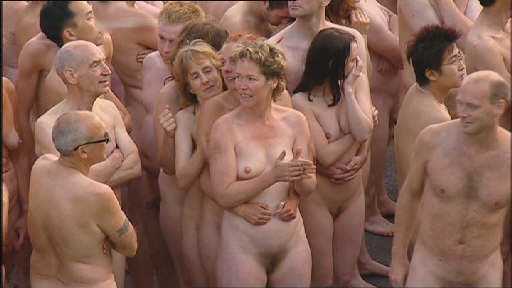 We stood waiting for Spencer to arrive. Steve kept us amused though. It was a bit colder up on high here. People shivered and quivered. Couple hugged each other for warmth. I just huddled alone - Billy no mates. Four girls shivering in the cold - huddled together in line astern to share their body heat. The two in the middle got the best deal - central heating! A male friend offered to take up the end of the line, but his gentlemanly offer was graciously declined. Only girls can huddle together and embrace - it isn't exactly a manly thing. I looked at all the different tattoos people sported. One bloke had bear paw prints walking up and down his arms and shoulders another had climbing ivy wrapping around his lower calves. The girl beside me had a balancing scales tattoo - I was about to ask her if she was a Libra as I am one as well - but then demurred as it would have meant admitting that I was looking at her derrière where the tattoo was located. Us Libran's are taciturn if nothing else.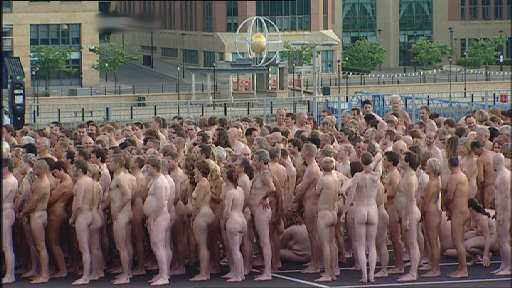 Up in the high car park, I had to consciously stop my knees from bopping up and down in the gentle yet cold wind. People were going up and down the line photographing us as we stood there. The Constables took it all in - every last detail, such was their intense gaze - is that a truncheon in your pocket or are you just glad to be here? - enquired one chap near me. Along with the other clothed folk the naval gazing continued - some people expressed their disquiet at this.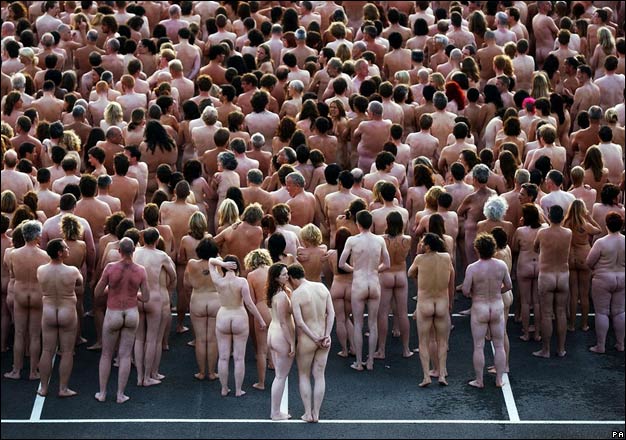 When Spencer did arrived he climbed the ladder to loud greetings and applause as we faced him. Spencer uses a medium format camera steadied with a unipod. He usually has two cameras, as there are only 6 or 8 shots per roll of film. A little helper supplies him with a change of camera. Spencer prefers film, a manual camera and a simple fixed lens - this can provide clarity and tonal quality for the full size images and enlarge to impressive sizes as displayed at his exhibitions. Art is in the mind's eye of the artist, not in his equipment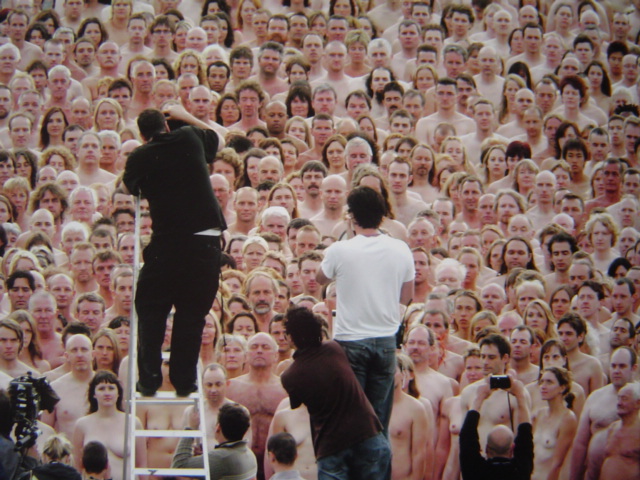 The BBC was filming all this setting up and getting ready. In later reports and photos in the media, I could make myself out in the crowd from these shots - coooeee, Mr Tunick!
Behind us his little helpers had laid out a navy blue rope in a V shape, fanning out towards a block of apartments at the end of the carpark. Spencer told us to line up within the boundaries of this rope and await further instructions. This we did. Shuffling over the coarse tarmac we took up our positions. Shuffling turned to frantic milling as we were ordered to move back, move forward, fill the gap - you know the story at this stage. I ended up standing beside taxi girl from this morning - looking very radiant and hypnotised in the sunlight. Spencer still on his ladder had him cameras ready for more creating. Spencer took some photos of us standing and looking at him. He ordered us to close our eyes and then open them rapidly, close them and open them. This went on for a few more blinks and then a few more open wides. The guy beside me thought Spencer was trying to hypnotise us. In his best Matt Lucas "Little Britain" voice said - "You will not order the lobster, you will have something from the set menu for £2.95, wide awake now, your back with us..."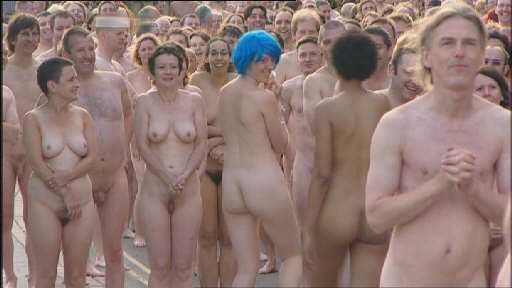 A few more photos followed. Spencer was using the megaphone to control the arranging of the bodies -directing his helpers, picking out people. Some guy with very bad sunburn was dispatched to the back and as usual now the ubiquitous Blue haired girl (see can you spot her?) along with some prominent tan liners were also picked out and banished from the front. Everyone nearly in position now - and after some more quivering shivering (and bopping) we were told that real pain was about to descend on us.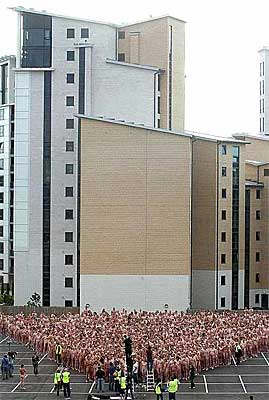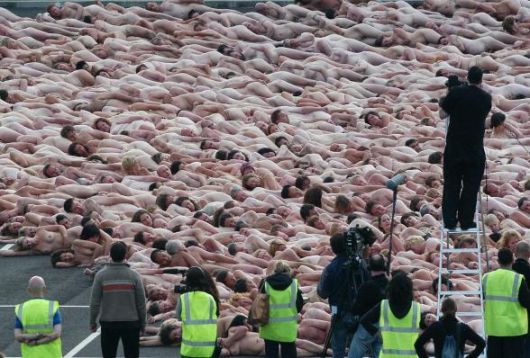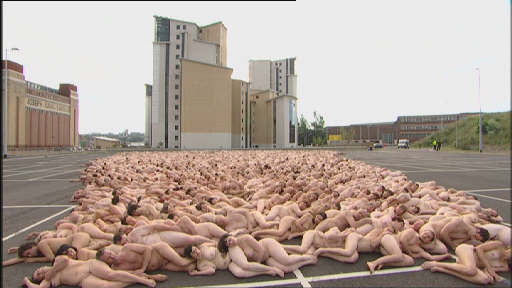 We were directed to lie down on the bed of nails, sorry tarmac, on our sides with our heads on our neighbour's hips. No thanks! It was a difficult position to get into. We lowered ourselves gingerly on to the jagged surface. It was tight up there. We waited for people in front and behind to lie down before each of us could comfortably lay down betwixt and between. I noticed how everyone's soles were absolutely black with all the road debris, along with a few bloody toes. One guy with big feet even had POTS written in the bitumen from were he stood too long at a road junction.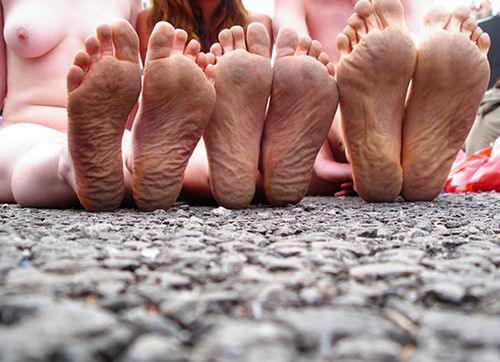 I moved up to let taxi girl lie down and then snuggled my head in between the feet of the bloke above me - at least it kept my ears warm. We lay there for a few moments on our backs - don't recall if a photo was taken but we were soon ordered onto our sides. "Cor Blimey" - or words to that effect, was the general expletive - it was torture. Every little stone and pebble on the ground grew a diamond tipped drill bit and furrowed itself into our flesh and bones. We squirmed onto our hips and sought a little relief from the pain - there was none. We took up our positions dutifully though, as is our gratification for being part of Spencer's art. And then more waiting began. We new this was the end for today and all wanted to make the most of it and enjoy every last moment - for then it was over. Spencer had taken his last photograph of this momentous day.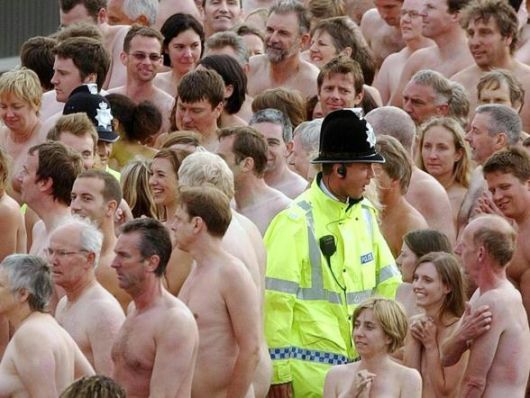 "Thanks Folks" boomed the megaphone - and we sprung to our feet - putting as much distance as we could between our skin and the tarmac. We looked like human bubble rap. Black things oozed from our flesh and red tattoo emblazoned our skin. We picked out the black things and waited for our temporary tattoo to disappear. Over the megaphone, Spencer boomed at us. He was arranging to have another installation this evening and wanted 500 models - 250 male & 250 female. He said it would be a "live" installation and would also be broadcast live on the BBC. He implored us to consider it seriously and to sign up at the tents below us in the lower car park. I'll have a bit of that methinks - having travelled all this way from Craggy Island, two installations in one trip is more than a bonus - gift horse, cake, jam, buttered both sides, eating it, carpe diem!
 Spencer thanked us sincerely for this day and said that he would meet up with us in the café below and chat to us. People clapped and cheered. Spencer as he made his way down the ladder and hove out of sight.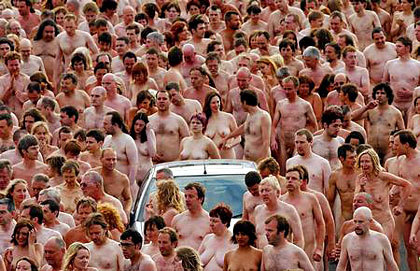 We struggled again over the upper car park towards the stairs. Naked we were for the last time now - some of us anyway. Dressed people formed a line of honour (more naval gazing) at the stair entrance as we lined up to rejoin civilisation. We were all silent and ruminative - the magnanimity of the day's achievements finally dawning on us when we realised that we would now have to dress and cover once again our nudity. Slowly we shuffled towards the stairs - engulfing a parked car. Below we could see people scampering around - some naked, some dressed - all searching for friends and plastic bags. There was a pergola set up at the end of the carpark to take registrations for this evening's installation. With only 250 men allowed, I thought I wouldn't make it. We passed by the dressed people and descended into normality. The BBC still filmed away. I looked back up the stairs at the line of beautiful people streaming behind me. Down onto the lower car park and walked naked through a throng of dressed and civilised citizens - but no one looked at me. People milled around dressing and exchanging stories with their companions. Friends searched for missing loved ones.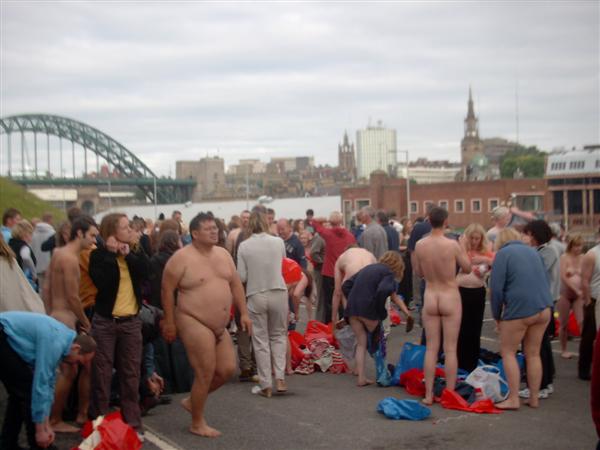 I found my yellow plastic bag with my initials writ large still in its original location opposite the telephone pole - cool! Moneypenny was no where to be seen. The four punk girls were there on scene as happy as ever and we all dressed together. Struggling with my shoelaces once again, I gathered up my memories and headed for the pergola. The queue split naturally into male and female - blue invites for the boys and pink for the girls. I saw taxi girl walk away from the registration point clutching her pink invite contentedly. Some blokes entered the queue ahead of me, joining up with their mates. You could see heads bopping nervously - like in the five items or less lane at the supermarket checkout, counting the items in the basket in front of you (is a six-pack one or six items?) Would I make the magic 250 or would those queue jumpers gazzump me? Selfridges all over again.The bloke standing beside me, spoke to me - the only person all day to do so. We struck up a conversation there and then. He too had a great day and couldn't miss such an opportunity to go for it again. Made it to the girl on the registration desk and she asked me my name - made it! I was handed a blue invite numbered 245 - Phew! We were also adorned with a white surgical wristband and told not to take it off. The bloke in front of me asked the girl was it water proof, as he wanted to have a shower. She looked at me sheepishly for guidance and a pertinent reply - what could I say? You bath away son - it's the least of your troubles!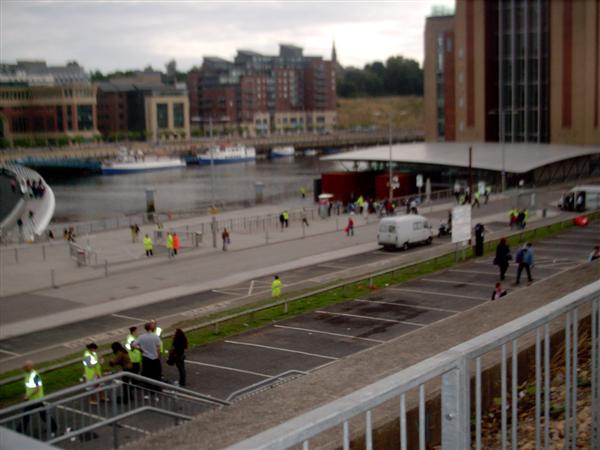 Happy now and clutching our invites, Carl and I headed for the Riverside café at the base of the Baltic Mill. Steve was at the steps of the promenade. We said hi and thanks to him for the genuinely good time and attention that he gave to all of us today, (note to Spencer - pay rise for Steve). We didn't have an installation in this location at the small marbled amphitheatre after all - in the end there would have been too many people, maybe this evening?
There was about forty/fifty people already there so we joined the queue. Other people joined in our conversation, a bloke and a girl from Wales recounted their total enjoyment of the day. We chatted of our own day's recollections and anecdotes as the line snaked its way around to the tea urn. Steve, sans megaphone, came into the café still looking for volunteers for the evening's BBC3 installation. Anybody would do, such was the desperation in his manner. We showed him our own invites, much to his disappointment - no point in cajoling us - bummer! He moved around the line, trying to press the King's shilling. Most of the die-hards had signed up any way and the few he converted didn't seem too reliable for another installation.
We eventually reached the hub of the oasis and with our drinks, we went outside and sat down. We talked with other people sitting around on the café's patio furniture. Steve was still doing the rounds. I heard some Dutch and French voices from people sitting around at the tables. People recounted their worst and best times during all the moving and shaking. The seagulls and the foetal position came out the worst. Everything was good for me though. Carl recounted how earlier on at the start of the installation he saw a woman from his work at the disrobing point. He said he beat a hasty retreat as he was too embarrassed if she had have seen him naked. I said she would have probably been more self conscious that he had seen her naked. I think it would make for a great place in work if a number of one's colleagues took part in an installation.
We dragged out what little was left of this momentous day's experiences here on the Gateshead side of the Tyne - but it was time to go - for now! Carl and I walked over the Millennium Bridge and back into Newcastle. We walked down the Quayside, around by the Premier Travel Hotel and up past Kublai Khan. We picked out all the places and situations we had each found ourselves in as we strolled past each landmark. Up Dean Street now, all the nudie barriers had by now been removed - normal people could return to the Quayside. Time for a cup of tea, we thought in unison. But do you think we could find a place open? Shirley, there must be a place open in Newcastle at 11:30 on a Sunday morning for tea or coffee! No - it wasn't 11:30 it was only about 08:30 (take the watch out of your pocket Al, and who's Shirley?) This had been one very, very long day and our minds were still experiencing the absolute highs of the great time we had during the installation - time and civilisation had been abandoned. Carl gave me a guided tour of Newcastle, all the hotspots and landmarks including St James' and Gray's Monument. As we walked around we spotted a good number of people who must have been at the installation. We didn't actually recognise their faces or what they were wearing (how could we?) - but they were all clutching their colourful plastic bags from the installation. We nodded politely in their direction - acknowledging our preceding naked proclivity - a sort of covert society in an overt world. We eventually found our way back down to the Central Station - Shirley, they would be open at this hour. There was - phew! We sat down and had a coffee, saluting more colourful bag wielding individuals milling around the station - presumably catching trains back home to wherever.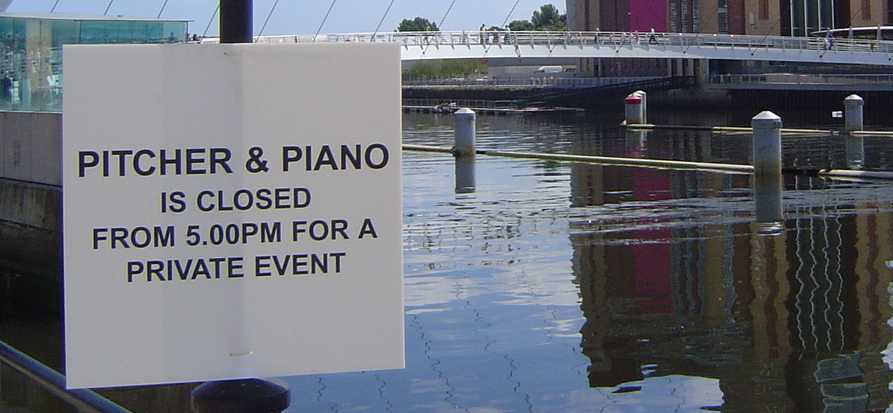 So that was that, for this historic morning of Sunday 17 July 2005. Back to my hotel then and borrowed an industrial strength degreaser to try to get all the bitumen etc. from the soles of my feet. Even though I had been up since 02:00 that morning, I wasn't tired or at least couldn't sleep - such was the high I was still experiencing. The reminiscing and recollections of the day ran continuously in my mind's big screen. I went out for a walk and found myself following the path of the installation once again. Down the Side and over the Swing Bridge was busy with people at the Sunday market on the Quayside. I found a discarded kagoule in one of the cardboard boxes beside the Guildhall. I furtively stuffed it into my bag - might put it up for sale on ebay! But down past the Sage once more was eerily tranquil - the soles of the faithful had departed. I took some photographs at all the places we had walked and lain - I would be able fill in the gaps from my memories of this great experience. Over the Millennium Bridge and glanced past the Pitcher & Piano bar on my right hand side, I took the Quayside route once again up and around the Premier Travel hotel. The Quayside at this time on a Sunday morning was thronging with shoppers at the market stalls - completely oblivious at the unabashed barefaced cheeks that had previously inhabited their place of commerce - so much for consumerism! A brass band stood on a corner, pumping out their stuff - they played Ray Steven's "The Streak" with great gusto (only kidding)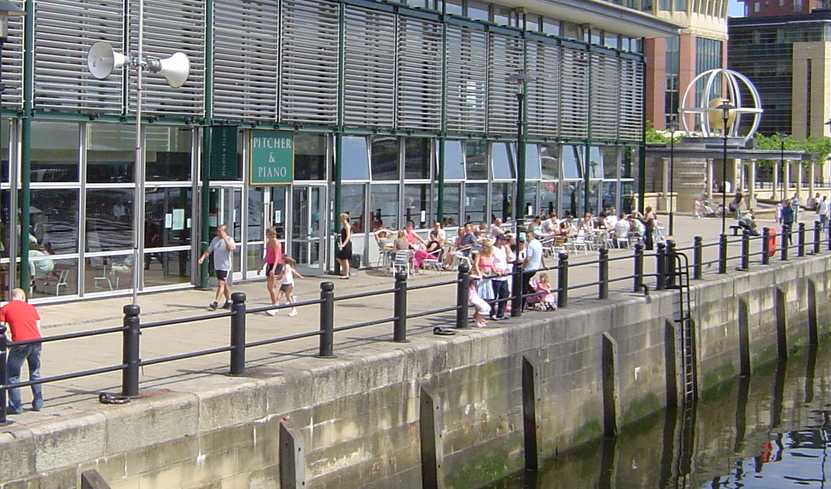 Soon it was time for another chance at making magic. At about 5 o'clock in the evening, it was time for me to head down to the Quayside to the rendezvous point at the Pitcher & Piano bar, as per our second invite. So, I knew the route this time from my hotel without the aid of my map - could tell you every bloody cobble stone on The Side. Past the Travel hotel and under the Tyne Bridge, I walked on to the Quayside for another adventure. Strolling parallel to me I met up with taxi girl. We spoke as we headed towards the bar. She was still on her own, her boyfriend chose not to partake but wished her his best regards for her adventure - coward! Her mother would be watching the television to see could she spot her this evening on BBC3's - Naked City - the ongoing documentary on Spencer Tunick's installation in Newcastle/Gateshead. Like the rest of us, she had an inspired time this morning and didn't hesitate to sign up again for this evening's escapade.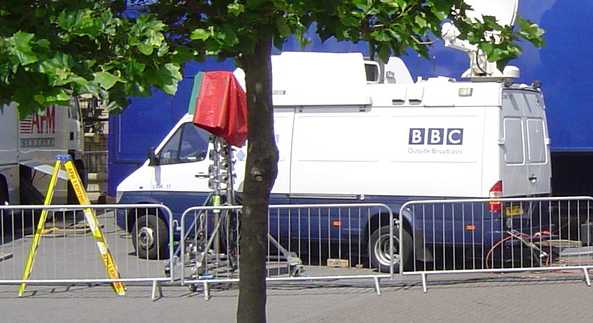 We waited outside the Pitcher & Piano bar - we were early and eager. The groovy pergola from this morning had re-appeared Tardis like now on this side of the Tyne. Reception tables were set out to collect once again our model release forms and verify our ID's. The BBC had set up their Outside Broadcast circus near the bar and lighting rigs and TV paraphernalia were strategically located in order to capture and beam out tonight's episode. A small outside studio had been set up on the roof terrace of the bar, complete with no less than three TV cameras and along with the boom camera and roving cameramen, every little detail and naked identity should be captured this evening for the nation's enjoyment.
Carl duly arrived - read bounded down the road with great alacrity. So the three amigos were now assembled and ready for action - once the formalities of the nomenclatures were revealed - Carl, Kirsty & Alan. People began arriving over the course of the next while all wearing the white surgical wristbands from this morning. The population this time was a big older than this morning and tended more to the male side of the species. I'm no good at counting crowds, but we heard later that about 250 turned up for this evening's soiree - out of the 500 S.T. had in mind to fill the Millennium Bridge.
Steve once again was buzzing around - cheering people up as he flittered around. We waited - the sun shone. It had been quite a warm and sunny day. A few people's faces, including my own, were showing the effects of the sun's rays from the intervening day - and remember tan lines go to the back, presumably beetroot faces too.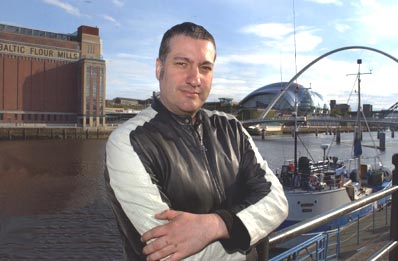 18:00 hours had now arrived. We shuffled into line astern and queued up to the registration pergola. We were given new model release forms directly from the BBC and ordered to fill them out, once ID and age was checked we had our white wristbands snipped off. One girl asked to keep hers as she managed to obtain Spencer's autograph on hers this morning. I was glad to see the back of mine - I was going around Newcastle all day like an escapee from some institution for the bewildered (might have a point!). Duly authorised and characterised now as a nude model, we went inside the Pitcher & Piano bar. The bar itself is a long narrow building with glass on three sides overlooking the Quayside. The bar itself is half the length of the building. Nothing else to do now but wait - might as well have a drink! The others ordered pints of lager, I stuck with the mineral water - bad move filling your bladder at a Spencer Tunick Installation, as per this morning's episodes. We found some comfy sofa's left over from the Spanish Inquisition up at the back of the building and sat down - to wait. More nodding acquaintances from this morning gathered around us and the bar soon filled up. It was still a beautiful evening outside and we sat and chatted. Carl candidly shared with us how he relinquished his commando style equipe from this morning to a more comfortable and safer (his description) full cotton jacket - Kirsty said thanks for the insight, but was slightly too much on the visual!
A little later on then the show started to kick off. Spencer with the ubiquitous Steve and Sigismond in tow, began to give us a rundown of what was in store for us this evening. He ordered the two boy up onto a couple of chairs and proceeded to utilise them like giant Action Men. As the installation was going out live on TV, Spencer only had a window of about 10-15 minutes in which to operate and complete his live installation. We were to walk out onto the bridge in pairs and face away from him and wave our arms in the air like the motion of the waves. He then got the boys to demonstrate - we fell about the place laughing at their antics. If these two couldn't wave their arms in unison - how could you expect 250 naked fools to do so? Spencer ordered Steve to "go down on Siggi" - Steve scanned swiftly through his contract to check for any clauses precluding such debauchery - but he just picked Spencer up wrong, phew (this was the BBC after all, not Channel 4). Spencer wanted us to lie down on the bridge - heads to feet of our partners. More lying - now were we going to be on the rough side or smooth side of the bridge's walkway? (probably be the rough side). A little later we would go outside for a practice (clothed) trial run.
So with that little bit of excitement over, time for another drink. The anticipation and expectancy levels were beginning to rise, especially around mi compadres. Some verbalised their nerves explicitly others kept entirely silent yet we understood what we were all going through. As time passed the moods of excitement and trepidation intermixed. Camera and researcher activity was going on all around us. Participants were being interviewed and others, couples and singles, were being lined up for interview. Each content to verbalise their experience and attitudes to their whole encounter with Spencer Tunick. Spencer was giving a TV interview from inside the Pitcher & Piano. Speaking as he prepared to co-ordinate the final installation, he said: "Those who took part have really achieved something. It is a life-affirming experience and something to celebrate". Spencer also commented "My heart goes out to the people who participated and braved the early morning and the cold weather today - but they stayed until the end when the sun came up and warmed the streets. I hope they feel like they've accomplished something this morning because I want them, and everyone, to know that I made some wonderful work here in Newcastle/Gateshead and I'm very excited to share the results with the public."
So more drinks, and more waiting. About this time we were issued again with plastic bags for our soon to be discarded apparel and temporary loss of modesty. I got a red one this time (cautioned by Diane and Craig not to mention Sunderland FC whilst in the Toon, so no funny remarks here). John, one our now group of eight, brought his own marker pen and we all shared it as we embossed our own particular moniker on them. Some people wrote just their initials others appended nicknames, others their alter ego. At about 8 o'clock Turboman and the rest of us heard the call then for us to assemble outside for the trail run or dress rehearsal. Off we went, abandoning our drinks and mustered outside in a huge posse. Spencer appeared on the balcony to address us. He went through all what he expected of us and the tight timeline he had in order to complete the live installation. For this installation, we had to undress and walk in double file out on to the Millennium Bridge and stick with our partners. There we would complete two poses. One facing away from him and waving our arms in the air to mimic the waves and the other to lie down (knew that one was coming) feet to head of our partner. We were also advised that due to the vagaries of live television we may be asked to wait on when the second and last shot was completed - for take two and with better editing, the repeat programme. Spencer said that during this hiatus we could sit down and talk to the other people around us. This caused some merriment at the shear though of sitting around naked on national TV making small talk to one's nude neighbour - what would you talk about? ("What's a girl like you doing in a nice place like this?")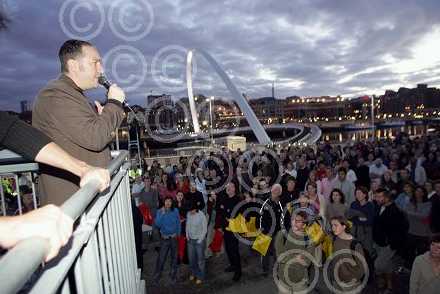 Plastic bags in hand we listened attentively and on the order from above, we about faced and lined up double file outside the bar and along the quayside. I lost my companions at this stage. Carl said later that I just seemed to bolt for position and he just couldn't keep up with me. Kirsty disappeared deep into the melee also. I teamed up with some bloke that I hadn't met before. Again we were warned to stay in position, spread out arms length once on the bridge and more importantly, listen. What did he say? - I asked my companion. When the rest of the crew had assembled satisfactorily, we marched off in formation.
Sprightly but surely then we filed two by two out onto the floodlit Millennium Bridge (with the sound of the Elephant march from Jungle Book playing in my head!). I was about three-quarters at the back of the queue at this stage. Past the guardian of the bridge, Steve, we walked on the rough side of the walkway - Kirsty got her wish here, she didn't want the smooth decked side as she didn't fancy peering down into the running water below. We stopped when the point of the snake reached the Gateshead end of the bridge. Security people, police and onlookers were accumulating on the high banks of the car park and Sage yonder. Inhabitants of the blocks of apartments also lined themselves up on their balconies to view the spectacle - garden patio sets (must have been won on Bullseye?) and loungers were laid out and with the drinks flowing above us, the carnival atmosphere was in full flow.
Obeying orders we lined up in twos and spread out our arms front and side to give the requisite clearance to our fellow travellers. Some people deftly garnered their space, others poked and shoved their companions into position. We were ordered to move back, then forward, then back - you know the rest. At some stage, somebody was content. We were then asked to turn around and face back towards the Newcastle side, where Spencer was located atop the Co-Op hotel. Now there was a space in front of me. So fearing the bark, I filled it and so left the space behind me - not my problem anymore. My erstwhile partner, the nice bloke, was then left with the dilemma. It took Spencer about 1.77 nanoseconds to spot the gap. Siggi and Steve were dispatched immediately with another errant model in tow, screaming their innocence, to slot in neatly behind me. Phew! Problem solved, but nice bloke never spoke to me again, such was the trauma of Spencer yelling at him over the PA! (Sorry! - Confucius say - he who flights and runs away, lives to run away another day)
Patiently we faced Spencer and waited. I was now about one quarter up the front, as we had reversed out our position on the turn around. The lights and cameras were beaming into our faces. My new partner turned out to be none other than Black Marker John. I spotted Kirsty two rows up from me. We then practised the second pose for this set-up. Lying on our back, head in between our partners feet. We all lay down as directed. It was very relaxing lying there in the evening sun, I could have stayed there for hours. Steve went along the line checking everybody. Finished the trial lay we sprang to our feet and waited for further instructions. We were then told to remember our exact position on the bridge for when the clapperboard sounded action for real we wouldn't have time for all this shuffling to and fro. John accurately counted the cable stays of the bridge in order that he would be able to return to the exact spot. I took my reference from John's position - figuring if he's in the correct position, I must be too - big gamble here, AL. A few more moments dwindled by and we looked out up and down the Tyne and the Bridge to pass the time. Soon we got the order to fallout and we moved off in unison back to the Pitcher & Piano. Steve was as usual at the base of the bridge to meet and greet us.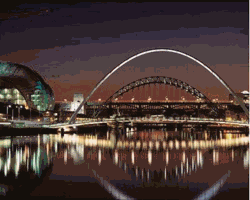 Once back inside, mi compadres rendezvoused at the bar for more drinks. People took this final opportunity to go to the toilet, in order to save themselves discomfort during the real shoot. The bar was packed with revellers. The bar staff themselves were under a lot of pressure as 250 people rushed in and ordered drinks. But they took it very professionally and amicably. I would recommend you visit the Pitcher & Piano bar if you're ever in Newcastle.
Drinks in tow, we all sat down once again up the back on the comfy settee. We knew the time was fast approaching that once again we would have to disrobe and face the nation. The nattering ebbed and flowed. We talked together of the set up on the bridge. Someone suggested that wouldn't it be great if they raised the road deck and had us all hang naked from the parapets - no more drinks for you, was the universal response to that lurid suggestion. Kirsty's announcement that she was doing a PhD in Structured Virology (wah!) certainly called a halt to one topic of conversation - brainy as well as beautiful. Carl got more anxious as the minutes ticked by and puffed away on even more cigarettes. John was too relaxed. I said how relaxing the lying down pose was and how I struggled to stay awake. Come the actual pose I might just fall off asleep for real and begged them not to leave me out there for the roadsweepers in the morning - they said they wouldn't, but I didn't trust them. Other people gathered around our small group, chatting between themselves with the odd deference coming our way. Kirsty had collected a new partner from the trial run and he was sitting on the couch beside her, sticking like glue. People were in general in great spirits and enjoying themselves immensely. I said that the rehearsal was a great idea but couldn't imagine everyone finding their respective positions again in the snake under the pressure of the live event. I forecasted that everything would go pear shaped. I was labelled a pessimist - Confucius say, definition of a Pessimist is a well-informed Optimist. We would see.
At about 9:20, we all heard the call we were expecting and dreading. Ok folks everyone outside. We said our respective adieus and best wishes and proceeded out side. People lined up some in order, some haphazardly. Some on the quayside, others on the bar side. At the back of the bar a temporary high fence had been erected to keep prying eyes and sensitive folk away. Earlier on two different groups of orthodox religious teenagers had been enjoying themselves on the quayside and at the bandstand. They would have been astonished, to say the least, of the sight that would have greeted them. Two Policemen and one Policewoman were guarding us somewhat bashfully. The two Policemen dived behind the barrier leaving the poor WPC to fend for herself with all these soon to be naked members of the public. I found John in the line up on the quayside, so knew then I would be in the correct location no matter what was to ensue (okay Spencer?). People were much more jittery at this stage of proceedings - nervously anticipating a great occasion. Cameramen and researchers were milling around. The big boom camera was whizzing through the air and up and down, capturing us for broadcast. People were watching the outgoing broadcast on its top monitor and the live feed on the lower one - or what's known as the bottom monitor (terrible pun). I don't think people were aware of the enormity of this enterprise - self-assurance from this morning's experience had replaced apprehension. Couples hugged and friends gathered in-groups as per usual. In general people wore more everyday/mainstream clothing for tonight's event rather than the loose attire that previously this morning was all the rage. Carl even announced earlier that he wasn't going commando this evening - much to Kirsty's delight. I saw a bloke about 25 years old sporting a rather old fashioned dressing gown, but looking very prepared for his metamorphosis into nudity. He was speaking with a couple of male friends and all were having a great time. He looked rather dapper, resplendent in his chosen drape. I read in subsequent newspaper reports of a similar occurrence of a dapper gent in dressing gown complete with pipe and slippers at this morning's installation kick-off in the car park. Wonder was it the same bloke - or is this clothing option for future Spencer Tunick Installations - might be?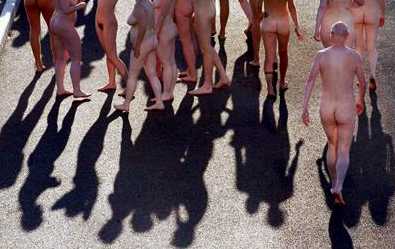 On the opposite side of the snake to me I heard a BBC researcher going up and down the line looking for "Paddy's partner". Out of sight, Paddy O'Connell, presenter from BBC2's "Working Lunch" appeared and took his place in the snake. He must have been doing a nixer on BBC3. Paddy's Partner was soon found and inserted into the vacant slot beside him. Paddy was wearing a beige pair of trousers and nothing on top. Radio gear had been strapped onto a flesh-coloured pouch to his back and one of those Rice Krispies microphones was stuck to the side of his face. He must be going to give a running commentary of the next half an hour or so's proceedings. I don't know whether he intended to take off these trousers or was just using them as camouflage in lieu of complete nakedness - was too busy at the time with my own situation. Either way, I though to myself, why him? Why could we not have had Gillian Lacey-Solymar also from "Working Lunch" instead of him? Just our luck!
"Get your kit off" boomed the PA. Suddenly we were off again - or at least the clothes were off. Shirts, shoes, skirts trousers, bras and underwear were being ripped from our skins. It was much more a mad frenzy than this morning relatively leisurely disrobement. The best way to describe this evening's undressing would be as more of a fracas. The snake started to move off even before some people had completed their transformation. The chap in front of John was still bending down undoing his shoes as people backed up behind him. Some beckoned genteelly to "shift your bloomin' ass" - such was the haste in people's attitudes to this evening's tight schedule and resultant emphasis on strict time keeping and pace.
I just overtook him and ran to try to catch up with the end of the now naked centipede disappearing into the distance. Walking naked to traverse this break, I felt exposed and vulnerable in the glare of the cameras - for the first time today. I soon caught up those in front and slotted into the throng. As we slowed down at the gated entrance to the Millennium Bridge, all the people I left behind had now collected themselves in line astern me - presumably having dealt with the slow undresser.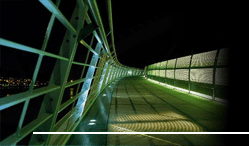 Steve was as usual at the bridge entrance greeting and encouraging us. As we turned the bend off the quayside, a BBC mobile cameraman had sited himself low down as the naked swarm glided past - he must have got some great shots of surprised faces. People wobbled as they hove into him and evaded his aim, left and right. Others folded their arms across their chest or placed a hand strategically in front of below - all you have to do in these situations is cover your face, that's all you can be recognised from! Onto then the rough bitumen surface to the walkway of the bridge. John appeared beside me, but no sign of Kirsty and Carl. We picked up new neighbours for our naked evening stroll across the Tyne. The air was still warm even as we reached the mid point of the bridge over the now black river below - much warmer than this morning. In fact it was decidedly balmy and it was pleasant to be naked. I looked back along the quayside and saw the wonderful sight of all these naked people strolling along the cobblelock and heading my way. The gantry lights were blaring down on us, illuminating our breathtaking circumstance.
We moved over the mid point towards the Gateshead end of the bridge. I was about one quarter ways from the front now but still in my correct position beside John. His reckoning though had let him down despite his counting of the cable stays we were miles from our original position. Arms outstretched and ranged, we shuffled to find the requisite spacing - one metre from the balustrade and one metre apart. The girl behind me poked me in the shoulder for good measure - must have been only 0.99m apart. We waited. The sound of another herd of crickets resounded across the Tyne. I declined the opportunity for self-flagellation once again - life's too short to beat your self up! People were gathered in the distance on the car park and Sage's earthen banks, civilians mingled with yellow clad security and police folk. You could see the tiny flashes in the distance from cameras privately recording this wonderful event.
Spencer on the PA summoned us to turn around and face the music. Thus we did in union - synchronised posing. Silently we waited and then were ordered to turn around again - did that too! Now in the appropriate position on the dais we were instructed to commence our wave motioning with our arms aloft - to and fro. I watched the people in front wave their outstretched arms mimicking breakers and rollers. I looked down at the river Tyne below us. It was absolutely still, not even a ripple - it looked exactly like a gigantic black mirror. Spencer must have got an impressive shot of our image in the parallel reflection.
I took a more leisurely pace of arm waving than some of my fellow models - I was trying to recreate the tender lapping of an ebb tide kissing a pebble strand (actually my little arms were tired). John on the other hand must have graduated from the Dustin Hoffman School of Method Acting - he was giving it large with a massive onslaught eroding the White Cliffs. I assume Carl and Kirsty were waving majestically also. But in truth is was a brilliant sight of all these naked people waving their arms in unison on the bridge.
Then we got the order to lay down in our second mandated pose. Lowering ourselves gingerly once again, we found our spots - me with my feet against the rails and head between John's feet. The bitumen was warm and not too hard this time - maybe our backs were like leather after this morning's trials and just didn't notice anymore. Careful now not to fall asleep, I pondered on the magnificence our endeavours and Spencer's imagination. It too was a superlative sight to see us all lying naked stretched out in parallel over the black river below and the indigo sky above. All calm now we waited and pondered. A warm breeze from the east caressed my feet. Cameras were rolling and Spencer was capturing our image from his artist's visionary eye. The BBC was broadcasting all of this to the nation at this time - VCR's were whirring in many homes. Time passed and I managed to stay awake during this period both of contemplation and deliberation.
"Right Folks" boomed the PA - it was "over" (nod, nod, wink, wink, say-no-more!). We sprung like gazelles (on sedatives) to our blackened feet. We clapped and cheered and congratulated ourselves for a job well done. We also picked the tiny stones from our skin. And then waited again. The orders from above came for us to hang around for a few moments and chat amongst ourselves. I spoke to the naked lady that earlier had poked me in the shoulder - she was kinder to me this time. She said what a wonderful time she was experiencing and how surreal it all was. Couldn't agree more. Some people sat on the bitumen surface others made use of the seating provided along the walkway. We lazed around naked for a while, curled up and alone and most of not all probably musing over our exposed artistic state. Apart from the odd whispered conversations, everybody was hushed and introspective - all quite visceral.
After a while we got the order again to reoccupy our positions and recommence imitating the waves. Spencer, I presume in the meantime, had completed his BBC interviewing duties and with cameras fully loaded once again, was going to capture for real his vision on the bridge. Once our ruminations were discarded, we recommenced our erstwhile gesticulations. So arms raised once more, we were off.
I was trying to recreate the tender lapping …(yeah, yeah, yeah!) John was gesturing demonstratively and everyone else was doing their own thing. Spencer as usual did not use a flash, relying normally on natural light or in this case the artificial light off the specially erected gantry lights - they radiated an eerie white light over the scene. In these conditions Spencer would have been using a long exposure to capture the image on film. Our arm waving would therefore be somewhat blurred and contrasted against the sharp image of our bodies and the bridge. This image would capture the effect of the arms' movements. As we waved, the people on the balconies and the earth banks continued to gaze in awe at our nakedness. Small flashlights blinked like stars from deep within the darkness - I wondered would they be picked up in Spencer's long exposures? We waved until we were told to slow down - phew! Then we were told to wave our arms faster and faster. People were trying the utmost to wave faster than their neighbour - an arms race of sorts! I just held on as the tempest of limbs heaved to and fro. Slow down, we were ordered - flashes flickered, we slowed down to a light breeze. All together this took about a half an hour but again it was great fun to do. It must have been a truly awesome sight, us all on the bridge, naked and waving in the floodlight night. Maybe we'll see the results some day.
And then it was over - and this time over for real. We got the "Thanks Folks" recall command and we stopped what we were doing. Everything had gone according to plan - just like I said it would! We had completed the "Spencer Tunick Nude Workout" video. Time to return to normality. Turning around for one last time, we trundled off and waved goodbye to the inhabitants of Gateshead. We mingled as we walked, daring to break out of our regimented double file. We headed back over the Millennium Bridge towards the Newcastle side of the Tyne, just has we had done all those hours ago this morning, and still naked. We took in the enormity of the life changing events that we had been fortunate to have participated in. One could nearly sense the disappointment of the experience now being over. People were much quieter than they had ever been throughout the whole day.
Reaching the end of the Bridge, Steve was there as usual to greet us. He was sweating a lot from the energy he must have expended organising and tendering to Spencer's orders - relief for him was palpable. So stepping onto the quayside, we began the closing ceremony of this momentous day - the final dressing. Finding our bags was the last step in dispelling with the legitimacy of our nudity. As we dressed some people took photos of their partners - some posed playfully others more seriously. But now being naked amongst mostly clothed people made these same people feel vulnerable and somewhat bashful. Dressed now, we all looked different, naked we were comrades.
We gathered our thoughts and memories into the plastic bags and began the long trek back into society. I met up with Kirsty and we went into the Pitcher & Piano to pick up the rest of the posse. She was on her mobile texting home to see did her folks and boyfriend see her naked on national TV - they had been watching the BBC3 programme live. She seemed disappointed that didn't see her. As before with the trial run and previous comings and goings, there is a rush of 250 people up to the bar. Quite a number of people had decided the best thing to do here was head for the bar first and then dress. It was amazing to see naked people standing around nonchalantly supping their pints as clothed people intermingled with them - it was like a mini Saatchi. But we were now back in a decent social order, so we behaved more refined and cultured as is society's norm - i.e. we elbowed our way up to the bar, pushing small/weak people to the ground without remorse as we forged a path to the alcohol. As we stood around drinking, there was two blokes standing nude at the window in the bar talking to and drinking with another two dressed blokes. With everybody else in the bar completely disregarding this as nothing out of the ordinary - a photo of this sight would be as if Harvey Drouillard had gatecrashed Spencer's party.
We found the rest of our missing crew after a bit of shouting across a crowded room and sat once more and for one last time up at the back on the comfy sofa. John wasn't staying but I shook his hand, bid him good luck and thanked him sincerely for sharing his experience with me today in Newcastle. Spencer was now going around the bar speaking to people. He seemed more relaxed and took time in holding conversations with us. The rest of us just sat around and reminisced. Mobile number, emails and home addresses were exchanged as we recounted each other's experiences today - hoping maybe to vicariously enhance our own individual recollections. Kirsty told us later how she scaled to the heights at the Sage with no care for lady like decorum, Carl only went up two or three levels. Each said it was more "dangerous" coming down though - you can guess the rest! There were some great stories going around - and all genuinely remarkable for the memories they elicited and the bond of friendship and unity they forge.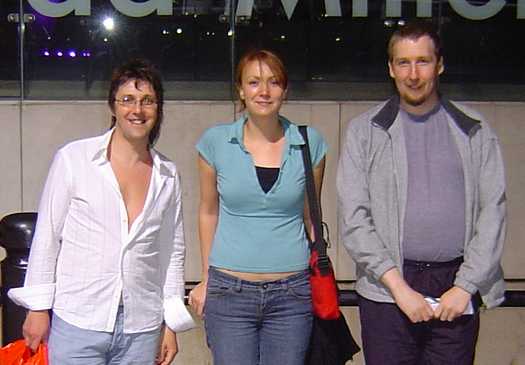 Everyone was talking about the BBC3 "Naked City" documentary, wondering if they could be seen on it - waiting for the reactions tomorrow in work from colleagues who had picked them out. Peter, one of our now enlarged group, found himself right at the front of the snake on the bridge when we turned around and took the full barrage of the cameras - full frontal that is. He was sure he was in for a rough ride tomorrow. We can't receive BBC3 where I live, but Kirsty promised to send me a video copy of the programme - thanks Kirsty.
But then it was really over - the physical bit anyway. We packed up about 11 o'clock and moved off through the Pitcher & Piano - it had been reopened to outsiders. Slowly as we departed we said our farewells to the smiley happy faces that we had the great fortune to have been acquainted with and encountered in all this time. Out onto the Quayside again for one last time, we strolled past the bridge still illuminated by the BBC's gantry lights. I asked could I take a photo of mon amis standing at the "Gate ad Millennium Bridge" (that's what it says on it!). Carl asked did I want them naked - I said no, let's do something daring and have our photo taken at the bridge but this time with clothes on. It must have been the mineral water talking! So down the Quayside on this warm evening, we passed the Premier Travel Inn and found ourselves once more in The Side. Carl and I said our goodbyes to Kirsty and Peter and the flew off in a taxi. We walked back up Dean St and towards the Central Station and my hotel and Carl's omnibus.
I didn't sleep a wink that night - between the mental DVD of the day's events projecting around the inside my eyelids, the GNR's thundering up and down the iron horse and the blisters on my feet. But it was all worth it. I sit here on Monday 01 August 2005 finally getting to the end of my account. What more can I say?
Spencer Tunick's decision to select the city as the backdrop for this historic art installation strengthens Newcastle/Gateshead's growing reputation as a culturally vibrant destination. A place where world-class arts and cultural events are encouraged, supported and celebrated - The Barcelona of the North
The images from this installation will be seen by millions of people across the UK and the world, once again showcasing Newcastle/Gateshead's spectacular and iconic landscapes on an international stage.
So the results are in - Douze Points Mr Tunick, Newcastle and Gateshead. I have formed new special friendships with so many other wonderful people who enjoyed the same experience of creating art with Spencer Tunick. That is why the Newcastle installation was a very extraordinary and affirmative experience. There is nothing really more fundamental about a Spencer Tunick Installation than actually being there, naked and being a participant in his incredible creative process. Those who participate are immortalised. Getting naked in public is not in everybody's nature but I assure you, it may well empower and vitalise you for life to participate in such an artistic phenomenon.
Thanks to everyone…
Alan
Dedicated to Giovanna
This web essay was written in the spirit of good fun and not wishing to offend anyone. Anybody reading this and recognises themselves or any event, has any photographs of the event to share or just wants to say nanú, hi, hello, hóla, óla, bonjour, salut, hallo, nee-hao, ciao, konnichiwa, shalom, salem, failté, way-yhi or just wants to comment – please do!
email me at
ator@eircom.net
Click on the links below, read and enjoy.
 Related Links - Please give my Friends a visit.
Want to find out more? - Use
Google
or
Yahoo
search engines.
Webpage Hits since 27 July 2005.

Counter