Welcome!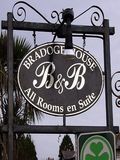 Bradoge House is a family run Bed & Breakfast establishment situated at 221 New Cabra Road on the north side of Dublin City. It is just 5 minutes away from the city centre and within easy reach of Dublin Airport. A private car park is provided beside the house.
Lucy and Damian Donlon pride themselves on offering a traditional warm Irish welcome to all their guests.
Bradoge House really is a " home away from home."
They provide a friendly helpful service and aim to ensure that all who stay with them have as pleasant a time as possible. All rooms are ensuite and are beautifully appointed to the highest standards.
Breakfast
Their breakfast menu caters for all tastes from the traditional Irish to the continental. Vegetarians are also amply provided for with fruit, cereal and yoghurt.
All food is prepared from fresh produce bought locally and is of the highest standard.
For an evening meal Lucy and Damian are happy to recommend many fine restaurants, hotels and public houses within walking distance of their home. They can also suggest places to visit and provide valuable information re taxis, buses etc.
Dublin
Dublin is a very vibrant city with many and varied attractions. Theatres such as the Abbey and the Gate are world renowned and offer the visitor an unforgettable experience. A stroll through the architectural elegance of Merrion or Fitzwilliam square leaves one feeling at ease and relaxed. A visit to Dublin Castle, Trinity College and Christ Church Cathedral are delights to be savoured. Lucy and Damian can offer valuable advice about all such attractions.
For reservations contact Lucy or Damian
They look forward to seeing you.