| | |
| --- | --- |
| | THE COMPANY |
Bunratty Winery is situated in the shadow of the famous l5th century Bunratty Castle in the historical county of Clare, which is the home of the most mystical drinks in Ireland.
Bunratty Meade
If music be the food of love then Bunratty Meade is surely the drink of passion. First discovered by Irish monks in the middle ages, Mead was believed to have the magical powers of virility and fertility. In ancient times it became the custom for the bride and groom to drink Mead for one full moon after their wedding, hence the term "Honeymoon" still used today. Bunratty Meade, the result of marrying pure honey and the fruit of the vine together with selected herbs recreates this legendary wine.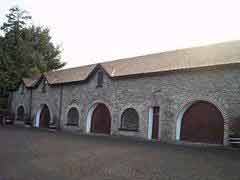 Bunratty Potcheen
An original treasure, this clear, smooth Irish spirit had been banned in Ireland since 1661. Known as "Poteen" or "Poitin" it was distilled for centuries for its smooth, extra strong taste. Also known as moonshine or mountain dew, it is a fiery tipple made from malt and barley fermented with yeast and distilled. It has a delightful changing aftertaste that sweetens as it develops. Bunratty Potcheen, the first to be legally produced and bottled in Ireland, is now available for all the world to savour.