| | |
| --- | --- |
| | HISTORY OF POTCHEEN |
NOW LEGAL
Truely a spiritual thing that the Irish did long ago when they trapped the pure and magical of nature to create from sunshine and rain, in the mountains and valleys, the original treasured spirit "Potcheen".

BUNRATTY



"The treasured spirit of life"

Ever since the beginning of time, the Irish have been dedicated distillers at which they have a skill and application matched only by their own eloquence. Introduction of excise duty in 1661 led the authorities to seek ways of simplifying ways of collecting tax. Regulation by the authorities in particular was designed to encourage the use of large commerical stills. These were operated by companies which formed the basis of the Irish whiskey industry today. No amount of regulation, however could persuade the Irish to give up their virtues of the small pot, and whilst it has been illegal since 1661, the craft of the small pot in Irish Poitin distilling goes on in the remote areas of Ireland, to this day.
Bunratty Potcheen has all the taste characteristics of Poitin and is produced by a unique process, devised at bunratty Winery, for which they have a licence from the Irish government. The product of the small pot is now legally available for friends and connoisseurs to enjoy, and this awareness; together with illicit romanticism associated with its name are important factors in the marketing of the product.

Bunratty Potcheen(so called because it was distilled in small pot stils in remote areas throughout Ireland) has been praised in song and story. Since it was banned in 1661, Potcheen has been illegally distilled, in the mountains and valleys of Ireland for connoisseurs and friends to enjoy. In those mountains and valleys real experts distilled, from grain the Potcheen over peat fires using the water from nearby clear mountain streams. Taste and Savour the Bouquet of the Mountain Heather on the Moonbeam Edge that danced with Leprechauns in paradise, and recreate the Celtic magic that is Potcheen.
Bunratty Potcheen(Clear Spirit), is the first since it was banned to be legally produced and bottled in Ireland. Originally distilled for its smooth extra strong sensation, you can now taste and recreate this Celtic magic with Bunratty Potcheen. It was a truely spiritual deed of the Irish long ago, when they trapped the purity and magic of nature to create, from sunshine and rain in the mountains and valleys, the most natural and original treasured Irish Spirit-"Potcheen".
| | | |
| --- | --- | --- |
| | It's unique distinctive taste, is dry and grainy with a delightfully changing aftertaste that sweetens as it develops. Also known as Moonshine or Mountain Dew, Potcheen is a fiery tipple. We recommend you drink it neat as a shot, on the rocks or with a mixer and savour this original Irish spirit. Now we know why Irish eyes are smiling! Alcohol by Volume 40% & 45%. | |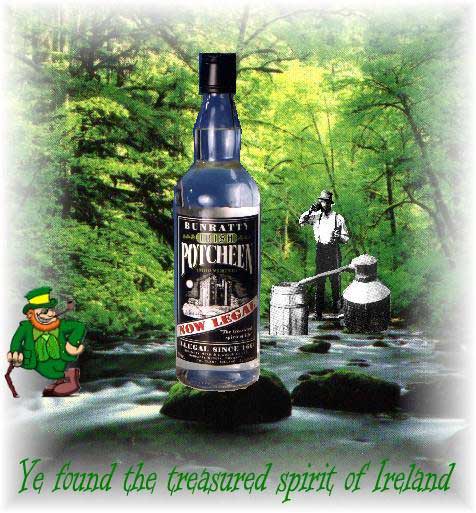 THE POTEEN SONG
Now learned men who use the pen have wrote your praises high
That sweet Poteen from Ireland green, distilled from wheat and rye:
Throw away your pills, it will cure all ills of Pagan, Christian, or Jew
Take off your coat and grease your throat wish the real old mountain dew