Callan Co. Kilkenny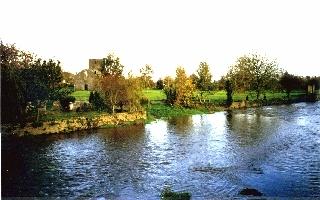 Callan is a busy town situated 10 miles to the South West of Kilkenny City, and has a population of approximately 1,300 inhabitants
Callan or in Irish, Callainn is called after the high king of Ireland Niall Caille who was drowned while trying to ford the river with his army at this point in 844 A.D. The river is since "Abhann Ri" (or the Kings River) and a few miles away the King lies in buried neath the only High Cross to a High king in Ireland at a place now called "Cill Ri" or the Kings Church.
When the Normans came to Callan they built a Moat and Bailey for thier immediate defence. The Anglo-Norman town of Callan was founded by Earl William Marshall (1144-1219). Lord Leinster, who granted the town and its Liberties a Charter in the year 1207 confirmed rights and privileges on its Burgessess and Freemen, who together with the Sovereign (Mayor) and officials constituted the corporation of the town and its Liberties. The borough contained an area of 5,634 acres. The town was walled in the early 15th century but none of it now exists.
In 1391 the Ormond Butlers acquired Callan and it became one of the principal towns in their extensive domain. In 1585 it was created a Parliamentary Borough and granted two representatives to the Irish House of Commons which it retained until the Act of Union in 1800. Its prosperity continued until the year 1650 when a Cromwellian Army under Colonel Reynolds captured the town after fierce resistance. Its treacherous Govenor, Robert Talbot surrendered the main castle without firing a single shot, even though the bulk of his forces were still intact. The town was then sacked, many of its citizens slaughtered, and the whole area left a virtual ruin. The corporation of Callan lasted until the year 1840 when the Town Commissioners came into being. These were suspended in 1940 and since then the town has had no local government.
The towns most prominent historical landmarks are its Abbey, Churches, Town Hall and Workhouse. Callan is the home of some famous personalities among whom are Blessed Edmund Ignatius Rice, founder of the Irish Christian Brothers; Humphrey O'Sullivan, schoolmaster and diarist; John Locke, poet and novelist and of more recent fame, Professor Thomas Kilroy, author of the well-known work - "The Big Chapel".