Our Christmas Carol Service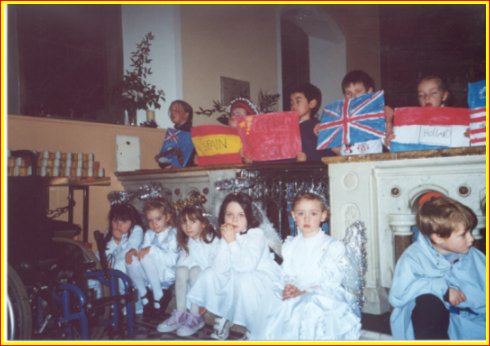 We started preparing for our Annual Christmas Carol Service about two weeks beforehand, going down to the church every day to practice. An incredible amount of hard work was put in by everybody involved, including school staff.
We arrived at the school at 7.30p.m.on Monday,16 December 2002. The older classes were to meet in 6th class.The younger classes were to meet in The Priory at the church at 7.30p.m. All were dressed in costumes made by the pupils, parents and Ms. Smyth, the Craft Teacher . The service began at 8.00p.m. The whole church was full with parents, friends and members of the locality.
The service commenced with a reading by Heather from 6th class. There were also many other readings throughout the service read by parents and staff members. The choir, children from 4th, 5th and 6th classes, sang many songs as the Nativity Play was acted out. Mary and Joseph, played by Nicola Folen and Kevin King, walked up the centre aisle. Then came the Angel Gabriel played by David Badger, followed by the shepherds, played by Dominic Cowan, Cathel Tracy and Gavin Cullen. Not long after that Three Wise Men followed the star, played by Áine Kelly. The Three Wise Men were played by Dara Geraghty, Mark Mitchell and Graham Kelly.
There are a number of children of different nationalities in our school. They danced and sang songs while playing African drums, helped by their teacher Margaret.
We ended the service by everybody singing "Join Hands" and then we sold Christmas Cards, made by the children of 6th class in the Craft Centre, for €1.