Some of my favourite Irish places
Bray Head, Co. Wicklow
Portion of a walkway which leads along the cliffs between Bray and Greystones above the main Dublin to Rosslare, Co. Wexford railway line. The railway line runs through several tunnels and is on the very edge of the cliffs. Over the years the sides of the cliffs have been eroded and massive protection procedures are in place to protect the line. The outer tunnel seen here is one which was cut off many years ago when part of the cliff collapsed.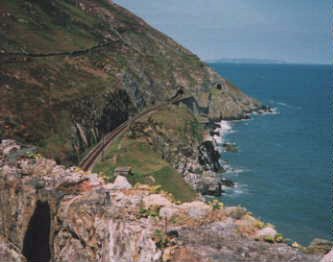 ---
Croagh Patrick, Co. Mayo
Ireland's Holy Mountain and place of Pilgrimage. Every Summer thousands flock to climb it and some even do it barefoot.

---
Glenmacnass Valley, Co. Wicklow.
Heaven on Earth.

---
Kilmore Quay
A small fishing village in Co. Wexford.

---
The Aran Islands
Situated outside Galway Bay. Accessible by ferry from Galway. Aer Arann also fly to the islands using Islander aircraft - a rare experience. The pictures shown were taken on Inishmore, the largest of the three islands.


---
Glenasmole
You'd never think a place like this could be about 5 minutes from a capital city suburbia

---
Dublin Bay
Hazy view from Killakee with Howth head just barely visible

---

All photos copyright Pat Cleary