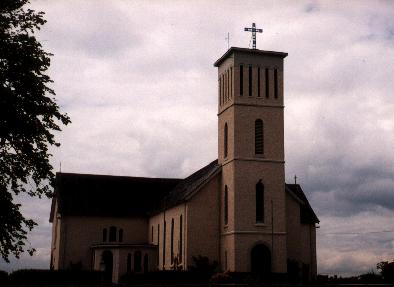 Killimor & Tiernascragh
| | | |
| --- | --- | --- |
| Parish Priest: | Fr. Ciaran Kitching | (090) 967 6151 |
| Curate: | Fr. Noel Lynch SSC | (090) 967 5238 |
Killimor takes its name from Iomar who crossed the Shannon in vain to bring back his bride. He built a little hut beside the Church and lived there as a hermit.
One of the big Jubilee Projects in the parish for the year 2000 has been the interior renovation, re-ordering and painting of both churches - Killimor and Tiernascragh. The result in each church has been spectacular and the reaction of those who comment has been most positive with words like 'bright, beautiful, open, warm, welcoming' heard again and again. The picture shows the refurbished sanctuary area of Killimor church.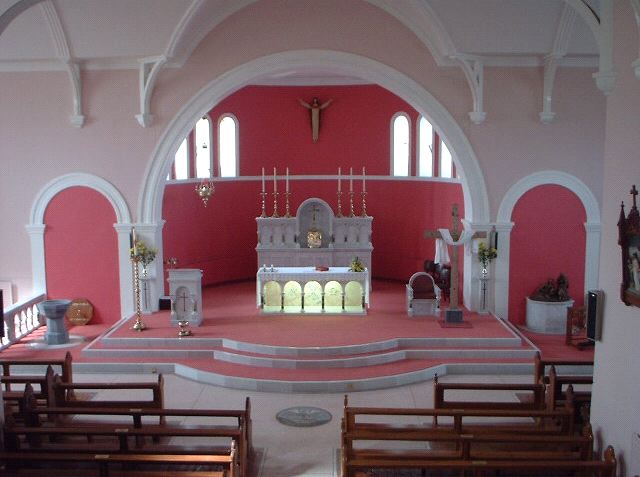 Our objective at all times was to preserve all that was good while making the Sanctuary areas suitable for worship and celebration of Mass and the Sacraments for the next century. Nothing was thrown out - everything was recycled and reshaped to suit our needs. And for that we employed the best artists and tradesmen. The entire parish owes the women and men of this team a huge debt of gratitude for the skill and the pride they brought to the work on their own parish church.
Church records are sketchy but what we do have indicates that the Killimor church was begun in 1835 and completed in 1842. Fr. Matthew - the great apostle of Temperance - preached at the opening of the church - five years before the Great Famine. The restored Baptismal Font in Killimor dates from 1835 and is reckoned by the experts in limestone to be from the Partry area of Mayo. Thousands of Killimor people have been baptised in the Font thus maintaining a hugely significant link with the past and with those who handed on the faith in this area.
Many from the parish have remarked how pleased and proud they are of the churches in the parish, both inside and out, and have indicated a wish to make a gift towards the work. Some have already given very generous gifts and indeed the parishioners have over the last three years given regularly each month to a 'Building Fund' and, for this we are most grateful and appreciative. Each generation likes to pay its own way. If you would like to make a special gift to the renovation work in memory of loved ones or simply in thankfulness for how generously you have been gifted by God, the parish would be very grateful.