Lawrencetown and Kiltormer
| | | |
| --- | --- | --- |
| Parish Priest: | Fr. Christy O'Byrne | (090) 968 5613 |
The parish of Lawrencetown and Kiltormer has two Holy Wells, Tobar Mhuire in Ballymore in Lawrencetown and Saint Patrick's Well near the new cemetery in Kiltormer. When the churches were being built, they were dedicated to these two saints, so Lawrencetown church (pictured left) is Saint Mary's and Kiltormer church is Saint Patrick's.

This parish consists of the people from the two villages of Lawrencetown and Kiltormer and the surrounding area. The photograph above is of Lawrencetown Church. Lawrencetown has a very active enterprise group and they have their own prize-winning website. The Lawrencetown Parish Newsletter is published every week on this website. Kiltormer gives its name to the local GAA club (which also includes the neighbouring parish of Clontuskert) and the Kiltormer hurling team has produced many top-class players and won many trophies down the years.



Lawrencetown
Kiltormer
Patron of Church
Our Lady
St. Patrick
Masses




Saturday evening
Apr., May, Jun.,
Oct., Nov., Dec.
8.00 p.m.
Jan., Feb., Mar.,
Jul., Aug., Sep.
8.00 p.m.
Sunday
Jan., Feb., Mar.,
Jul., Aug., Sep.
11.00 a.m.
Apr., May, Jun.,
Oct., Nov., Dec.
11.00 a.m.
Weekdays
Wednesday: 9.00 a.m.
Mon., Fri. 7.00 p.m.
Tue. 7.00 p.m. Thu. 6.00 p.m.
First Friday 8.00 p.m.
Exposition of the
Blessed Sacrament
 
Thursday, 3.00 - 6.00 p.m.
Note that in a rural parish, weekday Masses may be cancelled or changed at short notice.
Church Refurbishment
Major refurbishment work has been done in the sanctuary of the Church. The old altar and sanctuary, shown in the picture below (photograph by Liam Jordan, Ballinasloe), did not have the beauty that the people of Lawrencetown would like in the house of God.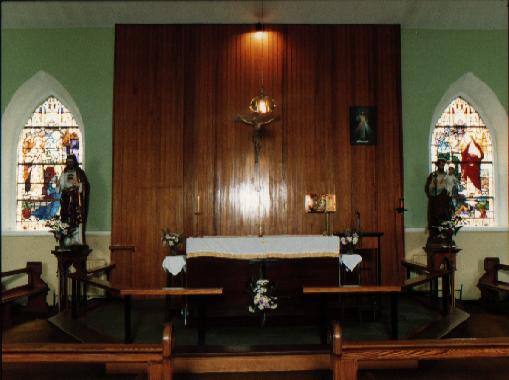 A golden opportunity to refurbish the church came when the Presentation Sisters in Mullingar decided to move to a smaller house and very generously offered us the marble high altar in their chapel for the taking. When the Parish Pastoral Council agreed to accept the offer we asked our local expert in marble and stone, Brendan Dervan, to dismantle the altar and bring it to Lawrencetown and he has now installed it in the church with a new marble sanctuary. The background to this page shows pattern on the marble. New lights have been installed in the church and a new sound system, including an induction loop for the hard of hearing, and the interior of the church has been painted. The refurbished sanctuary with the new sanctuary lamp and large brass crucifix are shown in the picture below.