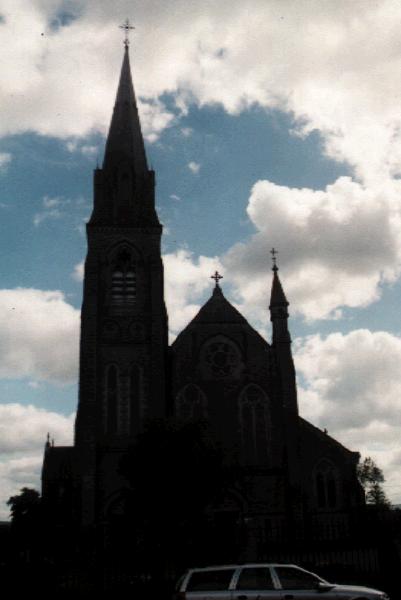 Loughrea
Administrator:
Mgr. Cathal Geraghty
(091) 841212
Curates:
Fr. Aidan Costello
Fr. Sean Egan
Loughrea is the cathedral town of the diocese of Clonfert. There are two churches in the parish: the Carmelite church and St. Brendan's cathedral. The Carmelite fathers have been in Loughrea since the year 1300.
The foundation stone of the cathedral was laid on October 10, 1897. Although small in size the cathedral is large in its interior magnificence. It has been described as the jewel in the crown of the Celtic Revival. Loughrea gets its name from the Irish Baile Locha Riach, the town of the Grey Lake. The cathedral lies on the northern shore of this beautiful lake.

St. Brendan's cathedral has been described as a Treasure House of Celtic Revival art. The International Arts & Crafts Movement of the late 19th century sought to reunite the artist and the craftsman. It was born out of a reaction to the mass production of the industrial era and found fertile ground in Ireland during the Celtic Revival period (c. 1880 - 1930).

St. Brendan's Cathedral is unique in that it was the first building in Ireland to be comprehensively decorated by the budding Irish Arts & Crafts Movement of this time.

Visitors and locals alike can now enjoy a 30 minute audio tour of the Cathedral. The tour, available in English, French, German, Italian and Dutch introduces the visitor to Irish church art of international renown, with pride of place going to the unrivalled collection of Irish stained glass. The audio tour is available from Loughrea Presbytery, Monday to Friday, 10.00 a.m. - 5.30 p.m. (except 11.00 - 11.30 a.m. Mass and 1.00 - 2.00 p.m. lunch).