Ringo

BUY RINGO SOLO CDS

Richard Starkey a.k.a. Ringo Starr, was born on July 7 1940. He was the only child of Elsie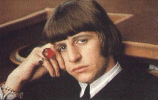 and Richard Senior and was called "Ritchie". When he was about three years old, his parents parted and he has only ever seen his father on a few occassions since. His parents were divorced soon after and Ritchie stayed with his mother at Madryn Street before they moved to a house nearby at 10 Admiral Grove.
After just one year of attending St. Silas's Junior School, when Ritchie was just 6 years old,

he developed appendicitis. His appendix burst and peritonitis set in. He had two operations before going into a coma for ten weeks. After over one year in hospital, he returned to school. At this point, he was unable to read or write and a friend named Marie Maguire helped him to learn basic literary skills. At eleven years of age, he attended Dingle Vale Secondary Modern School where he failed to graduate. When he was just over eleven years old, his mother met a man named

Harry Graves whom she married in 1953. During this year, Ritchie developed another major illness. A cold turned to pleurisy which turned to the effusion of one lung. He returned to hospital where he spent two more years. When he was discharged at the age of fifteen, he did not return to school. He worked as a messenger boy for British Railways before becoming a barman.
Ritchie showed no interest in music as a boy and only began playing the

drums when his father bought him a set of drums in December 1957. He formed a group called "Eddie Clayton Skiffle" He then quit his job to work as a full-time drummer for "Rory Storm and The Hurricanes". Rory Storm convinced Ritchie to change his name. He was originally called "Rings" because of his love of rings. He later changed it to "Ringo" while condensing his last name to "Starr". "Rory Storm and The Hurricanes" played with The Beatles in the Kaiserkeller in Hamburg where Ringo did a few stand-in engagements with The Beatles.
At the time The Beatles were offered a recording contract with EMI in 1962, Pete Best's drumming ability was being questioned by George Martin. When he suggested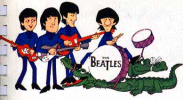 that the boys find a replacement, John contacted Ringo. Although he had accepted the position of the band's drummer, a session drummer, Andy Gray, had been hired by George Martin to play the drums for the September 11th recording session where they recorded Love Me Do and P.S. I Love You. Ringo's displeasure was known. It was a later version of the song in which Ringo is the drummer that was released and George accepted him as the drummer without ever considering replacing him again.
Ringo's health would cause another problem in 1964 when he missed most of the tour of

Scandanavia, Holland, the Far East and Australia to have his tonsils removed. When his childhood sweetheart, Maureen Cox, discovered that she was pregnant, their marriage was quickly arranged. Their children: Zak, Jason and Lee were born in 1965, 1967 and 1970 respectively. Their divorce in 1975 was unexpected as they had seemed to be the perfect couple. In 1981 Ringo married Barbara Bach, whom he had met while filming the movie "Caveman".

Ringo's status as the greatest drummer of all time is thoroughly deserved. His consistency and his contribution to The Beatles is often underestimated. He was often given a token song to sing and although he had never considered himself a songwriter, he wrote "Don't Pass Me By" on The White Album and "Octopus's Garden" on Abbey Road. After the break-up of The Beatles, Ringo

remained friendly with all members of the band. He was the first Beatle to comfort Yoko when John was tragically shot. Ringo has also done voice-overs for television and movies, most famously, Thomas the Tank Engine.