Kells Heritage Centre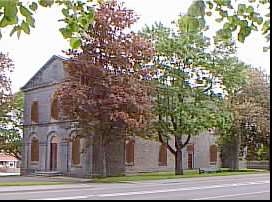 Kells Heritage Centre
is a new vibrant visitor attraction located in the Heritage Town of Kells.
Housed in the beautifully restored Courthouse are a multi-media exhibition, a gift shop and tourist information centre.
The exhibition, entitled The Splendour of Ireland gives an insight into the crafts and culture of monastic Ireland and entices the visitor to explore the various sites of interest throughout Kells.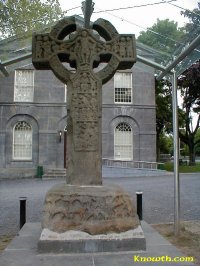 ---
Audio Visual tells the history of the
Monastery of Kells, its High Crosses, Round Tower,Colum Cille`s house, Viking raids and how and why the Book of Kells was made.

Bibical Images from the Market Cross are interepreted.
| | | | |
| --- | --- | --- | --- |
| | On display is a facsimile copy of the Book of Kells,descriptive wall panels of images from the Book, plus 2 cd-rom interactive screens. | | Middle Room contains artefacts from the National Museum, plus informatiom on Monasticism Ireland. |
---
Book of Kells
The Book of Kells is the most decorated illuminated manuscript to survive from the medieval period, in Europe.

Most scholars agree that is was created by Columban monks on the remote island of Iona off the west coast of Scotland in the monastery founded by St. Columba (or Colum Cille) in the 560s.

It is not known exactly when the Book was transferred to Kells, but known to be here early in the 9th century, durning the mid 17th century it was removed to Dublin for safe-keeping, where it has remained since in Trinity College.

The reputation of the Book of Kells rests on the profusion of its decoration, and the complexity with which this decoration is integrated with the text.
A Facsimile copy of the Book of Kells, is on display in the Heritage Centre.
---
Images from around the Town
---

OPENING HOURS.
MAY-SEPT:
Monday-Saturday 10.00am-6.00pm. Sunday & Bank Holidays. 1.30pm-6.00pm.
OCT-APR:
Monday-Saturday. 10.00am-5.00pm.
Last Admission to Exhibition one hour before closing.
ADMISSION PRICES.
Adult €4.00. OAP/STUDENT/CHILD. €3.00 GROUP 10+ €2.20 each.
FAMILY. ( 2 adults & 2 children ) €10.00.
FURTHER INFORMATION:
The Manager, Kells Heritage Centre, Headfort Place, Kells, Co. Meath.
TEL: +353 (0) 46 9247840.Email: kellsheritagecentre@eircom.net
`In The Dock` Coffee Shop open 10-5pm.
---