Welcome to my homepage! I have been making flies for some time now and would like to share my love of fly dressing with you.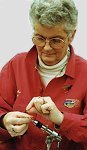 I come from a little town in Ireland called Kilmallock and was taught how to tie flies by my father, Tom Conba, a champion fly fisherman. When I was seventeen years of age I won an All Ireland fly tying competition sponsored by the national newspaper, The Irish Press. It was at this point that I decided to tie professionally.
After a period of manufacturing and exporting large quantities of flies to European corporations in the seventies, I travelled to the United States where more challenging areas of the craft of fly dressing were to be found.
In 1992, I was the first woman from Ireland to demonstrate at the International Sportsmen's Exposition in San Mateo, California. Shortly afterward I was made a member of the San Francisco Golden Gate Angling and Casting Club (GGACC). I have since presented fly tying demonstrations in the UK, Norway, Germany, and The Netherlands and have returned many times to demonstrate my work in the United States.
I now live and work in Tipperary Town (it's a long way no longer!) where I concentrate on exhibition quality tying. My husband, Noel, makes unique three dimensional frames onto which the flies are mounted.
So why not have a look around my site and explore the art and craft of fly dressing.
Thanks!
Thanks to members of GGACC (San Fransisco) espically Frank Matarelli, to Melvin Grey for the photographs of my flies, to Barry Glickman for line drawings. Also much thanks to Hans van Klinken and authors John Roberts and Pat O'Reilly for all their help and support. Thanks also to Hans Weilenman for all his help.

Web design by Patrick McInerney