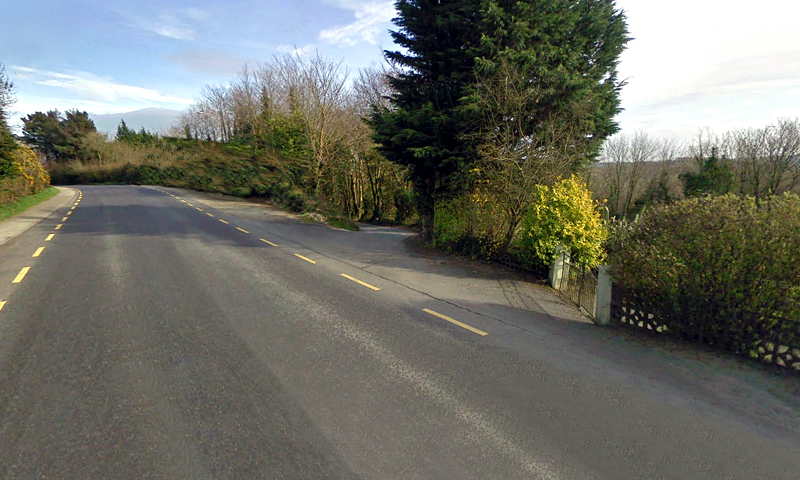 Death of Three Bandon Volunteers
The killings took place near where Laurel Walk (on right) joins the main Bandon to Dunmanway road.
The chain of events that led to the shooting of the three young Bandon Volunteers on the Tues­day night of December 2, 1920, was set in motion during the second week of the previous month, Novem­ber 1920 when two members of the Essex Regiment, Privates Watson and Taylor, left their quarters at Bandon and made their way towards Timoleague. In those days of extreme vigilance, two Englishmen had little hope of escaping for long the watchful eyes of I.R.A. In­telligence men. Whether or not Watson and Taylor wished to do so, the fact is that they were soon picked up by the I.R.A. and held at the house of the O'Sullivan family at Carrigroe, Clonakilty.

Claiming to be deserters from the Essex, they seemed perfectly willing to pass on to the captors everything and anything they knew about their late comrades of the Essex, about their barracks and about the garrison at Bandon generally. Much of what they told was of little use, apart from the suggestion that they could offer to the I.R.A a certain method by which Bandon military barracks could be attacked and taken without too much risk to the attackers. It sounded a far-fetched idea, but in those times of total war no idea was too far-fetched to be discarded without a good deal of considera­tion.

Taylor stated that he had a brother in Bandon Barracks, that he could get into communication with him and arrange that he should meet Tom Barry at an agreed point on a convenient date and pass on to the I.R.A. column commander all the information that might be required for a successful attack on the Essex Barracks. Taylor said that he was prepared to write a letter to his brother arranging the time and place for a meeting with Tom Barry.

That letter was dispatched and the night of Thursday, December 2 was fixed as the date for the meeting between Tom Barry and the second Taylor at the point where Laurel Walk joins the main Bandon-Dunmanway road. On that Thursday Jimmy O'Donoghue and Bill Mehigan had cycled to Ahiohill where they met Dick Barrett, the Third Brigade Quartermaster. Barrett appeared to be a good deal less than en­thusiastic about the whole affair, suspecting a pos­sible trap. Eighteen year old Jimmy O'Donoghue - despite the advice of the more mature Dick Barrett - insis­ted upon to returning to Bandon to be at hand for the share of the night's work that had been allotted to him. It was to cost him his life. Back in Bandon he learned that a dispatch had been handed in at his home making definite arrange­ments for the Barry-Taylor rendez­vous that night at Laurel Walk. It was a rendezvous that was never to take place, as Barry was taken ill at column headquarters just as he was about to depart for the proposed appoint­ment. His comrades in Ban­don had no way of knowing this and three of them, Joe Begley (aged 24), John Galvin (18) and Jimmy O'Donoghue (I8) met as arranged in the vicinity of Bridge Street and proceeded to­wards Convent Hill. Those closely associated with the three at that particular period are of the opinion that they were armed with revolvers, but there seems to be some uncertainty regarding this.

Beyond Convent Hill the three young I.R.A. men proceeded through Convent Cross. They climbed over a fence and walked south-west­wards through the fields towards the end of Laurel Walk. It was a danger­ous act because the general rendezvous area had not been scouted for several hours beforehand (The dispatch finally confirming the meeting was not delivered in time to enable a system of scouts to be organised before darkness). So the three young men ap­proached a completely unscouted area-and they walked straight into an Essex trap. As they approached the northern fence of the main road Joe Begley was first over, the other two just behind him. Begley jumped off the fence literally into the arms of a party of waiting Essex. He was shot dead almost as soon as his feet touched the ground. His two friends were taken just as completely by surprise. The blast of gunfire that killed their comrade was their first warning of danger and Jimmy O'Donoghue was hit almost as soon as Joe Begley fell. Initially wounded on the hip, his chances of survival were nil, being surrounded on all sides by an enemy to whom the thought of quarter meant nothing.

John Galvin had so far escaped the bullets, but it is believed that he threw away any chance he had chance of getting out of the trap alive by stopping to help Jimmy O'Donoghue. Both were immediately surrounded and shot through the head in what was an obvious pre-planned on the spot execution. The three young men were left where they had fallen. Begley and O'Donoghue died where they fell but John Galvin lived on for some time after the shooting. For how long nobody can say, but the condition of his body when all three were dis­covered by a passing lorry-driver on the following morning indicated that he had dragged himself some way along the rough-surfaced road before he finally died.

On the following morning their bodies were brought to Bandon parish church, and buried on Sunday, December 5 in the new Republican plot, where they lay side-by-side just as they had died. They were soon to be joined there by Michael McLean of Lowertown, who was shot at Gaggan ambush and three months later by Peter Monahan, Con Daly and Peter O'Leary (who died at Crossbarry) and by Dan O'Reilly of Kilbrittain who died on the attack on Bandon, January 24, 1921.

Three young men were dead. Whether it was a deliberately laid plot on the part of the Essex, nobody can say with any degree of certainly. If it happened by an unfortunate series of events, as many well-informed people in Bandon claim, the explanation put forward seems convincing enough. The Taylor who lived at Carrigroe had, in fact, a brother based in Bandon with the Essex but the letter addressed to him is said to have been delivered by mistake to yet another Taylor also serving with the Essex, who handed over the letter to his superiors.

However, a second explanation was that Taylor and Watson were not deserters at all, merely two agents sent out to bring about the capture, dead or alive, of Tom Barry, and if possible, of his senior officers as well. It was Tom Barry who was expected to arrive at Laurel Walk that fatal night - and he would in all probability have arrived there were it not for the sudden illness that assailed him as he was about to depart for the ap­pointed rendezvous.