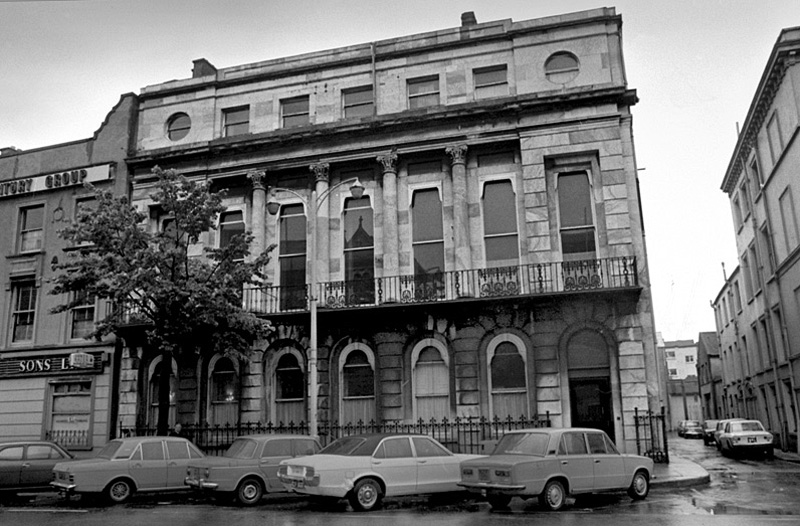 Divisional Police Commissioner Shot Dead
The County Club, 80 South Mall, Cork where Lt. Col. Ferguson Smyth was shot dead by the IRA.
At 10.30 pm on July 17 1920, Lt. Col. Gerard Bryce Ferguson Smyth, Divisional Police Commissioner for Munster was having a drink at the County Club on Cork's South Mall, when a dozen volunteers from various battalions of Cork's No. 1 Brigade entered the building. While some remained on guard at the entrance with a waiter who was involved in the attack John O'Connell, Sean Culhane, Sean O'Donoghue, Daniel O'Donovan, Cornelius O'Sullivan and one other man made their way upstairs to the smoking room where Smyth was.
One of the men walked up to Smyth and allegedly said: 'Your orders were to shoot on sight. You are in sight now so make ready', after which he was shot a number of times. RIC County Inspector Craig was wounded in the leg during the attack. The assailants then ran out of the club and mingled with the crowds coming out of cinemas nearby.
On the following day General Strickland, Commander of British forces in the area, ordered a curfew and armoured cars and military police and soldiers patrolled the streets of Cork. An attack was made on a Black and Tan patrol that evening, a Sunday, but in the shooting that followed one civilian was killed and six wounded.

On 21 July 1920, Lt Col Smyth, a one armed veteran of the First World War, was buried at the public cemetery, Newry Road, Banbridge, Co. Down. After his death, three days of rioting took place in Belfast and a number of Catholics lost their lives. There was also rioting in Banbridge and Dromore, Co. Down, with one person being killed in Dromore.

Background

On 19 June 1920, Smyth addressed RIC personnel at Listowel Barracks, Co. Kerry at which he encouraged a shoot to kill policy. As a result of this, Constable Jeremiah Mee placed his revolver on a table and refused to carry out further duties as he recognised the speech to be an incitement to murder. When senior police officers present ordered Mee to be removed the other constables refused. The incident became known as the Listowel Mutiny.

Because of the content of this speech, Sean O'Hegarty, Acting Commander of Cork No. 1 Brigade, decided to have Smyth eliminated. The County Club in Cork was frequented by high-ranking military officers and people loyal to the Government. The staff were also considered to be loyalists and so the IRA found it very difficult to obtain information about the club and those who visited it. However, the position changed when Sean Culhane, Intelligence Officer of B Company of the IRA's First Cork Battalion made contact with a waiter at the club, Ned Fitzgerald, who supplied information regarding Smyth and so the IRA were able to mount their attack.

In early October, 1920 Smyth's brother, Major George Osbert Stirling Smyth, was killed as he commanded a party of soldiers trying to arrest Tipperary republicans Dan Breen and Sean Treacy at Drumcondra in Dublin. As the Major was about to enter a top floor bedroom shots were fired from inside the room killing him. Smyth was later buried beside his brother at Banbridge.

Apparently upon hearing of his brother's death, Major Smyth, who was on military service in Egypt with the Royal Field Artillery, had applied for intelligence duty in Ireland. It is said that he had come to Ireland with eleven picked men in an attempt to avenge his brother's death in Cork.