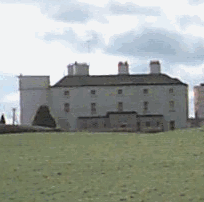 SOUTHHILL

The Champman family lived in Killua at Clonmellon

and Southhill at Delvin. The Chapmans were cousins of Sir Walter Raleigh. They first settled in Cork. Benjamin became a captain in Cromwell's army and was granted Killua. Thomas Champman was born in 1848 and lived at Southhill. He married a Rochford and they had four children.

He wasn't happy so he left his home, his marriage and his name to live with his lover in Wales. He adopted the name Robert Lawrence. They had seven children the most famous of whom was Thomas Edward who led the Arabs in World War 1, earning himself the title

Lawrence of Arabia.

Southhill is about a mile from our school on the Delvin road. It now belongs to the nursing Sisters of Jesus and Mary. It is a home for special needs children. Some of our Mammies work there.