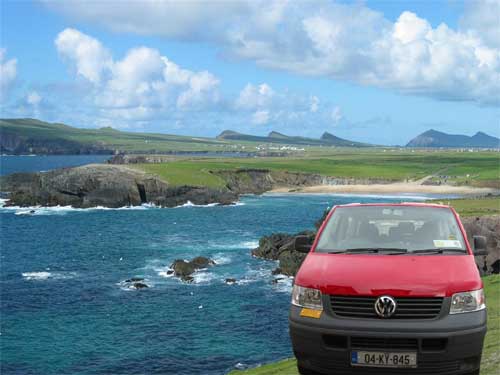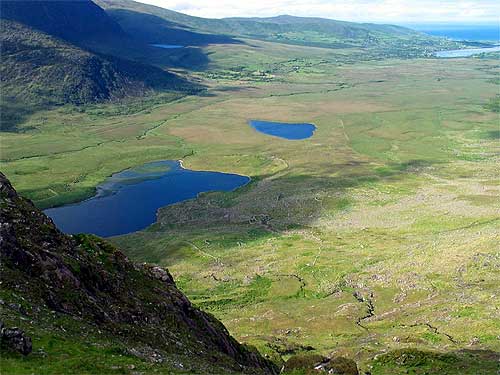 Blasket Islands - This group of Islands to the west of Slea Head was inhabited until 1953. Many of Ireland's great Gaelic literary figures were born and raised on the great Blasket Island.
Coumineol Strand - This tiny strand lying below the Slea Head Route is an unspoilt, beachy cove, and also the site of four Spanish Armada ships which were wrecked in 1588.
Graigue - Location of the Tom Cruise film "Far and away"
Clogher Strand - Two miles from Ballyferriter village this beach focuses the beauty of the area into one beautiful sandy enclave with unique currents producing spectacular seas.

Gallarus Oratory - Gallarus Oratory dates from the 7th or 8th century. Gallarus is a fine example of a Christian cell, using corbelled stone, the cell is as dry inside as the day it was completed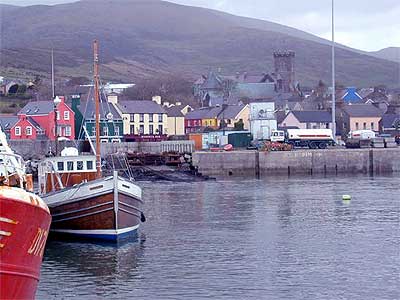 # Up to eight seater cab available.
# We do transfers to and from Airports,Trains and any functions.
# Luggage transfers for walkers.
# Walkers transferred to and from their walking points.
# We also do private tours of Slea Head and Conor Pass.
For more information or prices please ring us on 087 2504 767 or email at diarmuidbegley@eircom.net.
Both Dolores and Diarmuid will help you enjoy your stay in the Dingle Peninsula.
What you see on the Slea Head Tour..
Burnham House - Former home of the late Lord Ventry and home to the famous Ogham Stones.
Esk Tower - Locals call it Burnham Tower
Ventry Harbour & Village - A traditional Irish speaking area.

Dunbeg Promontory Fort - An Iron age fort overlooking Dingle Bay.
Beehive Huts - At one stage there were over 400 of these drystone, corbelled huts surviving, prompting one antiquarian in the 19th century to refer to the area as the "City of Fahan". These structures occur as single units or can also be found within stone fort complexes. They are generally believed to have been habitation sites, although the tradition of such buildings continued up to the early 20th century for storage purposes. Dating the huts is difficult because the skill of corbelling has been used in Newgrange (3100 BC) and as recently as the 1950s. The huts along the Slea Head Drive may well date to the 12th century when the incoming Normans forced the Irish off the good land and out to the periphery of the peninsula