Educational Software on CD
All the software can be used on:
Windows 95,98, ME. It may be possible to run the software on Windows XP in compatability mode.
Contents

Gaeilge

Maths

English

Noughts and Crosses

Download Noughts and Crosses (Freeware)

Purchase Information

Link To Science Files
Gaeilge
There are 5 programs as Gaeilge on the CD. These were developed for use with third and fourth classes. They involve drill and practice type games with liom leat leis srl.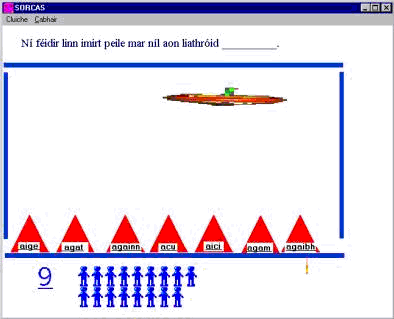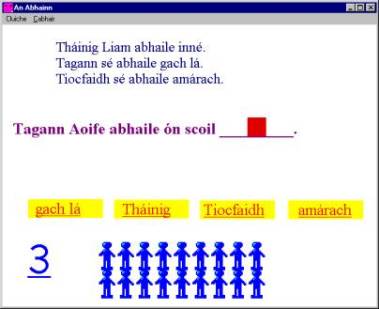 Maths
These programs are possibly the worst on the CD. They were written to help children specifically with subtraction, division and long division. There is also a two player Tables game which is great fun in the classroom.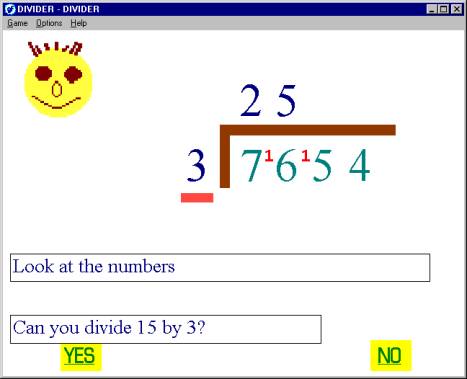 Contact Information
The cost of the CD containing all the programs on this page is 15 Euro including postage anywhere in Ireland.
E-mail me for details.
E-mail address
ddonovan@unison.ie
Web address
http://homepage.eircom.net/~declan/
Noughts and Crosses
This is a question and answer program that allows two children to play nought and crosses against each other in return for answering questions. The teacher can use his/her own question and answer lists with this program.
English
This section of the CD contains two programs, Spellquiz and Hanger. Spellquiz is a two player competitive spelling game. Hanger is a hangman type game, but uses sentences instead of words. Both programs allow the teacher to use his/her own text. In this way, they can be used to reinforce other classroom activities.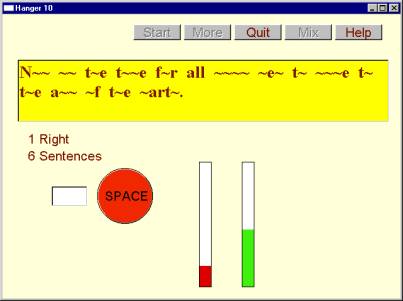 Download Noughts and Crosses
This program has been scanned for viruses but you download completely at your own risk. It is freeware.
Last revised: Date 2nd/Jan/2003.