COURSES
All courses offered by the Dingle Marina Dive Centre are CMAS and PADI certified. They range from basic one-day courses for beginners to multi-day courses for intermediate divers. Beidh cursaí tré Ghaeilge ar faíl.
FACILITIES & EQUIPMENT
Available at the Dive Centre are full facilities for washing gear, drying gear, showers and toilets, and changing rooms. Diving clubs and groups, as well as individual divers, are welcome and can be easily catered for.

Equipment available for hire at the Dive Centre includes dry suits, semi dry suits, stab jackets, bottles, regulators, weight belts, etc. There is a 4000 p.s.i. bottle bank for refilling tanks. A limited stock of equipment and spares is available for purchase.
FEES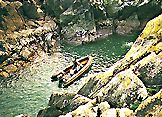 Dives are provided on a half-day basis. This would typically consist of two dives: one deep dive, followed by a second shallower dive after the required surface interval. Night dives are available upon request. Current fees for air, dives, courses, equipment hire, supplies, and facilities use are available on request.
The Dingle Peninsula —
    Leithinis Corca Dhuibhne
When you are not diving the clear waters around the Dingle Peninsula and Blasket Islands, there are many land activities to entice you and those travelling with you . . . exquisite scenery, walking, horse riding, motor touring, archaeological sites, the Blasket Centre, and Dingle Oceanworld are but a few of the Peninsula's daytime attractions. In the evening, Dingle Town and all of its surrounding villages offer a variety of good restaurants, pubs, traditional music, and "ceol agus craic".
There is a wide range of accommodation available throughout the Dingle Peninsula, including hostel, B&B, guesthouse, hotel, and self-catering. The Dingle Tourist Information Office can assist you with your accommodation arrangements. Please ring them directly at +353-66-91-51188.
---

Dingle Marina Dive Centre
 
At The Láthair Muirina An Daingin
On The Waterfront, Dingle, Co. Kerry, Ireland
Tel +353-66-91-52422 · Fax +353-66-91-52425
 
E-Mail: divedingle@eircom.net
---
©1999 Dingle Marina Dive Centre   UPDATED OCTOBER 1999
---
TOP  |  DINGLE SAILING CLUB  |  DINGLE PENINSULA