Find another Kinsale Restaurant
The medieval town of Kinsale
...in their own words Page 2

Dining at Gort na Nain (Vegetarian - about 8 miles from Kinsale)
There is nothing better than fresh produce, and here at Gort na Nain all meals are based on vegetables grown on-site, and prepared within minutes of picking. Consequently, eating at Gort na Nain is a truly seasonal experience and we pride ourselves on providing the very best in home-prepared vegetarian cuisine. In addition to the array of vegetables grown on-site, we keep our own hens for eggs and we source the finest Irish cheeses that accompany many of the dishes. Furthermore, we keep our own bees which provide honey of exceptional flavour, owing to the abundance of local wild flowers. We are happy to cater for those with specific dietary requirements (e.g. dairy free, gluten-free etc)
JIm Edwards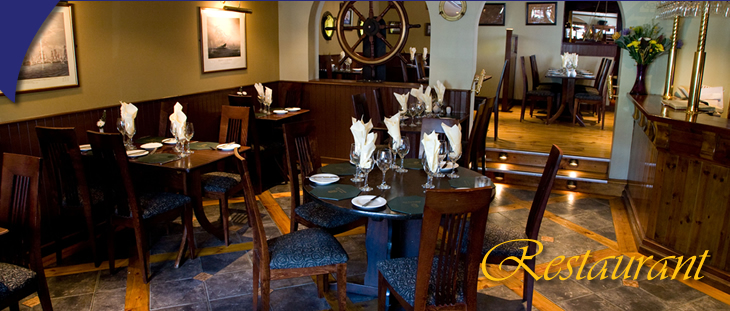 In the heart of Ireland's gourmet capital (Kinsale) Jim, Paula and the Edwards family have been providing excellent food in their elegant restaurant since 1971. The restaurant is open throughout the week, all year round. Evening candlelight dining commences at 5.30pm.
In this establishment of character, imaginative menus are prepared from daily delivered local fresh ingredients. Along with Seafood creations and tender Irish succulent Steaks, the Local Lamb and Organic duck are also popular.
Seafood Specialities: At Jim Edwards we provide an extensive seafood selection that includes fresh local Prawns, Crab, Sole, Oysters and Monkfish. A particular feature is our Lobster Tank from which you can make your own choice and have it prepared to your liking by our chef.
The Shack Restaurant Kinsale
3 Main Street Kinsale, Kinsale, Ireland We Are a Family Owned and Family Run Since 1959 A Place where Family ,Friends and Visitors alike will find the warmest of welcomes and enjoy the taste of Irish, Italian and Mexican Cuisine.Food StylesAmerican (Traditional) Burgers Cajun/Creole Irish Italian Mexican Seafood Steakhouses Tex-Mex Vegetarian
Phone: 353 21 4774480
email: theshack890@gmail.com
Pier One
The award-winning Pier One Restaurant is located on the first floor of the Trident Hotel and has some of the best views over Kinsale Harbour. Renowned for it's fresh local seafood and interesting menus Pier One is a popular choice with locals and residents alike. A La Carte and Value Menus are available with locally caught Seafood a featuring highly on both. The team of highly experienced Chefs have put together an interesting and contemporary menu combining the freshest of seafood and locally sourced produce.
Hoby's Restaurant
Hoby's Restaurant, 5 Main Street, Kinsale, Co. Cork, Ireland Tel: 021 477 2200
Irish and European cuisine made from local produce – fish special daily. All dishes made fresh daily in our kitchen. Open 6 pm to 10.30 pm all year round