PayPal.com to donkeys@eircom.net



The Sathya Sai Sanctuary Trust for Nature is situated below the ancient neolithic site of Carrowkeel, in the Bricklieve Mountains, two and a half miles above the village of Castlebaldwin, Co. Sligo, on the N4 Dublin to Sligo road. The Sanctuary is signposted at the last two turns for Carrowkeel. Set on a 13 acre site in truly beautiful surroundings, the Sanctuary's aim is to provide a place of calm refuge for sick, elderly, unwanted, abandoned or abused donkeys, once so much a part of the Irish heritage but now often forgotten and neglected in a world geared for profit and production. The Sanctuary currently homes 26 donkeys, along with 9 ponies, two mules, three horses, two dogs, two cats and three pet sheep.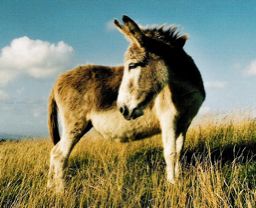 Morestina enjoying the sun
The Sanctuary is dedicated to Sri Sathya Sai Baba, a Holy Man from India who gave the project his blessing. The Sanctuary is funded by private donations and on a voluntary basis as a registered Irish charity, number 10840. Over the last three years the Sanctuary has been privileged to receive grant assistance from the Minister for Agriculture and Food towards the cost of maintaining and developing its care and welfare services for animals. Visitors are welcome to meet the donkeys (wellingtons are advisable most times of the year).
The aim of the Sanctuary is to give each individual donkey the best possible care according to age, health and special needs. Young, fit donkeys are occasionally fostered out in pairs to suitably excellent and permanent homes, thereby allowing space for the more needy ones to live on site at the Sanctuary for the rest of their lives. No donkey is refused care, destroyed, (except in cases of extreme distress or terminal illness), or sold on. You can support this work by joining our adoption scheme, but donations in any shape or form are always welcome.
If you wish to donate on-line you may do so through PayPal.com using the address donkeys@eircom.net