21st November
The Tourist season is well over now and at last we have time to look around and see how much work has to be done. Various local tilers, painters, diggers, builders, tarmacadam men, plumbers, and more are due around to collect money, quote, finish jobs, etc. How am I going to pay for this ? If you know any prayers please say them for me ! Some new pics up of the last Nickel Silver Practice Set.
My daughter Fiona got married last Saturday. Here are some photos :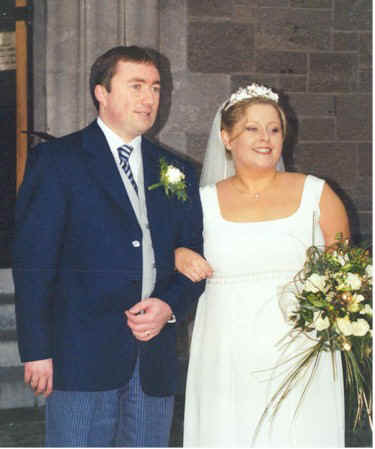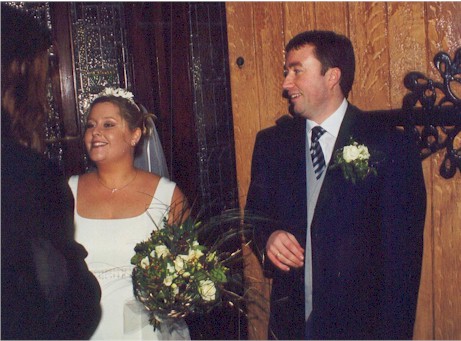 Fiona and John outside the church in Celbridge, Co. Kildare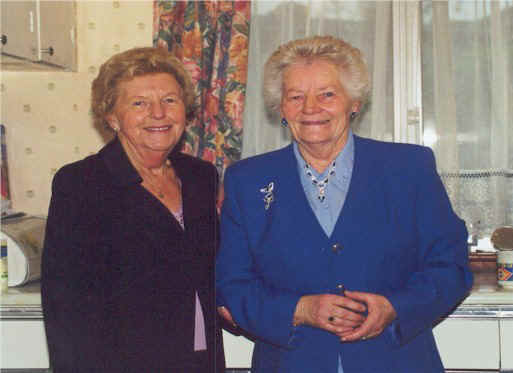 My mother with her sister Ann Hall in the kitchen waiting on Fiona to make an entrance (prior to the Church) and below Ann with long time neighbours and friends Vera Dwyer and Jenny Flanagan.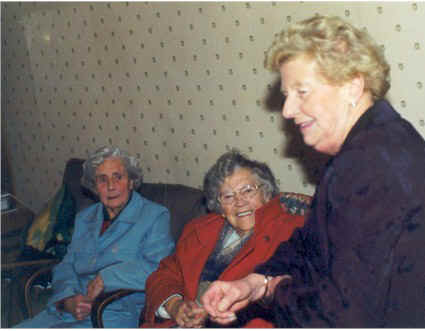 with next door neighbour Mrs. Brennan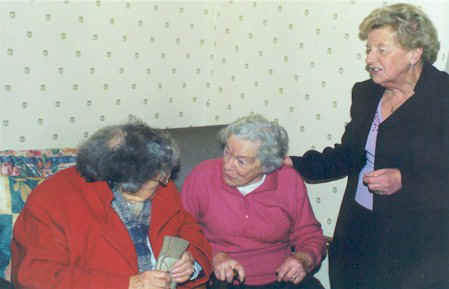 Two more of the happy couple at Church and Hotel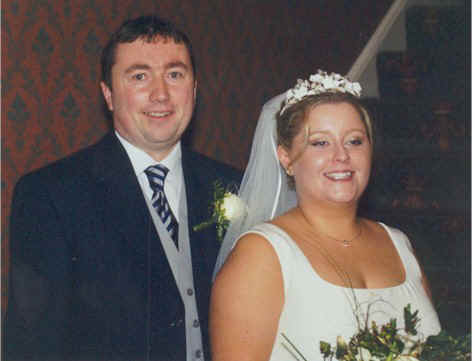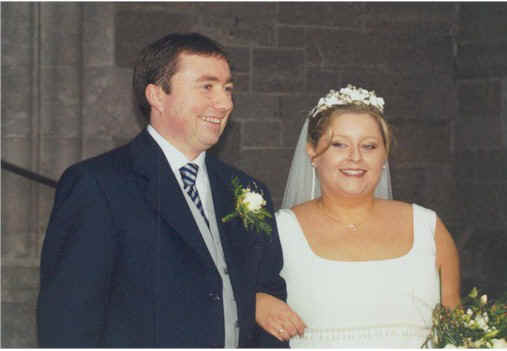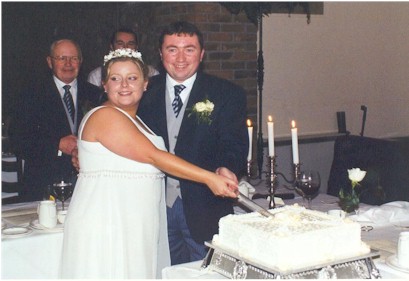 14th August
I've just heard the sad news about Natasha Seery. Des Seery's daughter was killed in a car crash outside Loughrea on Sunday. Natasha had a workshop in Galway where she contributed to Des's Flute-making business. She was only 31 years old.
The Guesthouse has been full over the weekend and much of the past two weeks. Apparently this week will be quiet and then we'll be flat out until 1st September. I'm not getting much work done on Pipes, but at least some money is coming in.
I'm officially a Kerry person now (at least I'm claiming that distinction) This weeks Kerryman newspaper carried an article and photo and it plainly states 'Michael Dooley, Tralee'.
12th June 2001
Our first Guests have been and gone and the Champagne is drunk. I'm just about starting back to Pipemaking now. So far I've had little time for music, there seems to be a lot of ballad groups in the town gigging for tourists. I just stuck my head into Baily's Corner Tralee on Wednesday night for a pint and heard a lovely even paced fiddle session (guitar, mandolin, and 7 fiddles). Must check out a few other trad sessions in the coming weeks. Dave Heggarty has asked me along to a Friday session in Betty's Bar. I'm hoping to get there this week.
A number of Uilleann Pipers have asked about tuition, should they come to Tralee. I have some prepared stuff on Pipemaking, Reedmaking, Acoustics, etc. and I'll tailor this for anyone interested this year. Just let me know what your objectives are and I'll see what I can offer.
I'm setting up a separate website for the Guest House so you should be able to link in soon. If you are booking in remember to mention that you play, to qualify for the Piper's discount of 10% More soon.
19th May 2001
At this stage I'm one wet day in Tralee (in Kerryspeak, or 10 days in humantime). All our unpacked chaos has resolved itself into an untidy mess spread everywhere. Where (and why) did I collect so much junk ? It will all require moving again and tidying away somewhere before I can breathe. We are both exhausted - probably emotionally as well as physically.
Tralee is a really nice town with my type of facilities all around. I'll post details about golf, fishing, walking, and local music sessions, as soon as I get a bit more sorted. Our target date for opening the Guest House is Friday 1st June. There is so much work to do yet.
Thank you so much, to those who e-mailled encouragement, it means a lot to us. Also, to those enquiring about accomodation, we'll sort out bookings, deposits, and discounts, before 1st June.
2nd May 2001
I'm moving to Tralee in County Kerry on Wednesday 9th May. The house is about 1 mile from the centre of town on the Listowel road. and we hope to open for guests by the end of May. There is a decent sized workshop so I should be operational within days.
The impact of Foot and Mouth is worrying and tourism in the West is severely affected. However, I'm delighted by the support and encouragement from Pipers and Trad Musicians and I look forward to seeing many of you in Kerry.
More as soon as I get a minute.