5th AUGUST, 1999
I LEFT MY HEART IN SAN FRANCISCO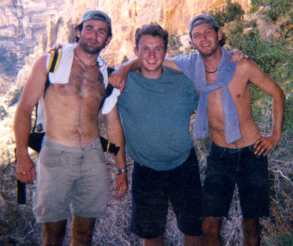 ---
Paul Kavanagh of 'Vibrant Earth' talks to Michael O'Hanlon about his travels, and how he came to set up his own very successful Health Therapy business, based at his home in Turners Cross;

I got my J1 visa after a year in the RTC and I went off to America. When I came back I couldn't settle down and three months later I was in New York with Jer Flannagan and Ian Leahy, two friends of mine from Turners Cross. We found it hard work and only stayed for a month and a half.
We moved on to Wildwood in New Jersey. We had been there the year before, so we had plenty of contacts, accommodation was cheap, living was easy, and we all got our old jobs back. I was working as a waiter in an Italian restaurant, and did bar work in the evenings. We saved our money, and after four months we took a train to Fort Lauderdale in southern Florida.
We worked there, as carpenters on a construction line, for eight months. We saved as much as we could and bought a car, that was some fun. Our aim was to stay in America for one year and travel as much as we could. What we worked at didn't matter once we made enough to get around. Our target was San Francisco and the West Coast. We knew from talking to people that a car was our best option. Living in a suburb of Fort Lauderdale we used a local Taxi co-op to get in and out of work. As luck would have it, one night a taxi driver sold us his cab for $650. Which was great as none of us could drive! We practised for a couple of days and then went for our test. The tester was a lady so we tried as much charm as we could, she told us she loved the Irish, and we told her about the Blarney Stone and as many stories about Ireland as we could think up. The thing was to keep her talking, keep her distracted, and sure enough she wasn't taking much notice of what we were doing, so we all passed our test, and we each got a Florida State driving licence. We still had to learn to drive. Luckily our car was an automatic, as are nearly all American cars, and we learned to drive on the Freeways. The car however was a bit of a bucket, a big old Chrysler estate, a real 5th Ave. New Yorker, but we were glad to have it.
Before leaving on our 3000 mile journey to San Francisco we took it to a local Jiffy Lube for a service. We wanted the oil and the transmission fluid changed, the water checked and the whole car vamped up for the journey. At the Lube station we drove it over a pit and a mechanic went underneath it, to take a look. He started cursing and blinding, and told us to get that car out of there, it was leaking everywhere, oozing out liquids all over the place, they couldn't do a thing with it, just get it out of there. When we told them we were driving to San Francisco they thought we were having them on, and they promised us we'd never make it. But our minds were made up, we were going and that was that. We knew the traps, we had met lots of Irish people like ourselves who had come over with their dreams and got good jobs, then moved in with their girlfriends and got settled. We had no intention of settling anywhere, we were off to California, car or no car!
Our car did twelve miles to the gallon, and every two hundred miles we had to stop and fill up with petrol and oil and water and transmission fluid, and brake fluid. Then we'd change drivers and move on. We lived in that car and we slept in it, not that we got much sleep, as none of us could drive the trust factor was very low, no matter who was behind the wheel. As well as that the car was so big it was like a tank rumbling along the vast roads, in spite of all that we managed with ten or twelve hours driving to cover six or seven hundred miles a day.
On a late April evening we arrived in New Orleans, right in the middle of the French Quarter Festival, it was all happening, Jazz, Blues, Bourbon Street, it was a crazy crazy place. We stayed there for two days. We were in no hurry.
Next worthwhile port of call was Dallas Texas. J.R. country. Every place is different, and we all have our own images. We drove into Dallas and the place was like a ghost town and not one person did I see wearing a Stetson. It took us two days to find out that it wasn't all high rise buildings, in fact most of the town was underground, subways, shops, restaurants and bars, and the only cowboys are The Dallas Cowboys and everybody supports them. Other than that it's a very quiet town. After three days it was time to say goodbye.
Texas is a vast state, and very flat. We'd start driving at six in the morning and still be driving at ten o'clock that night and still be in the same State. It's a big country.
New Mexico came next. It is very beautiful, a beautiful wilderness and not much else. You don't see many towns in America like the old west but we passed through a lot of them in New Mexico. The people are very laid back, they don't like city people and don't mix with them, they call them 'City Slickers'. City people on the other hand call them 'Red Necks'. Style is about fifteen years behind the rest of the world. Here everybody is going around in baseball caps, T-shirts, jeans and boots. It's like something out of the eighties. We drove around and took in some of the scenery. The highways are lovely, we saw lots of caves and overhanging rocks. We went to an animal reservation run by two Indian sisters, they kept Coyotes and Foxes. Then we moved on.
We got to Flagstaff in northern Arizona and saw the Grand Canyon. We arrived at dusk as the Sun was going down and it was all I had pictured it to be, only ten times bigger and ten times more beautiful, absolutely breathtaking. We stayed for two nights and then carried on to California.
We were down south and came up through Los Angeles, and we stayed at a place outside Hollywood called Half Moon Bay. There we met some American hippies and we hung around with them for two days. We explained we were going to San Francisco and they said "no, man it's too fast". They were all doing their own thing, which wasn't very much, just letting life meander along, no stress. City life was not for them.
We got to San Francisco and stayed there for eight months. It's a real young persons city. It's got a great social scene, lots of bars, clubs, coffee shops, places steeped in history, so much to do. We rented a flat in Hayt Ashbury. That's where the Hippie revolution started. That's where Janis Joplin, Jimmy Hendrix, The Grateful Dead, and Charles Manson lived. We loved it. People have more time there, the atmosphere has a good effect on everyone. Funnily enough we didn't meet many people from San Francisco, but we met people from Ireland, England, from all over America, from anywhere and everywhere, blow ins like ourselves, all there for the experience. For us it was the kindest place on Earth.

To be continued next week ...