22nd July 1999
Fr.Vincent Hodnett talks to
Douglas Weekly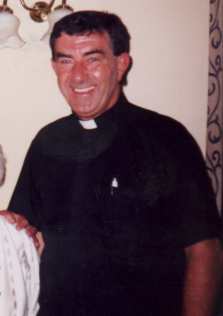 ---
I was born on the l9th of July 1945, and today happens to be my birthday, at that time and I was obviously called Vincent. In fact I was called Charles Vincent because my father was called Charles. Some years later the saints were moved around some even disbanded and St. Vincent de Paul was moved to September. I went to the convent school in Roscarbery up to the first communion class and from there graduated to the boys school. In 1958 I went to Farran Ferris college in Cork where I began my secondary education and had six good years and also six hard years. I suppose the highlight there for me was winning the Harty and All Ireland in 1963. I went to Rome to begin my studies for the priesthood.
What influenced me?
I suppose there were many influences in so far as I had a wonderful mother and father, I had a great parish priest Fr. Patrick Cahalane and I also had an uncle a priest in Scotland I suppose with all these things there was always prayer and love in our home in Roscarbery. I grew up in a public house where I worked during the summer. My father worked in the local creamery and the public house was run by my mother. I have one sister Mary, who is married in Skibereeen. In fact her son was playing with Cork minors yesterday in the Munster Championship, Donal O'Sullivan. I also have a brother Con who is married in Kenmare. The baby of the family is John who is in our homeplace and he is married to Mary who comes from Kilnamartyra and they have five children. Life was hard, despite the fact that we were brought up in a public house because again it was a small pub and a family and lovely run pub. I certainly enjoyed my young days. We were lucky to be born in such a lovely village. We had some beautiful beaches near Roscarbery, where we spent our summers. At that time we had'nt even sandbuckets but we were able to amuse ourselves and even spend days at the beaches. In 1964 as I said I went to Rome to study for the priesthood and it was a great honour for me to have been asked by the late Bishop Lucey to go to Rome. It wasn't the first time obviously that I left home because I had left home to begin my secondary education in Farran Ferris and I suppose looking back I missed out to a certain extent because of missing the love of parents and also the family spirit and the community in which I grew up. a lovely community in Roscarbery. We were allowed home each summer. The time in Rome was hard enough because again it was coming to the end of the Vatican council and there were lots of changes taking place and at the same time we hadn't a whole lot of freedom out of college. We attended the Latern University form 8 o'clock and 12 o'clock and our evenings were free to play games, to visit countless historical sights and monuments in Rome itself and also our period of study and prayer. And after six years I was ordained for the dioceses of Cork and Ross and at that time with so many priests available to the dioceses the five of us ordained were sent to London. I was appointed to a parish St. Gabriels on the Holloway Road with a very famous parish priest, Fr. Tom McNamara who did an awful lot of work for the Irish Centre and for the Irish people, because at that time emigration was very high. I spent five years in Denis Monsignior, Micheal Daly, An Tather Sean McCarrig and John Shorten and I felt I could have spent the rest of my life in Togher because of the wonderful community and the wonderful people in that parish. But yet, when I was moved to Bantry in 1982 after some months. I felt that well five or six years in any Parish is sufficient. One needs a fresh challenge and I took up that challenge in Bantry in 1982. Again a lovely Parish, lovely people and I worked there until 1988. In 1988 Bishop Murphy told me that he had a challenge and I asked him what was the challenge and he said I want to appoint you as Chaplain in the
Cork University Hospital then known as the Regional Hospital. At that time I said to him I was too old for a challenge. but he said no. So I began in 1988 and I spent eight very happy years there.
Unfortunately during that time my father died in 1990, and my mother died having been a patient in the Regional Hospital in 1993. I never worked as hard as I did there. I often use the words that I enjoyed my eight years in the Regional Hospital. Enjoy is not a word that you use about your time in a hospital. But I learned an awful lot about my self, because of the clinical pastoral education course which I did after three months there and above all I learned an awful lot from patients. Again as in all the other Parish's I felt that I could spend the rest of my time there, but looking back eight years was nearly too long in that hospital. In 1996 I was appointed as curate here in Douglas. Looking back over three years I thoroughly enjoyed every day I spent here in this parish, and a wonderful community to work in and to work with. Unfortunately my time has come to move and now I'm appointed as Parish Priest in Blackpool Parish. I have great love for the Eucharist. and celebration of the Eucharist with the people at the weekends and also during the week.

.... Continued next week.