24th June 1999
The Noticeboard
---
New Councillor for Douglas Peter Kelly talks to Douglas Weekly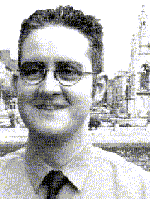 I was born in 1968. My mother is from Tallow in Waterford, and my father is from Blarney. He moved to the South Douglas Road in the '50's, and they married and settled in Maryborough in 1967. Maryborough was as far as the city went in those days. I grew up there and went to school in Douglas. Many of the teachers are still there. I left that, then, and went to Rochestown College, where I decided that I wanted to pursue a career in politics, it was always my ambition.
So I had to look around for some sort of career to sustain me, as you cannot leave school and go directly into politics. I chose Chartered Accountancy. As opposed to going to College, I did it the hard way, I did it as an Article of Clerk and did my exams qualified in 1991 and that gave me a career base. At that time, I was involved in the Association of Chartered Accountants Students Society which is 6,000 members Student Body which covers the whole Island - North and South - I was President of that for two years. In the meantime the Progressive Democrats came along. I hadn't been involved in politics, my parents would have been floating voters as would their families. There was no major history of politics in the family.
It was December '85 when the PD bandwagon rolled out, and it was a suggestion from my aunt that I should go along to one of their meetings, and on 20th January '86 they came to the Metropole in Cork. I was 17 at the time - I was very impressed, I kept a diary at the time, and a few weeks ago I looked it up, it was just the idealism and the whole rebirth that appealed to me. At that time, the PD's were everything to everybody, because we were all down in the dumps, we were in the middle of a recession and nothing had been happening for years, so it was very easy to come along with fresh new ideas.
People then began to move in from other parties and people fell away when they didn't get what they wanted so it was very difficult to sustain that from day one. I was never a particularly great fan of Des O'Malley. It was more the idealism and the lack of baggage, and just a different way of doing things that appealed to me. The other thing I didn't like about the existing parties was that they all had youth sections. And at 17 I was going to be pushed off to one of those - kind of like, "Be idealistic for 10 years, then come and talk to the real people". I didn't like the idea of that - I wanted to rule the world, like every 17-year-old!
So from there I got involved with the Constituency Executive. I was the Treasurer. I've been on the Constituency Executive in some shape or form since then. I ran in the local elections in 1991. I was added to the party Head Office and ran with Derry Canty. The two of us polled particularly well - I had 725 first preferences, he had 757. So there was only 25 votes between us on the first count, but I had nowhere to get transfers from. So eventually I was eliminated and he was elected.
The next big thing for me politically was the whole Pat Cox situation. Pat stood in the General Election in 1992 and was elected for this area. I was heavily involved in his campaign. There was a lot of internal politics that we handled badly as a party when it came to the Euros in 1994. There was a lot of politics as well in 1992, and in a way Pat wasn't given a chance but to run. That wasn't very desirable in hindsight - we would have held on to the seat if we hadn't pushed the issue.
At the end of 1994, Pat decided he was going to go independent. I felt aggrieved that he had been badly handled by the party, and I supported him against Des O'Malley, following which I was one of twelve members suspended by the party. Then there was a disciplinary hearing of the National Executive - all twelve of us were invited but I was the only one that actually went - and my membership was reinstated.
But it was a long road back for me as well, because there were a lot of people that had stayed with the party that were very upset by the whole thing. It took me quite a while to re-ingratiate myself.
I was Director of Elections then in 1997 for the General Election campaign, and I was a candidate for the by-election last year. That was very enjoyable and was great from a profile point of view. The result was a little disappointing from the party's point of view. From my own point of view, it was and wasn't disappointing. Realistically I had no expectations of winning it from day one, so whether it was 3 or 10 % at the end of the day, it didn't make a whole lot of difference to me. Also, statistically I do pay some attention to the polls, and by the end of the campaign it was clear that the polls weren't good.
I suppose what encouraged me was the number of number 2's I got. That was important because it meant that I was making some impact in people's minds. It really was just a two-horse race. Part of the strategy was to build a profile. I think without the by-election profile I wouldn't be sitting here talking to you. It's like looking at the whole league and not just playing the match.
It's eight years since the last local election and a lot of people wouldn't remember me from then, although some people did when I went around canvassing. So that more-or-less brings us up to date.
When I arrived at the count last Saturday there were only 40 boxes tallied. I was running at 4½ % and Sinn Fein were at 7 %, and I thought "Whoa". But then I discovered that they were mostly Ballincollig boxes, which wasn't an area we had canvassed. When the final tallies came in I was running at 7 %, and I was in 7th place. I was quite close to Paula Desmond and Derry Canty, so I was delighted with that performance. Looking down at the figures then, I expected that I'd be okay. It was unlikely that anyone would catch me. I had a margin of 400 votes by that stage. That would be down to 390 votes by the 11th count, at 4.10 in the morning. It was a long night. We were in a count on our own, which dampened down some of the atmosphere. The count got very little media attention. There were absolutely no facilities there, no tea or coffee, so it got quite tiresome. But it was well worth it by the end. When I heard the declaration I got a rush of adrenalin. So we went and partied until 6 in the morning. I got home to bed but I couldn't sleep. The phone started ringing at about ten the next morning, and it hasn't stopped ringing since.
I had last week to recover and tear down the posters and all that. This week is fully booked - and it's only week one! I'm meeting the residents from Bellview this evening, the residents from Grangewood Court tomorrow night, the Carrigaline Tidy Towns School Prizes Wednesday night, a Councillor's meeting on Friday to elect a Chairman and divvy up the committee seats for the next few years.
The wheeling and dealing is still going on there. The breakdown of the Council is 19 Fianna Fáil, 21 Fine Gael, and 8 others, of which I'm one and Labour are 4. So I'm the lone standard-bearer for the PDs on the largest County Council in the country. I think it'll be interesting this time because there are 17 new people, which is quite a lot. The age profile is a lot younger. The old Council was there for so long, eight years, that they started to get bored, and they've also lost sight of the powers that they have.
I've discovered in the last week that the Council have spent £110 million in 1997, which was £17 million over budget. And nobody asked what was it spent on. You know the problems in the area - you've been highlighting them more so than anyone else over the last year. And how can we get it so wrong on both counts - not only do we fail to provide the services on a local level but we spend an extra £17 million that nobody knows anything about. The Council doesn't have a finance committee - this is something that I've been raising with other parties. That's one thing that's high on my shopping list at the moment. And then looking at where the money is being spent and what we're doing with it - a little like the Dáil Public Accounts Committee.
The second thing is that there's very little accountability for local government. It's great that we'll have elections now every five years - that's a big improvement. But there's no information, for example, as regards what was spent in Douglas last year, or what are the plans for Douglas. The Council has a duty to its ratepayers to explain what it's up to. We should get a report within three months of each year to explain what was done last year, and a financial report - money raised and spent, and if there's a difference to explain the difference.
At the moment, the immediate area surrounding the city raises 80% of the Council's money, but only a fraction of it is spent in the area. Because there's only, for example, seven councillors in our area here, and some place like Bantry has 12 councillors for a much smaller population. There's been a reluctance in the Council to even hint at giving up the hinterland of the city, either to the Corporation or to some new authority, because of the money. But if the people knew what was happening, there would be much more pressure to bring about change.Also, we need to tear up the budget and start from scratch. We need to look at the tendering out of a lot of services. We need a complete overhaul in areas like waste disposal, housing, road maintenance. A lot of that could be contracted out and good value got for money. I'd like to see a Parks Department established which would be responsible for the upkeep of estates. They have them in Dublin and they've been very successful.
Talking to people in estates here, they're paying £20 to £50 a year to have their grass cut. A Parks Department would be responsible for safety, road maintenance, grass-cutting, landscaping and so on. at the moment people can be provided with grass seed and shrubs etc., but they have to plant and maintain them themselves. That situation is ludicrous.
Other areas of interest are local Acts. Local government has quite a long history - Cork County Council is 100 years old. They've quite a volume of powers that haven't been used for a long time. It has the power to make its own by-laws and bring in local legislation. This hasn't happened since 1949. That's very sad - we can make local government work by bringing in local legislation, how we want to live our lives in our little part of the country.
Another thing is that the Council has been quite laid-back in its attitude to running the area. For example, the issuing of taxi plates. You get the situation where you have a booming hackney business in Douglas but no taxi ranks. So a taxi driver can bring a fare to Carrigaline and someone can flag him down. But a hackney driver, who's based there, who spends his money there, can't stop to pick up that fare. So we need to provide taxi ranks in Douglas and Carrigaline and other towns in the county.
As regards standards, the county needs to move towards some quality-based standard, like ISO9000. There needs to be a customer charter. When I go into the tax office as Joe Public, I need to know what my rights are. An awful lot of the Council is still shrouded in secrecy. There are a lot of power bases. Because there's been no political leadership, the Civil Servants have taken on the role and they have their system. They're set on a straight line, and it's up to the politicians to turn them around. And obviously they haven't been doing that. So hopefully now with a fresh crop of people there might be some change.
Douglas certainly could do with its own office. This constituency is too big to be run from Carrigaline. In a lot of ways Douglas has been forgotten because we've been here for so long, and also because we're so close to the city. There needs to be a shifting of emphasis. There are problems in Carrigaline, but they're a lot worse in Douglas. We should have our own base, our own Engineer. I can't see why each can't have an Engineer. The whole community needs to be much more aware of it.
In terms of waste management, there is a new Litter Monitoring Agency established by the Department of the Environment, and they audit what the local authorities are doing for waste management and litter generally. We need much greater awareness. We need to drill it into the younger generation and a refresher course for us older people. We also need to provide the facilities. We had a rash of litter bins in the '80's, and we're more reluctant to use them and put them in place now. The small amount of litter bins in ridiculous.
If someone is providing a litter cause, like a chip shop or a retail shop, they should be responsible for the immediate area adjacent to their premises. This is now law, and needs to be enforced. Douglas needs a Litter/Traffic Warden, someone to educate young people. We've also been very slow to bring in recycling. Each house should be encouraged to have its own composting section, so foodstuff shouldn't be put into the bin. Then we should have a second wheelie bin where we divide our cans and our paper. If you make it easy for people, they'll do it. At the moment, it's a bit of a chore.
As well, the option of private contractors for bin collection needs to be looked at. A lot of people do this and get a very good service. The timing of bin collection is another area. Several times the bin machine runs down the Well Road at 8 in the morning and the traffic backs up behind it. There's no sense to that, although it's no-one's fault - it's just the way things have always been done.
Traffic is another enormous problem. We've literally been abused on a lot of the doors on the canvass that no effort is being made to find a solution. From the hill at Donnybrook to the Touchdown, there's nearly 5000 voters in that area, plus there children, but we only have one road. At the moment there are bottlenecks and the schools are out - what will it be like when the schools are back?
There's 600 houses going up in Maryborough, 900 in Rochestown and also 300 beyond Bellview. There's no way Douglas can sustain that. On the plus side it's bringing more people into Douglas, and the demographics have changed such that we now have two Councillors for the area. So the next thing is to look for greater representation nationally.
In terms of traffic management, a flyover for Grange has to be high on the agenda - maybe an underpass from the Touchdown to the city side, or alternatively an extra link road running between Amberly and Parkgate, with flyover access onto the dual carriageway. What is required is just a more imaginative approach to local government. In a lot of ways the powers are there. It's not that it can't be done, but that there's no political will there to do it. Everyone looks at the problem and says "why", instead of saying "why not?" I hope to say "why not" a bit more.
I work with Cogan's of Carrigaline. I've been there for the last seven years. After I finished training as an accountant I decided that I wanted to work in industry. I took a job as financial controller at Cogan's. I've seen quite a lot of changes since I joined, from a small country garage into a major dealership, so that's been very exciting.
As for interests and hobbies, I like to swim, I work out the odd time - not as often as I should! I prefer to do it in the morning, to help me relax. I spend an enormous amount of time on technology and gadgets - I'm a bit of a computer freak. I'm fascinated completely by them. I'm not a great man for sports. I played the usual team sports in school. I'd be a passing Arsenal fan. It's a long time since I was at an All-Ireland final.
I enjoy going for a pint with my friends. I drink Murphy's - the old Cork thing! And I'm quite fond of whiskey. I'd have a broad range of musical taste - from obscure French jazz to up-to-date indie stuff, like Placebo, back to ABBA and across to Nana Miskouri. The sky's the limit really - I'd listen to absolutely anything except heavy metal. I quite like the Big Band stuff from the war, the gramaphone stuff. I have an old Swiss gramaphone from 1912. The sound fascinates me. There's no batteries, no power at all. Purely a spring. Compared to what you have today, the sound is incredible when you consider there's no power.
As regards future plans, as I said I've always wanted to be in politics. I'm not stopping here - you ain't seen nothing yet, I suppose. I think I have an awful lot to offer, a lot of ideas. It'll take a lot of time for the system to grind me down. My intention is to work away. I will be active on the ground - I want to be seen and be available. But I'll also go to them as opposed to waiting for them to come to me, to see what they want done. At the end of the day I'm representing the area, not my own agenda. I want to represent as many people and as broad a group as I can.
I'm certainly going to work towards running in the next general election, and being successful in that, whenever it comes. Onwards and upwards!
The End

Happy 21st!
Language & Activity Holidays - A Douglas Success Story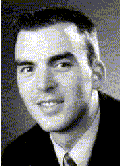 Marc Cullen (29) is the Marketing Director of Language & Activity Holidays. The company was started 21 years ago by his mother Valery in Maryborough, bringing over Spanish students. They have since expanded greatly from a summer school to a year-round school, but the core families have always remained in Douglas, as have the largest number of students.
L & A Holidays do many activities with the students, including golf, tennis and horse-riding, always using local amenities and services. They use Douglas Community School, Marc's own school, for classes. The teachers are mostly local teachers. Many Douglas families have worked with L & A and subsequently lived and worked abroad. In fact, two marriages have even resulted! The business has gone very well, with local people contributing a great part to that success.
L & A have grown in size, and as a result moved from Maryborough to their present offices in Patrick's Quay, which include a full language training centre and executive centre for adults. They have always tried to keep the personal touch to their running of the business. Hence, each single student knows both Marc and Valery by name, and Marc's personal mobile number is on call as an emergency number 24 hours a day, 7 days a week.
Following his graduation from UCC in '91-'92, Marc trained in Spain, where he ran his own language school, and took over the running of L & A seven years ago. He is fluent in French and Spanish, and emergency numbers are available in other languages, including Japanese. The type of student has changed considerably since the company started, with students now coming from Asia, South America, Saudi Arabia and Africa.
The school is recognised by the Department of Education, and is a member of both Cork Chamber of Commerce, Cork and Kerry Tourism, and RELSA (Recognised Language Schools Association of Ireland), which governs the standard in the various different types of school. The company have full Public Liability Insurance and each student has their own Medical Insurance.
Language schools are huge business for this country, with each student giving an average of £500 to the local economy. And Marc is pleased to report that students tend to return again and again, often asking to return to the same host family. Indeed, this year L & A have a grandchild of an original student, bringing full circle a remarkable Douglas success story.
Check out their website: www.language-activity.com.
---

Back to Home Page