24th June 1999

---
Another sad week in the world of music: lead singer with the Freshmen Showband, Billy Brown died last week. Of all the showbands of the Ď60ís Iíve always maintained that the Freshmen were the best, musically and vocally. I remember the excitement of going to hear them in the Majorca dancehall in Crosshaven. I rarely danced to them. I just went to listen. Their speciality was Beach Boys songs. Their close harmony was a joy to behold. I think they were more popular in Cork than anywhere else in Ireland. I remember the crowds waiting for the buses in the Grand Parade to take us to Crosshaven. There was never any trouble back then, considering the Dance Hall could hold thousands. We usually went into the Merries before the dance, and a trip to Crosshaven wasnít complete without a visit to Miss Murphyís Chipper. I met her a few months ago at Pipers farewell night at the Rochestown Park Hotel. She hasnít changed, still as fresh as ever. It must be the sea air and the good chips!!!!. Anyway, Billy, thanks for the great music and the happy memories R.I.P.
Is it only me, or do any of our readers think this Lord Mayor pact is a bit of a Joke? The three main Politicial Parties have it sewn up. Why should Politicans choose a Mayor? Why canít the people vote for a mayoral canditate?Surely thatís the essence of democracy. An Independent Alderman could secure more votes than anybody else in Local Elections, but he will never become Lord Mayor because of a pact between F.F, F.G. and Labour.
I had a very interesting chat with one of our new Local Councillers Peter Kelly (see pages 2 & 7), educated, articulate and well versed in Concil matters. I liked what he had to say. Well, Peter, youíve got 5 years to show us what you can do. It wonít be easy, but we wish you good luck in representing the People of Douglas. I drove out to the Kinsale Road yesterday. It really is very grotty and shabby and the litter between the Kinsale Road Commercial and C.M.P. was appaling. How many litter bins between these two points? I didnít see any. Iíd like to know what Cork Corporation spend annually on advertising the scourge of litter. Perhaps less talk and more action would help to solve the problem.
Incidentally, the C.M.P. hedging is protruding out through the metal fencing which is not too attractive. The Business People on the Kinsale Road are paying top rates and service charges and they deserve more than they are getting. It seems to me in this country of ours that we are vey fast to introduce laws, but pitifully slow to implement them.
How about this for a suggection? Pedestrianise Douglas Village (East) on Saturday or Sunday each summer. For those of you not familiar with East and West Douglas - Douglas East is where the Business Section of Douglas is situated, OíDriscolls, T.S.B.,Centra etc., and Douglas West is where South County, OíSullivanís and the Credit Union are situated. Picture the scene - open air live music, nothing heavy, stalls selling crafts, art,handmade jewellery, pubs with tables outside, Irish dancing for the tourists, a coffee shop with tables outside, even a few buskers wouldnít go astray. Poetry readings, Local Musicians entertaining us. The possibilities are endless. What do you think? Or am I crazy to think we can make a couple of hours on a Sunday a Family Day. Itís only a suggestion. What do the business people of Douglas East think of it? Let me know.
On Tuesday night the residents of Grangewood Court held a meeting in the Grange. Iím told the majority of residents turned up on the night. Also there was Councillor Peter Kelly. A new committee was formed with Kathleen Delea as Chairperson. A further meeting is planned for Monday the 19th of July. Douglas Weekly will keep you informed of future developments such as place and time of the next meeting.
Iím not forgetting the story about what I discovered in Douglas graveyard, and I hope to let you know the full story soon. Watch this space.
Finally, we got a telephone call from a woman in RTE Local Radio on Tuesday morning. But unfortunately we didnít get her name. We rang back in the afternoon but because there are so many people working there and many phonelines the receptionist didnít know who rang us. If the caller reads this would she please ring us at 896496.
To all our readers have a nice weekend and if you see that big yellow thing that used to hang in the sky, I think it was called the sun, call us immediately. Weíd love to see it.
Bye for now,
Michael OíHanlon.
PS: See you all at the Dickie Rock/Red Hurley show at the Silversprings on Saturday night.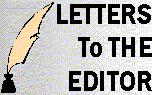 Hi-
My name is Douglas Oliver and I'm 5 years old and I came across your web site with my mom because it's named after me. I live in the United States and I will be starting kindergarden in the fall and I have a 5 week old brother named Andrew Michael.
I'm glad to know that there's a town in Ireland named after me because I'm half Irish myself. I'll be sure to come back and visit you with my mom and dad again!
Douglas
---

Back to Home Page