2nd September, 1999


It's been another interesting week in the Emerald Isle. The State according to the National Newspapers is to return to war. The Enemy: Dole-cheats. According to the report in the paper the Social Welfare Inspectors nabbed 118 dole-cheats in seven counties, that's 16 dole-cheats in each county, Horrific. The saving to the state was £285,000, according to my calculator calculation this works out on average that the dole-cheats were taking £46.45 a week from the state.
The good news is that the new plan is to have roadblocks all over Ireland and the department hopes to save , wait for it £182,000,000 this year. Considering there are only four months left of this year that's fantastic news. However if we work on averages as we did above with sixteen dole-cheats caught in each county it means that for the twenty six counties the inspectors should nab 416 cheats, and again working on averages that should save the Exchequer £1,081600 (over £1million). But the Dept claims that it can save £182,000,000 so they have to nab again, wait for it 74,880 dole-cheats in four months. Finally the State over 52 weeks should bring in about £182 million, the State can then loan the £182 million to the A.I.B. who can repay the £100 million they owe the state in back taxes and we will all be happy. Read me another Fairy Story Uncle Dermot:
The best of luck to Douglas man Joe Harris who has opened an Auctioneering Business in Morris House, in the same premises as the Douglas Mortgage Centre. All your Financial queries will be attended to . If your thinking of selling your property give Joe a call at 897300. Support Local.
Another local lady, Grace has come up with a brilliant idea. We have all been through organizing Children's Birthday Parties and for folks it can be a stressful experience. But Grace has the answer she organisers, supervisors, entertains and most important of all does the washing up. What more can you ask for except Grace's telephone number, which is 893351.
A reader has asked me to mention that people are still walking their dogs through the Community Park, without leads. I'm told there is signs in the park which forbid this practice, across the road is Ravensdale Woods which perhaps would be a more appropriate walk for our canine friends.
I met my friend Ellen Moon (nee Whitty) from Passage West in
Douglas recently and she talked about the lack of a decent Concert hall in Cork. Eileen a great opera lover is saddened that none of the big stars are not coming to Cork. I totally agree, it's not just opera stars but pop, country etc.
What has happened to the Green Glens Arena in Millstreet? I think it's about time that the biggest county in Ireland had a decent concert hall, after all Dublin is not Ireland, perhaps our next Taioseach being a Cork man will do something about it. Right Micheal.
To the reader from Passage West who rang us about the lack of
a tap in Passage Graveyard, so the relatives and friends can water flowers, we made some phone calls, and we should have
some news for you next week. Hello to all my old friends in Passage especially Willie Greene. Are you still collecting Statler Bros Albums? My daughter Ingrid is in America and she
rang us last week from Denver, Colorado. She said 'tell Dad
the Statlers are in concert tonight.' I rarely agree with Marie Geogan Quinn but when she said her favourite musical group were the Statlers. I knew Marie and I were soul-mates. Their C.D's are hard to get, but Susan Morrison of Laser Discs is a genius at imports of American Country,.
Now we come to the blunder of the week. Father James Duffy the Leitrim based parish priest who called our own Sonia O'Sullivan a slut. After reading the article I went to my dictionary to look up the word SLUT, and here's what it said
SLUT: (noun) a female dog: bitch: a slatternly woman: a drudge: a woman of loose character: a hussey. Father Duffy has now issued an apology through the Catholic Press Office in Dublin. Not good enough Father, get back up in the pulpit and apologise to Sonia and to every Single Mother, Father, Grandmother, and Grandfather in Ireland. For such an unchristian statement I wonder if Father Duffy was around 2000 years ago what would he have said about the following paragraph which I have taken from the Gospel according to Matthew, "Now the birth of Jesus Christ took place in this way . When his Mother Mary had been betrothed to Joseph, before they came together she was found to be with the child of the Holy Spirit, and her husband been a just man and unwilling to put her to shame, resolved to send her away quietly."
In this land of Saints and Scholars sometimes a little Christianity goes further than a lot of religion. I suppose being Christians we must forgive Father Duffy and trust that in future he will practice what he preaches.

Bye for now,
Michael O'Hanlon.

---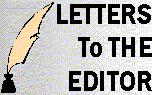 ---