21st October, 1999


As most of our readers will know, this is Credit Union week. All this week all kinds of entertainment are being organised by your local Credit Union. One of the big nights of the week is always the quiz. This was held on Monday night at Silversprings Hotel. Thirty five Credit Union teams from all parts of Cork City and County took part. I went along with Dominic and Ann McGrath and Tom Deasy to represent Douglas Credit Union. The good news is that the cup is back in Douglas. After an absence of eight years, its now on display at Douglas Credit Union.
Continued success to Pat Wheelan of Field Fresh Fruit & Veg. shop at Morris House who celebrates one year supplying us with the best of fruit and veg. Pat has a huge selection of goodies for Halloween. Give him a call, and remember, do support local.
Speaking of supporting local, or lack of it. A reader, and advertiser, was in a local bank last week, standing in line waiting to conduct business. A senior member of the bank call out to the public area and proceeded to remove all copies of the Douglas Weekly from the shelf. The reader made contact with us and was angry because the readers advertisement was in that weeks copy. We have never put Douglas Weekly into any outlet without first asking the owner/manager if they would like to stock them - and we have never had a refusal. Surely common courtesy would dictate that if one did not wish us to supply them with 'Weeklys' a simple phone call to our office (cost 11.5p) would have been appreciated. A lot of our advertisers are local and are customers of the same bank, and for a senior official of that bank to remove not just our Douglas Weekly, but their customers advertisements seems to me to lack what we would all like to see in Douglas, a sense of community. As from this week Douglas Weekly will no longer be available at this bank. The good news for our readers in Turners Cross is that the Douglas Weekly will now be available at the A.I.B. in Turners Cross/Ballyphehane with the compliments of manager Michael O'Driscoll, who I'm told is a very good golfer!
Does anybody watch telly-bingo on RTE on Tuesday night? I thought so !! About as exciting a watching traffic lights change colour.
Happy Birthday to the Touchdown, Kinsale Road. Another success story unfolds on the centre pages. On a related matter I spoke to Bill Driscoll, manager of Esso, Dunmahon, Douglas Road, who told me he took his family out to Sunday lunch last week, but found it impossible to find a restaurant that served portions for his children. Well Bill, I took a photo of the Murray family from Grange having lunch (page 9) and baby Jason was in a baby chair supplied by the Touchdown. They also show Premier Soccer matches, so the next time Man. Utd. are on live, Bill, treat yourself and your family to a family friendly meal at the Touchdown. Tell Andrew or Pat, Michael sent you!
As I write this the nurses strike has started. Can we blame them? When we see Senators, not T.D.'s, claiming more in expenses than these nurses earn, can we blame them? When we see Senior Counsels earning more in a day than they earn in a month, can we blame them? Its said that we lead by example, and what an example our leaders have shown. Corruption, Cronyism, and still it goes on and on and on. Nurses deal in sickness, death, heartache and we need them more than the politicians. God knows, civil servants could run the country with their hands tied behind their backs. By getting rid of politicians the Country would save £16.5 million, give it to the nurses and we would probably all live longer.
The long weekend is coming up and once again some of the best entertainment around is advertised in the Douglas Weekly. All musical tastes are catered for as the 'Jazz Weekend' goes from strength to strength. Enjoy the weekend, drive carefully, and if you drink, use "shanks mane" on Taxi/Hackney and to the Council, please don't leave Douglas unswept until Tuesday, and to the householders, put your rubbish out on Saturday for council collection (no collection Monday).

Bye for now,
Michael O'Hanlon.

---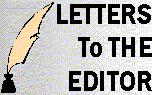 ---