28th October, 1999


Last week was a sad week for the people of Cork, and Ireland. We lost a man who was always known as "The Real Taoiseach". One incident which has always stayed in my mind happened many years ago. An international oil company made a presentation to Jack when he had opened a refinery or something similar. The opposition were up in arms. It even made the newspapers' headlines. Jack returned it. It was not a ruby encrusted gold dagger, nor a Rolls Royce. It was a three-in-one, a record player, a tape player and radio. Looking back now, it seems ridiculous that a music centre could cause such controversary. Jack Lynch had something that all the islands, race horses and charvet shirts couldn't buy. He had dignity and class, and we can always be proud of one of Cork's greatest sons', Jack Lynch, R.I.P.
A reader asked me if I could do something about the new pedestrian lights at Grangehill Stores. She told me it takes ages for the lights to change when the button is pressed, and last Friday she was soaked by a shower of rain waiting for them to change. Even more worrying, she told me that children won't wait for the lights to change. I passed on the complaint and I'm told that adjustments will be made to correct this complaint.
Nancy, of Douglas GAA club, has asked me to mention that the song contest continues again this Friday night at the Pavillion. The cover charge is only £1 and all proceeds this year are going towards buying a coach for the elderly in St. Finbarre's Hospital. The good news is that anyone can enter the competition. Just get three singers, telephone the club @ 895559 and leave the rest to Nancy. And you'll get a feeling that you're doing something to help people less fortunate than we are ... and it's a good feeling.
We had a piece in last weeks 'Douglas Weekly' which stated that over 3,000 shops will now sell stamps. I wonder if there is a conserted effort to chip away at the post office? One more social meeting place under threat, where is it all going to end?
Parking in Douglas Village is becoming a big problem, and now St. Patrick's Mills has to introduce restrictions on parking. There are a lot of business units in the Mills, and the owners of the businesses need car spaces for their customers. So motorists, don't park in the Mills unless you are there on business! Another 1,600 houses are going to be built in Douglas in the new year. Where is the parking for another 2,000 cars? Is multi-storey car parking on the way?
A few months ago I mentioned that a few years ago I went on holidays to Scotland and discovered one of the most beautiful cities in the world, Edinburgh. A city filled with history, cobblestoned little streets with nooks and cranny's. I eventually found Grey Friars graveyard where the old shepard John Grey is buried. His little highland terrier Bobby slept on his masters grave for thirteen years. But only after the dog was given the freedom of the city. It was shown on Network 2 last Sunday week. The last time I mentioned the movie "Grey Friars Bobby" some readers rang us to ask if we knew any video club which had a copy. I taped it, so if any of you readers would like to watch it, give us a call. It's a lovely family film, especially as its a true story.
As far as I know the Rochestown Park Hotel has a "Staff Person of the Year" award. Not wishing to influence the judges, a strong contender for the award would have to be the ever obliging Grace, who gives 110% to her customers in the dining room. A smile and a chat goes a long way.
Congratulations to George Dunlea and his wife Caroline on the birth of twins, two little girls! Also, get well soon to Johnny Burke from Grange. Hope to see you back in the club soon Johnny.


Bye for now,
Michael O'Hanlon.

---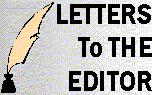 ---